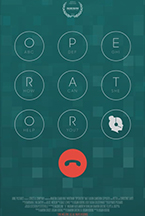 (The 2016 SXSW Film Festival kicked off March 11 and runs all the way until the 19th. We have boots on the ground and reviews coming in by the truckload so stay tuned to HtN throughout the fest!)
In spite of its generic title (shared by a few other films), Operator tackles big, specific issues of our modern world: namely, the intersection and interaction of technology and humans, and how to navigate (or not) the divide. Like Spike Jonze's magnificent 2013 meditation on artificial intelligence, Her, this debut feature from Logan Kibens (Harmony) examines the pleasures and dangers of what happens when we give up control to the machines. In this case, there is the added wrinkle that the technology is very much in process, and so we can watch its development and implementation, guessing with the omniscience of dramatic irony that things may not turn out as the inventors intend.
From the first moments of the film, we are treated to a visual juxtaposition of, literally, man and machine, as we watch Joe (Martin Starr, I'll See You in My Dreams) – our technologist – jogging, in what will turn out to be his daily routine, to Lake Michigan (we're in Chicago) as the graphic interfaces he has designed to read human moods flash on and off screen. We hear voices – one automated, the others normal – and soon figure out that the soundtrack is a health-insurance help line. Soon, the callers turn angry. Joe jogs on. But then we cut to a scene where that insurance company's rep demands a better call-in service, and Joe's team gets to work.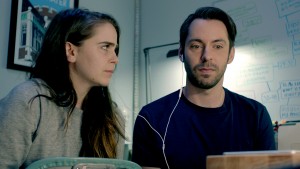 It turns out that Joe has some serious social anxiety: borderline (or not so border) Asperger's, perhaps. His wife Emily (Mae Whitman, The Duff) is his rock – his true center – and after he calls her for emotional support in the new endeavor, he realizes that it's her voice that should be used for the systems upgrade. She agrees, reluctantly, and we are off on an experiment of what happens when one designs, Pygmalion-like, a copy intended to be better than the original. Since Emily is no robot, the scheme gets complicated. Starr and Whitman make a lovely duo – we believe in their relationship – and the rest of the ensemble cast, including Christine Lahti (Touched With Fire) and Nat Faxon (The Way Way Back), provide good support work. Unfortunately, despite a promising and original set-up, Kibens and co-writer Sharon Greene feel compelled to wrap things up a little too conventionally, detracting from the otherwise refreshing oddity of the film. Still, until then, it's an enjoyably peculiar ride.
– Christopher Llewellyn Reed (@ChrisReedFilm)