VASHON ISLAND FILM FESTIVAL: DISPATCH 3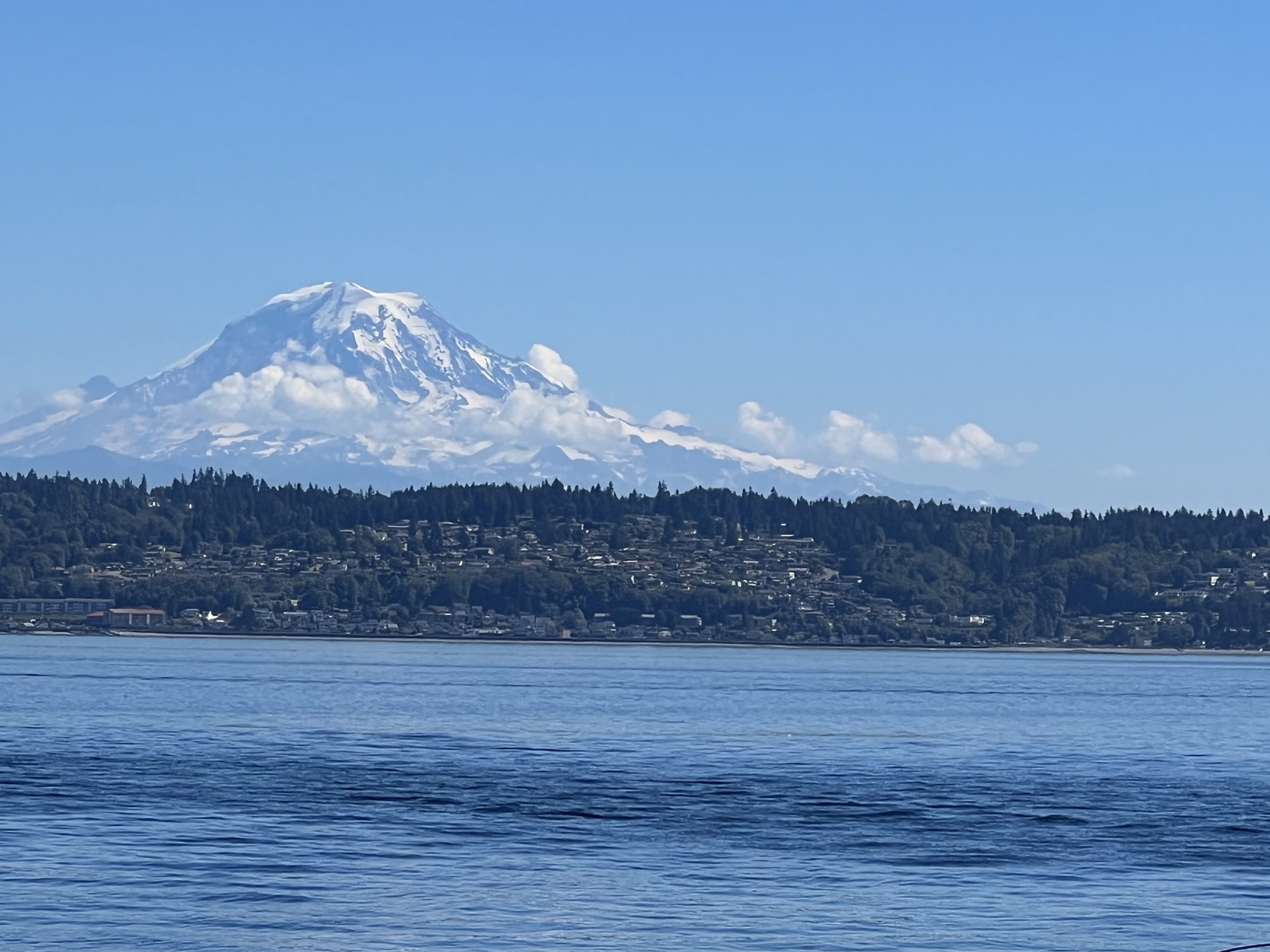 Our final day at the inaugural Vashon Island Film Festival was the kind of gorgeous August day that made me fall in love with the Pacific Northwest so many years ago. The mountain was out. Crystal-clear shimmering waters, reflecting cloudless sapphire skies. Deciduous trees, their leaves painted more vibrant and intense by summer sunlight, pop out against the blue. Cool breeze. Really a picture perfect day here. Dreamy. 
Sitting on the farmhouse back porch, drinking my morning coffee as the farm's small flock of chickens gently cluck and scold each other in the yard, I think to myself: I could totally live on this island, if I had a beater car to get around in. It's an island culture "thing" that folks have a modest beater they drive around when they're on island, stashing their Teslas in the garage for heading to the mainland. I could totally commute to MoPOP from here via the water taxi, with planning. Curious, I peruse the real estate listings for the island and find, to my surprise, that I could buy a decent property here for about half the price homes are selling for in Seattle. I file that away for further consideration. 
We stop for coffee at one cute spot, bustling with tourists and locals, and the counter dude kindly offers his opinion that the best "full"  breakfast in town is at the divey-looking place with "plate-sized pancakes" painted on the window. It's more divey at night when it's a bar, he tells me, but chill for breakfast and the food is great. Awesome, I live in Capitol Hill in Seattle, divey is totally my jam and I love plate-sized pancakes, sounds like we have a winner! But unfortunately a glance at the time reveals it's nearly time for the first screening of the day, so I consult with my fest crew and we agree to save the pancakes for tomorrow on our way out and snack on the theater's magically delicious popcorn and some Whoppers to tide us over. 
As an aside, the theater's concession prices alone make this fest a great choice for local cinephiles used to Seattle-Tacoma prices. A large popcorn is three bucks. Likewise a large soda is three bucks — and they have an old-fashioned "soda jerk" menu that includes egg creams. 
Our morning screening, Wes Schlagenhauf Is Dying, is a light-hearted dude buddy film made as a pandemic project. The film, starring and directed by Parker Seaman off a script co-written by Seaman with Devin Das, who also stars, follows three friends, the titular Wes, Parker and Devin. The buddies live in Los Angeles, where their dreams of making silly, improvisational comedy has been usurped by surviving on crappy commercial gigs to pay the bills.
Wes has enough of the industry game and leaves L.A to move back home to Boise, and then we cut to three years later and it's the pandemic. Parker and Devin and struggling through lockdown and haven't seen Wes in three years, and when he tells them he has COVID, Parker has an inspiration: He and Devin will roadtrip to Boise to see their sick friend, and make a documentary along the way. 
The film feels inspired by the work of the Duplass brothers (Mark Duplass has a cameo in the film, via Cameo), there's very much a vibe reminiscent of the Duplass's early film The Puffy Chair. 
After the screening, we nosh some late breakfast next door to Vashon Theatre at Snapdragon, a coffee shop, bakery and vegetarian cafe that's come highly recommended by locals. I opt for the breakfast sandwich on the advice of a friend, and it's a winner: local eggs, brie, local organic greens on homemade focaccia (they are big on the focaccia here, which is totally a-okay by me because it's delicious). 
After that, we borrow a van and my PR friend drives our group to see the other parts of this Pacific Northwest paradise before our last film of the fest, Good Girl Jane, winner of both the Founders Award for Best U.S. Narrative Feature and Best Performance (Rain Spencer) for a U.S. Narrative Feature at the 2022 Tribeca Film Festival. 
Directed by Sarah Elizabeth Mintz off her screenplay based on her own real-life experiences, the film follows Jane, bullied at her former private high school and now trying to settle into a new school. Jane falls in with a pack of "bad kids" and starts partying and using heavier drugs, eventually falling for charismatic (and older) drug dealer Jamie, who charms his way into grooming her with an Irish accent and access to cocaine. Jane is quickly in over her head as her worried sister (Eloisa Huggins) and dialed-out mom (Andie McDowell) try desperately to connect.
This was one of my favorite films of this festival. Of course it's impossible not to compare it with Catherine Hardwicke's 2003 film Thirteen, which has a similar theme and starred Evan Rachel Wood and Holly Hunter, but Good Girl Jane stands on its own merits, with fantastic cinematography, an authentic and harrowing storyline, a fantastic lead performance by Spencer bolstered by McDowell's steady veteran presence,  and confident direction by Mintz, who clearly knew exactly the film she was making here. Great film to close out the fest.
We wound down our day with dinner at The Hardware Store, where we stuffed ourselves ridiculously silly with moules frites and golden beet and black garlic salad before heading back to the farmhouse for one last late-night back porch hangout and some great conversation. Our farm host brought over a bottle of freshly tapped hard cider he makes from apples grown here on the farm, which my friends declared very tasty. It was a great last day of the fest.
This morning we pack up and then will head out for some of those plate-sized pancakes at Sporty's, and then it's back on the ferry and back to real life. I'll have one more closing round-up later with all the award winners. And an update on those island divey-cafe plate-sized pancakes.
@VashonFilmFest on Facebook, Twitter, & Instagram
– Kim Voynar (@KVoynar)