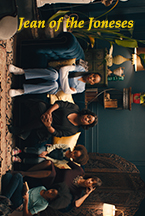 (The 2016 SXSW Film Festival kicked off March 11 and runs all the way until the 19th. We have boots on the ground and reviews coming in by the truckload so stay tuned to HtN throughout the fest!)
In the beginning, there is the end. Jean, a twenty-something African-American woman, breaks up with her boyfriend, Jeremiah – or maybe he, with her – in the first minutes of the film, sending her off into a bit of a tailspin, since he stays put and she has no place to live (thanks, Jeremiah!). She's a published novelist in a bit of a slump. He's a filmmaker, and once gone serves more as construct than real person: the white boyfriend whose blood might "lighten up the line" (so says Jean's mother), but who has no time for Jean's early midlife crisis. He may have rejected her, but as played by the extremely warm and charismatic Taylour Paige (Hit the Floor), Jean is a more than welcome presence in our lives for the brisk 82 minutes of Jean of the Joneses.
Out on her own, Jean takes refuge with her family of mostly angry and disappointed women, a clan headed up by Grandma Daphne (Michelle Hurst, Miss Claudette in Season 1 of Orange Is the New Black). Men are the absent centerpiece of the drama: how they betray and disappoint, leaving women to survive on their own. So much so that when a (seemingly) genuine good guy shows up, in paramedic Ray (Mamoudou Athie, The Get Down), no one knows what to do with him. The brittle carapace worn by the Joneses is as much a barrier to happiness as a shield against heartache. The question is, will Jean join the ranks of her elders, or forge a new path?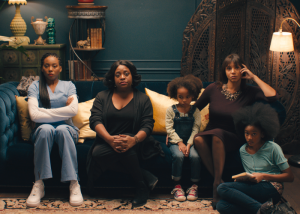 The movie, from first-time feature director Stella Meghie, is mostly beautifully shot and written, with sharply observed insights into the lives of its characters. Theirs is a quintessentially American story of middle-class, immigrant aspirations (the Joneses originally hail from Jamaica), where success does not always mean satisfaction. When the film works (which, in general, it almost always does), it's because of the rapport between the actors – Sherri Shepherd (Woodlawn) and Erica Ash (Sister Code) help round out the ensemble – and the strength of Meghie's script. When it doesn't quite come together is in some of the director's (odd) choices to hold long on shots that need editing and the occasional passages of overly expositional dialogue. Overall, however, Jean of the Joneses is a wonderful showcase for all involved, and announces an exciting new talent to watch in Ms. Meghie.
– Christopher Llewellyn Reed (@ChrisReedFilm)