Here Comes the 2nd Annual Vashon Island Film Festival!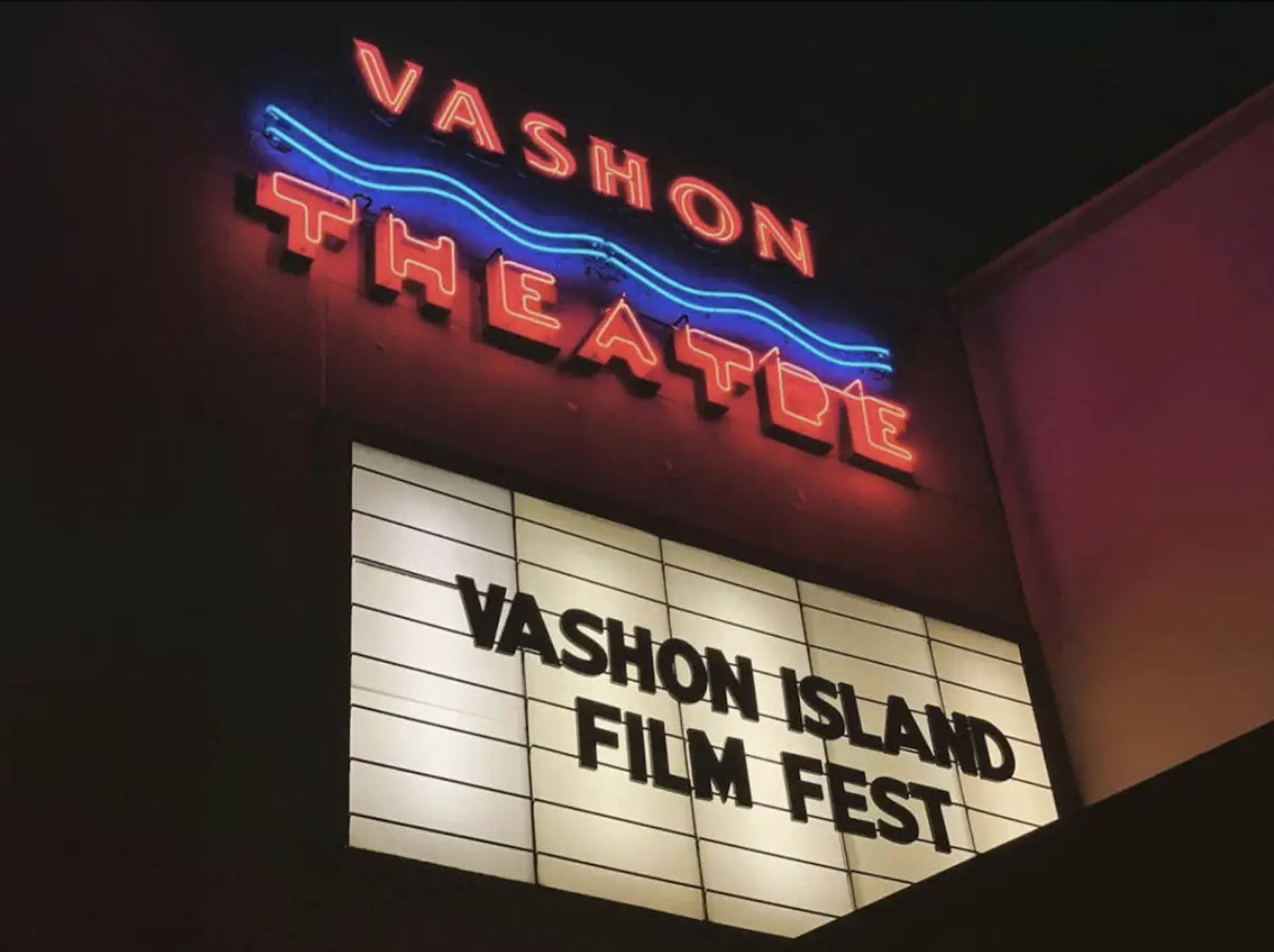 In just a few short weeks I'll be landing at the ferry dock for the 2nd Annual Vashon Island Film Festival (VIFF), which I wrote about here last year for its debut season. The fest's first year was a very solid start, bolstered by a good slate of films, a number of enthusiastic artists in attendance, some charmingly homegrown parties that were elegant while also having that "local" feel that's so vital in making  a regional film fest stand out, and an absolutely dreamy location. 
In the off-season, Vashon Island is cool, cloudy and Pacific-Northwest-rainy, but in the summer the deep sapphire skies shimmer and at night you can see more stars than in Capitol Hill, where I live. Not as intense of a night sky as the San Juans or up in the mountains, further from Seattle's city lights, but still stunning. Everything on Vashon has this unreal painterly beauty, and it's easy to understand from staying there even a few days why folks return here for vacation year after year, or move here and never leave. 
As a summer getaway for Seattle-Tacoma locals, Vashon Island feels far removed without taking hours sitting in the mind numbingly awful traffic on I-5 to get there. It's just 22 minutes by water taxi from Downtown Seattle, slightly longer by the ferry from West Seattle if you're driving a vehicle over. There's something about getting out to the islands around Seattle that just feels special, and Vashon Island is a way faster trip from both Seattle and Tacoma than going to the San Juans, and without the I-5 traffic, the sheer awfulness of which is the one thing all Seattleites can agree upon). It's a real summer treat to have all this with a film festival cherry on top. 
Last year the fest's lineup made a good impression, so I was looking forward to seeing what this year's would hold. This year's slate includes 12 features and 10 shorts, programmed by the fest's founder, local—and international—film producer, longtime island resident Mark Mathias Sayre and the Vashon Film Institute (VFI) programming team. 
Looking over this year's slate, I was happy to see that Sayre and the VFI programming team have put together a terrific menu for this year's fest attendees. The feature lineup includes eight narratives and four documentaries packed with films boasting major fest premieres and awards. Eight narrative and two documentary shorts round things out. 
I'm aiming to catch as many films as possible there, including the shorts. I'm especially looking forward to seeing Scrapper, which captured the Grand Jury Prize for World Cinema at Sundance this year, and horror/mystery/drama mashup Raging Grace,  which premiered at SXSW and won the Grand Jury Award for Narrative Feature there. On the docs side of things, I'm definitely seeing Starring Jerry as Himself, which premiered at Slamdance in January and won both the jury and audience awards for Documentary. I'm also planning to catch Boom: A Film About the Sonics, which tells the untold story of one of rock 'n' roll's wildest and most influential bands, The Sonics.
If the films are the soul of a festival, the parties and social hangouts are its lifeblood, creating space for out-of-town guests, locals and filmmakers to mingle and chat about the films they're seeing with each other. It's a crucial part of building a festival's energy and momentum, because the parties and shared meals and gathering times are where everyone bonds together in this shared experience, they're having fun talking to other people about the films and the industry. This is where a fest starts to build its "buzz" and grow into that "can't miss" event, and VIFF made a good start on that last year. This year, the social and party side of things kicks off Friday night with Rock on the Rock, featuring local bands Tramp Harbor and Basement Tuesdays, at The Backlot. The next night will bring us back to The Backlot for Saturday Night Soirée, where festivities will kick off with DJ W'Ray followed by Franks, along with street food and a beer/wine garden. I love it when fest events bring together local music and local food, and I'm looking forward to both nights of fun and a lot of good conversations about the films. 
Narrative and documentary features will compete for the coveted Quartermaster Award, which recognizes excellence in feature filmmaking, as well as the Audience Award for Best Feature. Nominees from the features will also compete for the Red Bicycle Awards, which honor individual categories, as determined solely by VFI's Executive Team. 
Short Films will vie for the Burton Award, which recognizes excellence in short filmmaking, as well as the Audience Award for Best Short. The Awards will take place Sunday, August 13 at 7:30PM at the Vashon Theatre, which will also be the site of all fest screenings. 
Winners for all awards will be selected by VIFF's Jury in an anonymous voting process, excluding the Audience Awards, which will be determined by attendees. This year's jury consists of actor Cameron Jebo (NCIS); actor/Ali Richey (Low, Low); actor/producer Steve Swadling (Freedom's Path); author and comedian Amber Tozer (Mad TV); and actor Dallas Dupree Young (1-800-Hot-Nite).
You can check out the full schedule and tickets at www.vashonislandfilmfestival.com and find the fest under @VashonFilmFest on Facebook, Twitter, & Instagram.
– Kim Voynar (@KVoynar)