Metrograph Presents: It Happens To Us: Abortion In American Film (CITIZEN RUTH)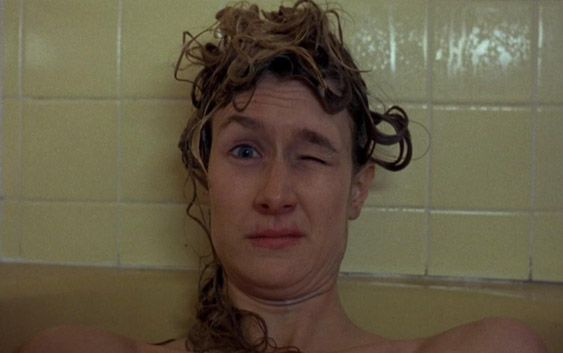 (Citizen Ruth is a featured film in the Metrograph series It Happens to Us: Abortion in American Film which is playing through may 21 both at the Metrograph and online with 50% of all proceeds going to NARAL Pro-Choice America.)
Alexander Payne's 1996 directorial debut Citizen Ruth harkens back to a quaint time when Roe V. Wade seemed like a done deal and the public debate about whether or not a person should have agency over their own uterus was just that – a debate. Sure, there have always been plenty of folks who believe it their duty to shame pregnant people, lie to them about gestation milestones, and even literally stand between them and the abortion clinic. But back then, the law was generally on the side of the person who owned the body in question. As a forward-thinking individual, there's not much I miss about 1996. But I do desperately miss the Me that believed abortion access was an inalienable right.
In Payne's satirical comedy, Laura Dern plays Ruth Stoops, a chemical-huffing, unhoused young woman who finds herself at the center of the abortion debate when a judge offers to drop her drug charges if she terminates her pregnancy. Ruth has two children in state custody and two children living with her brother. When we first meet her, she's having some very lackluster intercourse with a gross dude in exchange for a place to stay. He kicks her out the second he shoots his load of baby batter inside of her, despite their pre-coitus agreement. She is in less-than-ideal circumstances to bring another child into the world, even if she wanted to (she doesn't). But, when a Christian fundamentalist group called the Soldiers of Christ cross her path in jail, they see Ruth as an opportunity to further their own anti-choice agenda.
Citizen Ruth is a delectable buffet of 90's character actors, including Swoosie Kurtz, Kurtwood Smith, Alicia Witt, Mary Kay Place, and Diane Ladd. Dern as Ruth Stoops is the roast beef carving station of this entertaining spread. She's in her comedic prime, screaming colorful profanities and emotionally swerving on a dime. In general, Dern is a criminally underrated physical comedian. Here, she hurtles her body through the scenes like a baby giraffe possessed by a strung-out Miss Piggy. Dern has said in interviews that she has never felt freer in a performance than she did playing Ruth. She sure looks like she's having fun, and she's a delight to watch as well. She finds the profound poetry in lines like, "Suck the shit out of my ass" and "You want to send a message? I ain't no fuckin' telegram, bitch!". As the Soldiers of Christ would say, thank God for her. Without that holy acting talent, this movie would fall apart.
For starters, it was written by two cishet men who seem to think it necessary to "skewer both sides". Payne penned the script with frequent collaborator, Jim Taylor (Election, About Schmidt). Social nihilism was extremely hot 1996. South Park creators Trey Parker and Matt Stone got rich off of it. It was considered hilarious to exemplify the pro-choice movement with sensibly-coifed lesbians in chunky cardigans and Frida Kahlo t-shirts, singing to the moon. The lone voice of reason in Payne's film is Harlan, a cis white male Vietnam vet (M.C. Gainey) who just wants everyone to be able to decide for themselves. He tells Ruth to her face that he believes she'll blow all $15k on drugs and be back on the street in seconds flat. The audience is meant to agree with him. Everyone else in the film is a raging lunatic.
Payne and Taylor's script was ripped from the headlines. In 1992, a pregnant indigenous woman named Martina Greywind, living on the streets of Fargo, North Dakota, was arrested for huffing paint in an attempt to induce a miscarriage because she couldn't afford an abortion. (There isn't room enough here to get into the systematic racism that led this indigenous woman into such a predicament in the first place.) The judge charged her with "Felony Criminal Endangerment" of her fetus, just as the judge in Payne's film threatens to do to Ruth. But if she "took care of the problem", the charges would be dropped.
As in the film, a group of Christian fundamentalists who were in jail for harassing people outside an abortion clinic, adopted Greywind as their pet project to further their agenda, offering her $10K to keep the baby. Never mind the fact that such a sum would barely cover the cost of pre-natal care and delivery for an uninsured person. The pro-choice camp did NOT offer Greywind a matching sum, but they did arrange for and cover the cost of an abortion, which is what she ultimately chose.
Throughout the film, Ruth tells people she wants to change her life. She may, in fact, be telling the truth. At one point, she starts listening to a self-help tape that claims to teach listeners how to afford a house. When the Soldiers of Christ take her in, feed her, and give her a bed, she tells them, "Nobody's been so nice to me for such a long time…I'm gonna get my life together this time." But the tape is a lie. The speaker claims "it's only fear that keeps people from being a financial success". Ruth says that if she had money, her life would be different. And she is right. But it's not $15k that will make the difference. The system is broken, and there is no quick fix for victims it creates.
In Payne's film, the fundamentalists up their ante, doubling their initial offer, because as Pastor Blaine Gibbons (Burt Reynolds) says, a person shouldn't have to choose to terminate a pregnancy because they're too poor. In actuality, Greywind chose an abortion because having the baby would be much more financially devastating. For Ruth, fate makes her choice for her. Ruth has a miscarriage. Giving birth is no longer an option, so she sticks with taking Harlan's offer and escapes from the abortion clinic, cash in hand.
Despite the film's refusal to take a side, Payne and Taylor present many societal truths: The way the police and courts treat Ruth as a stray dog rather than a person; the pro-lifers extensive promises to help the pregnant person that disappear as soon as she becomes inconvenient to them; and rich liberals worrying about media optics. Most of all, there's the exchange between Ruth and her mother, (played by her real-life mom, Diane Ladd). In a last-ditch effort to convince Ruth to keep the baby, the Soldiers of Christ fly in her mom to plead with estranged daughter. She gets on a microphone and yells, "Ruth… what if I'd aborted you?" Up until that point, Ruth was trying to ignore their tactic and escape. She grabs a megaphone. Her retort is flippant but chock full of meaning. "Well at least I wouldn't have had to suck your boyfriend's cock!"
– Jessica Baxter (@tehBaxter)