2023 OSCAR NOMINATED SHORTS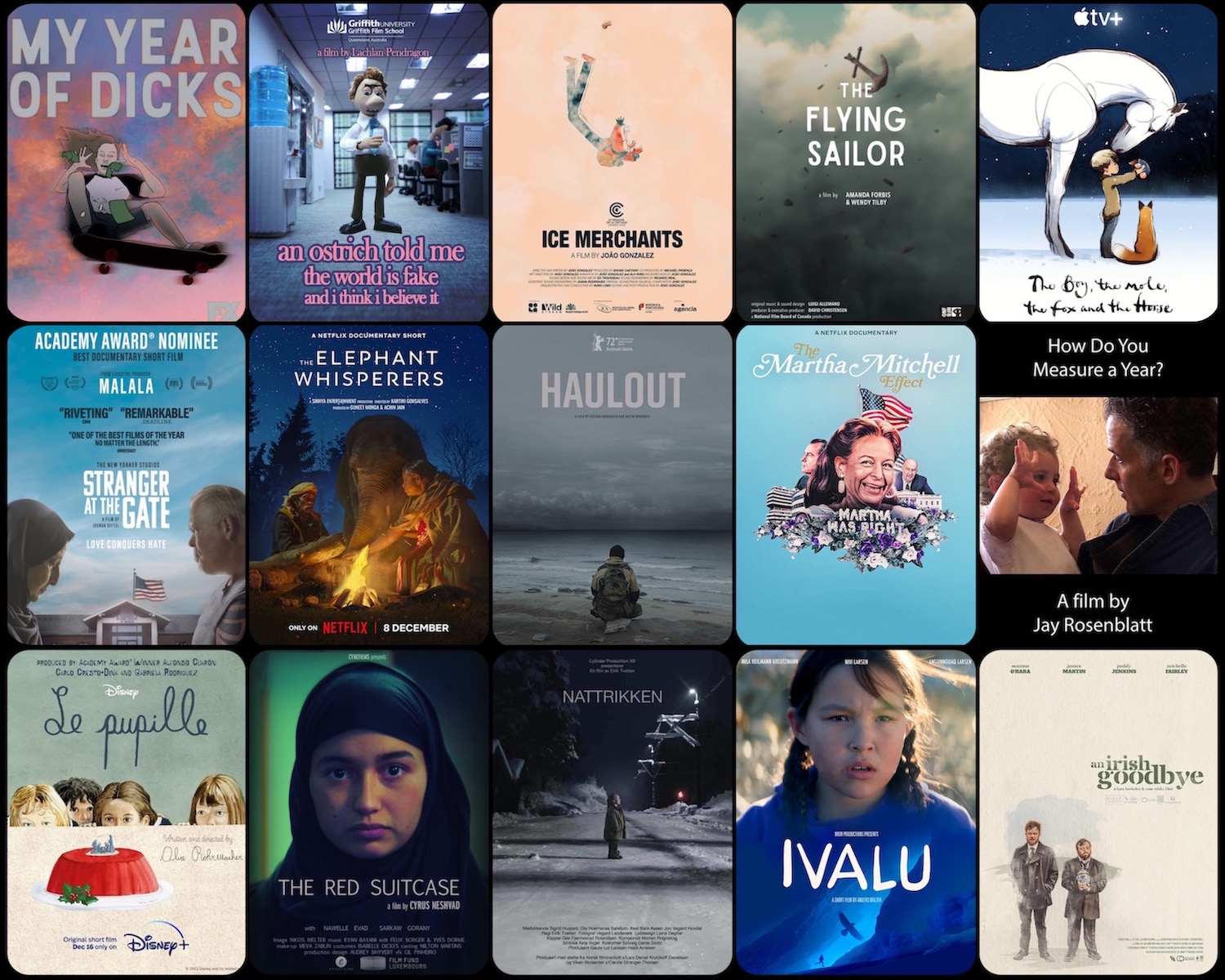 The Academy Awards take place on March 12 this year, and as usual there are 15 short films each vying for their own special Oscar, 5 within each of the 3 different categories: animation, documentary, and live action. As I do every year for Hammer to Nail, I have watched all the films—which have been available for theatrical viewing in some markets since February 17, courtesy of ShortsTV—and below offer my take on which ones shine and which may not quite shimmer. Unlike the collection from 2022, there are no films that I absolutely hate, though once again the animated shorts had a few that left me less than moved (and one that I adored, however). Both the documentary and live-action films are mostly excellent. What follows are, as always, my personal thoughts, sans predictions, which I am not qualified to make. I hope these are playing near you, as there are many worth watching.
ANIMATION
My favorite of the bunch is also the naughtiest, though it's so good-natured about its frank discussion of sex that only the most conservative of prudes would dare object. There are two others that I enjoyed to varying degrees, one that failed to affect me one way or the other, and a final movie (the longest) that had a terrific message that was unfortunately couched in too much treacle to prove as effective as it might otherwise have been. In order of preference, here are my thoughts.
My Year of Dicks (Sara Gunnarsdóttir, USA, 25 min.)
An adaptation of writer Pamela Ribon's 2014 memoir Notes to Boys: And Other Things I Shouldn't Share in Public, My Year of Dicks follows a young woman intent on losing her virginity while still in high school. Set in 1991, the film is divided into 5 chapters, with Icelandic director Sara Gunnarsdóttir (animation director on Marielle Heller's 2015 The Diary of a Teenage Girl) intercutting a few interstitial live-action moments ostensibly taken from Ribon's own video diary of the time. The result is a wildly funny journey through the mind and libido of an earnest (and very eager) teenager as she attempts to navigate hers and others' burgeoning sexuality. We've all been there, though perhaps not with this much delight.
An Ostrich Told Me the World Is Fake and I Think I Believe It (Lachlan Pendragon, Australia, 11 min.)
At first a jarring bit of visual cacophony, An Ostrich Told Me the World Is Fake and I Think I Believe It quickly becomes quite cinematically witty once we realize what we're watching. The foregrounded stop-motion animation is complemented by the background hands that move our characters into position, their moments sped up beyond accurate comprehension in relation to the normal speed of the main action. That action is initially quite mundane, nothing more than a series of office scenes. Soon, however, the two worlds collide, our hapless protagonist (led on by the titular bird) exploring the universe beyond the surface and uncovering a shocking (to him) surprise. It's all quite clever, and very fun to experience.
Ice Merchants (João Gonzalez, Portugal/UK/France, 14 min.)
On the one hand a fantastical tale of a cliff-dwelling father and son who skydive to the down below every day to sell ice, and on the other hand a moving story of loss and grief, Ice Merchants doesn't quite reconcile its two halves yet still manages to engage with its beautiful mystery. Its premise is so whimsically bizarre that we want to allow its magic to wash over us, and even if the spell can't hold all the way through, there's joy to be had in the watching.
The Flying Sailor (Amanda Forbis/Wendy Tilby, Canada, 7 min,)
Billed as "a true story," The Flying Sailor follows one of the survivors of the 1917 Halifax Explosion, when two ships collided in Halifax Harbour, one of them carrying munitions. According to the end credits, one Charlie Mayers was thrown over 2 kilometers into the air and lived to tell the tale. Whatever the truth of that, directors Amanda Forbis and Wendy Tilby here recreate their vision of what that journey through the air might have been like. The result is poetic, but slight.
The Boy, the Mole, the Fox and the Horse (Peter Baynton/Charlie Mackesy, UK, 34 min.)
An adaptation of Charlie Mackesy's eponymous 2019 book, The Boy, the Mole, the Fox and the Horse is simultaneously a sweet ode to taking ownership of one's identity and a grating exercise in excessive exposition. For every lovely image and heartfelt declaration of love and confidence there is an equal amount of repetition of the film's central thesis. The titular animals are fun, and the voice talents of Tom Hollander (The King's Man), Idris Elba (Three Thousand Years of Longing), and Gabriel Byrne (Hereditary) don't hurt, but by the end I was eager to leave the ostensibly charming company of all involved.
DOCUMENTARY
As is frequently the case, this is a consistently strong category, and it is extremely hard to rank the films. They all have powerful elements and each tell a compelling story; they are also generally longer than the movies in the two other categories, though the time spent watching them is definitely worth the effort. Once more, these are in ever-so-slight order of preference, but really, these are all very fine examples of the craft.
Stranger at the Gate (Joshua Seftel, USA, 30 min.)
The cinematic joy here comes from the surprise of thinking we are watching one kind of narrative only to discover that, no, the end result is quite different and defies initial expectations. Richard "Mac" McKinney—a retired United States Marine—returned from 25 years of service with virulent Islamophobia embedded in his brain. Convinced that every Muslim he came across was a jihadist-in-training, he set out to bomb the Islamic Center of Muncie, Indiana, in 2009. First, however, he made an initial reconnoiter, which is where his plans took a different turn. Greeted with love and respect upon entry, he struggled to reconcile his hate with the affection he received. And so began a most astounding journey. Director Joshua Seftel tells his inspiring tale using copious interviews with members of Muncie's Islamic community (including the wonderful Bahrami family), McKinney's ex-wife and step-daughter, and more. It will make your heart sing.
The Elephant Whisperers (Kartiki Gonsalves, India, 39 min.)
When baby elephant Raghu arrived at the Mudumalai Tiger Reserve's Theppakadu Elephant Camp—India's oldest such sanctuary—no one gave him much chance of survival. An orphan whose mother had been electrocuted on a fence, his tail had subsequently been partially chewed off by wild dogs and his other wounds were infested with maggots. But then caretakers Bomman and Bellie took over, and things took a turn for the better. The duo proved so successful that they were soon entrusted with another infant elephant, Ammu, and though Raghu is initially not so happy to have a sibling, the two eventually become close. In Kartiki Gonsalves' beautifully photographed The Elephant Whisperers (currently available on Netflix), we follow the ups and downs of the journey, which includes a love story between Bomman and Bellie. Moving, joyful, and occasionally also sad, it's a lovely look at how sometimes we as a species can do great things for those animals who need our care.
Haulout (Evgenia Arbugaeva/Maxim Arbugaev, UK, 25 min.)
And then there is the much bleaker—but equally magnificent—Haulout, from directors Evgenia Arbugaeva and Maxim Arbugaev. Set in Chukotka, all the way in the northeastern most tip of the Russian Republic, in the Siberian Arctic, the film tracks marine biologist Maxim Chakilev as he counts the walruses who come to shore for their annual "haulout" in October 2020. Every year the size of the gathering has grown as the amount of sea ice has decreased. It's Chakilev's job to report on not only on the numbers but the health of these animals. The news is not good, with more deaths—from starvation and stampedes—than ever before. Despite this grim account, there is nevertheless stark beauty in the frozen wasteland and sight of these majestic creatures.
The Martha Mitchell Effect (Anne Alvergue/Debra McClutchy, USA, 39 min.)
Another Netflix film, The Martha Mitchell Effect offers a fascinating history lesson in its profile of the titular wife of President Richard M. Nixon's Attorney General (and chairman of his 1968 and 1972 election campaigns) John Mitchell. Her name has become synonymous with cases where a person whose ideas are initially called delusional then turns out to have been telling the truth the whole time. It was Martha Mitchell who first sounded the alarm about the shenanigans in the 1972 campaign (as in, the Watergate break-in). Initially a rah-rah, go-Nixon supporter—someone who was trotted out as a Nixon advocate for years—she sensed something fishy early on and refused to keep her mouth shut, even after her husband left her and Nixon's goons closed in. It's a chilling narrative with lessons for how politics work even today. Directors Anne Alvergue and Debra McClutchy do a wonderful job with their archival footage and audio interviews to give Mitchell all her historical (as opposed to hysterical, as Nixon  labeled her) due.
How Do You Measure a Year? (Jay Rosenblatt, USA, 29 min.)
The most personal documentary of the bunch, Jay Rosenblatt's How Do You Measure a Year? has many poignant moments, yet suffers from a feeling that we have seen such exercises before (think Michael Apted's Up series). Rosenblatt cuts together footage captured every one of his daughter Ella's birthdays, from the age of 2 to 18. He never looked at any of it until after the final interview was filmed, and here snippets from each year. Ella proves an engaging subject, though one wishes Rosenblatt asked more insightful questions. It's still of great human interest to watch the toddler grow older, become a teenager (moody, as we all are at that age) and then finally a young woman. The title comes from a song from the musical Rent which she sings at various ages. It's satisfying enough, but the other movies here feel far more substantive.
LIVE ACTION
Unlike last year's films in this category, this time the live-action shorts are all, at the very least, dramatically solid, with my top two choices very close in my esteem. Only the final film in my list truly falls a little below expectations, but even that one has significant qualities. Here they are, again in order of preference.
Le Pupille (Alice Rohrwacher, Italy, 37 min.)
Perhaps my favorite of all the nominated films from all three categories, Italian director Alice Rohrwacher's enchanting Le Pupille—available right now to watch on Disney+—is a bracingly original treatment of the best kind of rebelliousness. Set at Christmastime during World War II in a Catholic girls' boarding school, the film gives us a quirky group of children who can't help but be themselves despite the severe restrictions that their Mother Superior (played by the director's sister, Alba) attempts to place on them. When a delicious cake comes their way and they are strongly urged not to take a bite, the heretofore good girl Serafina, smarting after an earlier reprimand, takes the matter literally into her own hands. Yum! Throw in a cute dog, and what more could you want? Billed as an adaptation of a letter from writer Elsa Morante to her friend (and critic) Goffredo Fofi, the movie features plenty of singing, breaking of the fourth wall, freeze frames, and generally delightful bizarreries. Forget the cake; Le Pupille is its own delicious confection.
The Red Suitcase (Cyrus Neshvad, Luxembourg, 18 min.)
Switching gears to something far more serious, we turn to Iranian-born director Cyrus Neshvad's The Red Suitcase, which plunges us head first into a harrowing situation with little hope of positive outcome. We start on a 16-year-old Iranian girl, Ariane (a riveting Nawelle Ewad), frozen in front of a baggage carousel at the Luxembourg airport, refusing to move even after it stops, her red suitcase the only object remaining. Her father calls, wondering where she is. It turns out she has traveled to Luxembourg for an arranged marriage to a much older man, who waits outside. To evade him, she removes her hijab and tries to breeze past him with nonchalance. That's only the beginning. In just 18 minutes, Neshvad manages to create a completely gripping dramatic thriller that keeps us very much on our cinematic toes, all the way to its deeply unsettling finish.
Night Ride (Eirik Tveiten, Norway, 15 min.)
Night Ride also treats a sober subject, but does so with a fair dose of comedy. The topic at hand is bullying, of those outside certain normative conventions. We begin on a freezing cold evening, also during the Christmas season, as a middle-aged (or close to thereabouts) woman—a little person—is forced to wait 30 minutes to board a tram just as it arrives, all because the conductor won't let her in while he takes a break. Not to be deterred, she finds a way on to the car, only to accidentally start it in motion. Guess what? She's the conductor now! And onward she goes, into town, where she picks up passengers and does her best to drive the vehicle without killing anyone. But she becomes a witness to an act of horrific harassment as two toxic men pick on a trans woman. But don't worry, in this charming yuletide fable there's a way out, and the right people suffer the right consequences.
Ivalu (Pipaluk K. Jørgensen/Anders Walter, Denmark, 16 min.)
An adaptation of Morten Dürr's 2019 eponymous graphic novel, Ivalu similarly tackles weighty matters, this time of incest and sexual assault, only this time more in the vein of The Red Suitcase, albeit with a fantastical side. A teenage girl goes in search of her missing older sister, Ivalu, who has vanished for tragic reasons that only become clear towards the end. Set against the majestic backdrop of Greenland's natural beauty, the movie follows the search along sea, cliffs and glaciers, throwing in mystical portents along the way. Myth and harsh reality intertwine in what is sometimes too elliptical a narrative to be truly effective. Ironically, in the big reveal towards the end, the filmmakers explain almost too much what we have already sensed. Even with this imbalance, the movie still packs a powerful punch.
An Irish Goodbye (Tom Berkeley/Ross White, Ireland, 23 min.)
An Irish Goodbye starts off with a jaunty aesthetic, following a sad trio as they make their way back from a funeral. Two of them—Lorcan (James Martin) and Turlough (Seamus O'Hara)—are brothers, while the third is a parish priest. The brothers' mother has just died, bringing Turlough back from England to his native Ireland. Lorcan, who has Down syndrome, is worried about what will happen now, and concocts a plan to keep Turlough around, however unwillingly. Using absurdist humor to lighten the grim reality of the situation, directors Tom Berkeley and Ross White plan a series of comic shenanigans that pit the siblings the one against the other until, at last—maybe—a compromise can be reached. As enjoyable as much of this is, it often feels like everyone is trying a little too hard, spoiling what might be funnier with less visible strain. Good effort, though.
– Christopher Llewellyn Reed (@ChrisReedFilm)
2023 Academy Awards; Best short films of 2023 Oscar nominated