SHORT FILM CONTEST WINNER/RUNNER-UP: FALL '13
Oh gee, oh boy, every three months, this exciting day comes. Here we are again!
As always, we'd like to thank our generous judges for participating in our Fall '13 Short Film Contest: Matt Porterfield (go see his I Used To Be Darker right now if it's playing in a theater near you!), Nellie Killian (programmer at BAMcinématek), and Grainger David (The Chair, winner of the Spring '13 HTN Short Film Contest).
While I'm starting to feel like a broken record in stating that the films being submitted are increasingly making our our jobs both easier (lots of great stuff!) and more difficult (lots of great stuff!), that is the triple truth, Ruth. But we aren't complaining, so keep submitting great work, all of you talented people.
[Reminder: Be sure to visit our Main Contest Page for updates about the launch of current and upcoming contests—for the record, we are currently accepting submissions for our Winter '14 contest.]
RUNNER-UP
The Greggs
(Bruce Bundy, Nigel DeFriez, Jessie Levandov, Robert Malone, Alex Mechanik, Kira Pearson and Joe Rosenblit, 19:43)
If you've ever wondered who inflicts the torture of standardized tests upon us, the surreal, comedic film The Greggs envisions a very weird answer. The Greggs are two men and two women all named Gregg who receive telepathic communications from "The Gregg," an oil painting of an old white man. This inspires the process by which the Greggs write all the standardized tests in America, which they sell to a corporate boss in exchange for pyramids of egg cartons. Their life is organized into forms, from the uniform matching blond wigs, pastel turtlenecks, and ill-fitting jeans they wear, to their symmetrical meals they call "eggmess." This metronomic life is disrupted by the defection of one Gregg, and the disappearance of the painting of The Gregg, which throws their lives into turmoil. The film is the creation of an NYU-based collective, and divas need not apply: they take collaboration seriously enough to list seven directors in the credits. Like a lost SNL sketch, this full commitment to the world they've created is what makes The Greggs work. (Susanna Locascio)
***WATCH THE TRAILER***
WINNER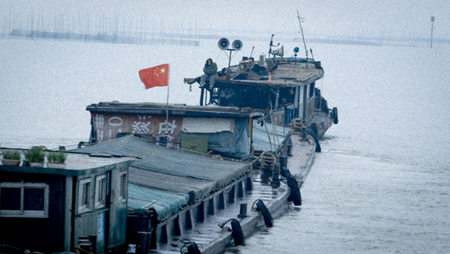 Grand Canal (Johnny Ma, 19:30)
"Great casting and visual style. Love that first zoom to the father during the wedding. Plus: a rare non-obnoxious use of voiceover!" This, from juror Nellie Killian, expressing a similar sentiment to pretty much everyone who has seen and been wowed by Johnny Ma's excellent film. To give away too much would detract from the experience at hand, though of course every contest winner gets a review, so please read mine, in which I say things like, "From the very first frame of Grand Canal, it's clear that we are in the hands of a maestro. Ma exhibits the skill, care, craft, and precision of a veteran, delivering a heartfelt work of personal fiction that has a big-screen impact no matter the size of the screen you watch it on."
***WATCH THIS MOVIE BEFORE IT'S TOO LATE!!!***
For 24 hours—basically, until midnight on Wednesday October 15th—Johnny Ma is being gracious enough to make Grand Canal available for free public consumption. So stop what you're doing and watch it right away! But if you can't watch it in this window, fret not, for Ma has agreed to make the password-protected link available through Sunday the 20th. All you have to do is go to the film's Facebook page, like it, and send Ma a brief personal message saying something like, "I really wanna watch your movie!" At which point he will provide you with the password. Ma is doing this as a way to more directly connect with his viewers, so don't be afraid. Reach out to him directly and make a talented new friend in the process!
***VISIT THE FILM'S FACEBOOK PAGE***
https://www.facebook.com/grandcanaljohnnymaktubfilms
***WATCH THE TRAILER***