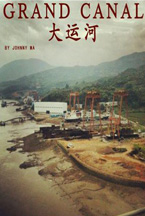 ***WINNER OF HTN's FALL '13 SHORT FILM CONTEST***
(Grand Canal world premiered at the 2013 Toronto International Film Festival. Visit the film's Facebook page to learn more.)
There's no simple recipe for what constitutes a great short film, but without question one of the rarest, finest breeds is that under-20-minute work that has the ambition and scope and emotional impact of a grand, sweeping novel. Johnny Ma's Grand Canal belongs firmly in that canon. This heartfelt tale—very aptly self-described by Ma as "a Greek tragedy told in a Chinese pop song"—is impressive enough on its own terms, yet by the time it reaches its unexpected climax, it becomes something altogether more breathtaking, a meditation on not just memory and life but on something else that I won't mention here in order to preserve the revelation.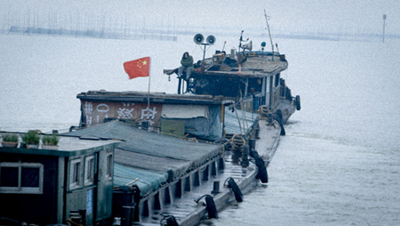 At a Chinese wedding, a young couple happily exchanges vows, as a tearful audience watches on. Yet, as the camera takes it time to slowly zoom in on one attendee in particular, his sad expression makes us wonder if this might not be a happy union after all. Moments later, a freeze frame and a first line of narration assure us that this wedding has nothing to do with why we're here. "If you came for a love story, this is not it. This is a story about my father, and a song he used to sing to me."
That narrator is a nameless individual who is reflecting on the time when he was 10 years old and was separated from his father (Mei Song Shun), a boat captain who loved the music of Liu Huan (with his ponytail, people said they looked like each other too). One day, when it appeared that his men weren't going to get paid yet again, he called them off the job, and tracked down his employer, the powerful Boss Wang, at that Chinese wedding we saw at the beginning of the film. Even though our narrator's father knew the risks in challenging a man like Boss Wang, he had no other choice. And so our narrator's poetic reflection begins.
From the very first frame of Grand Canal, it's clear that we are in the hands of a maestro. Ma exhibits the skill, care, craft, and precision of a veteran, delivering a heartfelt work of personal fiction that has a big-screen impact no matter the size of the screen you watch it on. In that first bit of narration, we discover that Ma's film is about more than a mere parent-child relationship. It's about music as well, and how pop songs can somehow bridge the wide waters between two souls. To that end, Ma's usage of pop music here isn't incidental or throwaway. It's a vital component, the heart of the story, in fact, and it brings an element of fantasy and flair to an otherwise heavy, grounded situation. Even without its "twist" of an ending, Grand Canal is an exceptional film. Yet with it, it will make you think back on your own long-lingering childhood goodbyes.
— Michael Tully
***FROM THURSDAY, OCTOBER 17TH THROUGH SUNDAY, OCTOBER 20TH, "LIKE" THE FILM'S
FACEBOOK PAGE AND WRITE THEM A MESSAGE TO WATCH A PWD-PROTECTED LINK TO THE FILM***
https://www.facebook.com/grandcanaljohnnymaktubfilms
***WATCH THE TRAILER***