SHORT FILM CONTEST WINNER/RUNNERS-UP: SPRING '14
Well whaddya know. Based on the way the numbers shook out, we are here to celebrate three films this month—one winner and two runners-up. So be it! A hearty thank you to Jeremy Saulnier (do not miss his Blue Ruin, which opens Friday, April 25th), IFC's Arianna Bocco, and previous contest winner Johnny Ma, for taking time out of their busy schedules to judge our finalists. As usual, the submissions were hearty and the competition was stiff, so it certainly wasn't an easy task. (Hopefully it will be an equally difficult task for our Summer '14 contest, but that's only if you guys keep submitting great shorts!) Rather than dilly-dally any longer, let's get to it. Congratulations to these very worthy victors.
RUNNER-UP (TIE)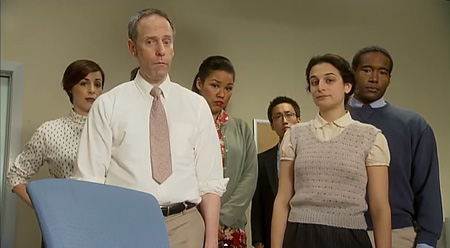 Catherine
(Dean Fleischer-Camp, 13:37)
"So weird that it's refreshing." That's what Johnny Ma had to say about Dean Fleischer-Camp and Jenny Slate's web series-turned-self contained short film, and he's right (you can watch them all online, starting right here). This is one of those cases where one can muster up a variety of different explanations to try to describe what's going on here—a melodrama-free soap opera, an irony-free cubicle drama, a porno without the sex, a narcotized thriller without a salacious pay-off—and yet none of those quite pinpoint it exactly. The matter-of-fact, emotionally flat-lined performances strip away the usual office social norms to reveal something more bracing and pure. Earth would be scary if all businesses operated like this, and yet at the same time, it's a pleasure to encounter a working environment on-screen that simply is what it is, removing the typical insecurities, power dynamics, and spicy affairs from the table.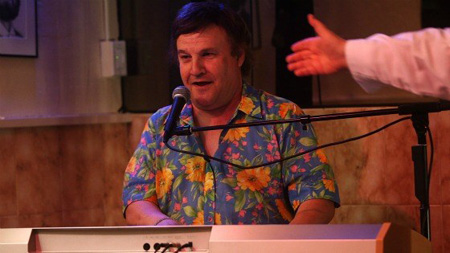 Uncle Floyd
(Charles Poekel, 11m)
"I found this really moving on a few different and subtle levels," said Arianna Bocco about Charles Poekel's Uncle Floyd, and she's right too. As with so many legendary 20th century NYC-area institutions, Colucci's Ristorante in Haledon, NJ, is about to shut down. Poekel was there to film one of the final performances of Floyd Vivino, whose weekly Tuesday residency there drew people from all over (his "The Uncle Floyd Show" ran on national TV from 1974-1998 and was a big hit with luminaries such as David Bowie and John Lennon). By taking a casual, observational approach, Poekel allows those layers of history to creep in, resulting in an 11-minute film that packs an unexpectedly powerful emotional punch. As Floyd plays his last song and the restaurant shuts down for the night, we feel the sadness of yet another cultural voice and institution fading away before our very eyes.
WINNER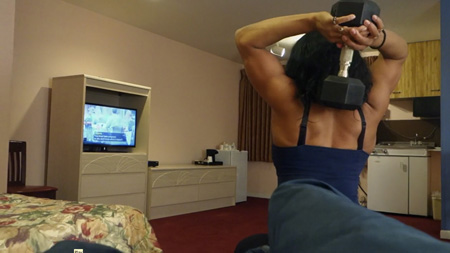 Master Muscles
(Efren Hernandez, 13:41)
"Within the first minute, the characters bursts through the screen like a couple of sledgehammers, I was sold." That's Johnny Ma trying to wrap his brain around Efren Hernandez's indescribable Master Muscles. Or, to put it more succinctly, here's Jeremy Saulnier take: "Say what!?" In her contribution to the HTN review, Susanna Locascio describes the film as such: "It's nominally about a young, hipster-ish dude (Efren Hernandez, also the director) who accompanies a black woman bodybuilder (Jehina Malik) on a roadtrip. They start by trashing an apartment, and end up in a palatial beach house, but where we've traveled is inconclusive. During this bizarro odyssey they take turns filming each other, and the camera between them acts as both witness and weapon in this strange relationship. By the time we arrive, and she's ashing her cigarette in his mouth, some sort of queasy dominance has been established." Your guess is as good as mine, but with its propulsive editing and consciously orchestrated handi-cam voyeurism, Master Muscles jumps off the screen in a way that made it rise to the top of the submissions pile in this month's contest. (Aside from language there is nothing obscene or graphic in this film, yet an air of snuffiness remains that might not make it "officially" NSFW, so proceed with caution when you watch it!)
***WATCH IT RIGHT NOW FOR ONE WEEK ONLY (THROUGH APRIL 28TH)***