WILD STYLE at Film Forum and PLANET B-BOY on DVD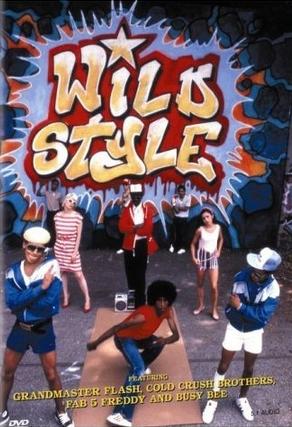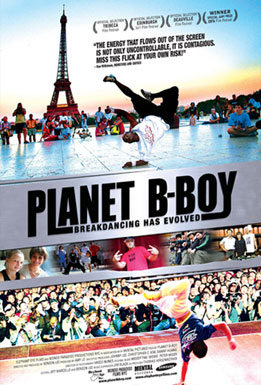 I didn't catch up with Charlie Ahearn's groundbreaking 1982 feature Wild Style, playing at Film Forum through next Thursday, until sometime in the late '90s. As a hip hop geek in good standing, I was aware that the movie was considered a seminal classic. But I didn't know how seminal until I finally saw it. Then I realized that the film had already been part of my consciousness for years—from hearing rappers allude to it and producers sample snippets of it, and from seeing its look borrowed for countless fashion shoots and marketing campaigns. Commentators now refer to the film as a "time capsule," but that phrase, with its implication that something long vanished has been unearthed, isn't quite accurate. Wild Style is still in the air, all around us. It's part of the foundation of the building every hip hop lover calls home.
The movie captures what was still largely a neighborhood subculture at its breakout point into the mainstream. "Rapper's Delight" had come out in 1979. "The Message" dropped in '82. "White Lines" and Run DMC's first single were to follow in '83. What had started in Bronx house parties and park jams was now reaching the ears of the wider world. Ahearn and his main collaborator/enabler Fab 5 Freddy, who introduced Ahearn to many of the principals and also acts in the film, had the insight to make this the center of their story. Graffiti writer Lee (Lee Quiñones) is so devoted to the purity of his art that he adopts "Zoro" as his nom de spraycan, wanting to remain anonymous even as journalists and art dealers from money-makin' Manhattan come calling on his graf peers. But Lee isn't totally immune to the blandishments of fame and fortune. Will he compromise his work for a paycheck and a downtown gallery show? Or will he—to use a phrase that didn't exist in 1982, since there was no need for it yet—"keep it real" and stay true to his renegade roots?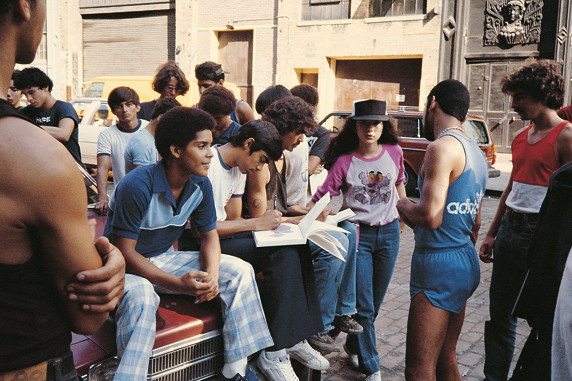 The plot is a flimsy, creaking contraption, the dialogue sounds as if it was written in crayon on a wet napkin, the camerawork and editing are little more than serviceable. None of this matters. Ahearn filled his cast with real-life taggers, breakers, MCs, DJs, and scenesters, and the excitement of seeing them represent their world on screen more than makes up for what they lack in professional acting chops. The film buzzes with energy—the grit of the subway yards and housing projects, the explosion of color and design in the graf pieces, and most of all, the vibrancy of the performers: Chief Rocker Busy Bee controlling the mic at a rap competition as the Rock Steady Crew busts moves on the dance floor, Grandmaster Caz and the Cold Crush Brothers taking on the Fantastic Five in a choreographed rhyme battle on a basketball court, Grandmaster Flash cutting and scratching records in his kitchen. Ahearn has said that all he wanted to accomplish was to make the kind of movie that the kids starring in Wild Style would go see in Times Square, but instead of the usual martial-arts and slasher-flick fare, this would be their mode of expression given big-screen validation. But looking at it now, with the benefit of hindsight, you think—well, of course. How could this music, this culture not go on to take over the world?
Cut to twenty-plus years, hundreds of millions of albums, and billions of dollars later. Documentarian Benson Lee sets out to film five b-boy crews preparing for the biggest breakdancing competition in the world, the Battle of the Year in Hanover, Germany. Two of the crews are South Korean, one is American, one French, and one Japanese. Planet B-Boy, out this week on DVD, celebrates hip hop culture's global success by showcasing its enduring appeal to the young who find in it a voice that speaks to them and sounds like them. The hungry teenage and twentysomething strivers it depicts are still living out the same dream as the Bronx underdogs Ahearn immortalized. B-boying is their passion, their pursuit of excellence, their best and only chance to make the world stand up and pay attention to them. The language of the lyrics may change, but the song remains the same: I got so much trouble on my mind. Parents just don't understand. Stereotypes of a black/brown/white/yellow male misunderstood—but it's still all good. 'Cause I ain't no joke.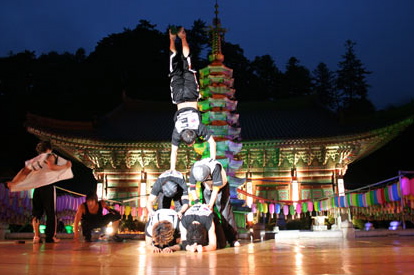 We follow the crews as they rehearse their routines and share their life stories with the camera. (Some fascinating cultural nuances emerge: one American b-boy speaks of his desire to bring the crown back to the country that started it all; the French team is made up mostly of the children of African immigrants; the Koreans are racing against the clock—they're all facing mandatory military service, which will effectively end their dance careers.) Finally, they arrive in Germany, setting up camp and checking out the competition. By one of those miraculous strokes of luck every documentary filmmaker prays for, all five crews end up in the finals.
If I have one quibble with the film, it's that Lee has so much ground to cover, and so much material to work with, he rarely lets the dance routines breathe. Cutting for maximum kinetic and dramatic impact keeps things moving at a brisk pace, but the competition numbers come across as a highlight reel of spectacular tricks: we lose the intuitive, improvisatory flow of real-time dance, to the point where we can't tell why one crew outscores another. This is a minor complaint. Like most audience members at the festival screening I attended last month, I spent much of the movie whooping, gasping, laughing, and cheering. Planet B-Boy is a joyful ode to artistic struggle and athletic competition, and a head-nodding, fist-pumping, foot-stomping thrill-ride.
— Nelson Kim
(Wild Style plays at Film Forum in NYC through Thursday, November 20. DVDs and other merchandise can be found at the Wild Style website or at Amazon
. Planet B-Boy is just out on DVD and can be purchased at the movie's website or on Amazon
.)