THAT'S A WRAP ON THE 20TH OXFORD FILM FEST!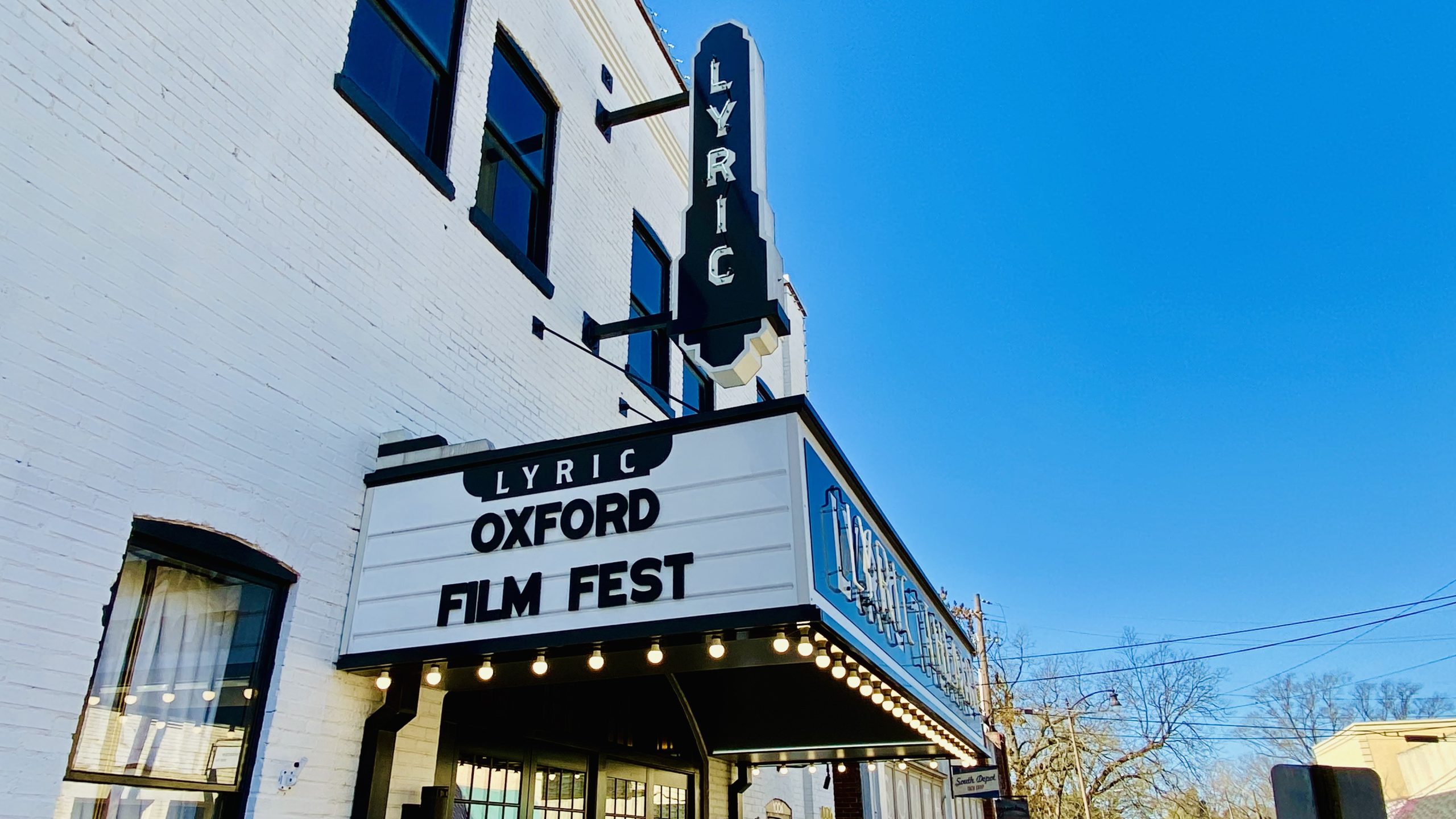 The 20th edition of the Oxford Film Festival ran from March 1 – 5 in Oxford, Mississippi and I was fortunate enough to attend as a juror for the first time ever. Talented, rising filmmakers from all around the world screened their films, both feature and shorts totaling over 160, to an enthusiastic local community with a fresh appreciation for film of all forms. If there's ever a cool, fun little film festival to attend with lots of fun events and networking opportunities, it's the Oxford Film Festival. Both the town itself and the festival team define southern hospitality, from arranging transportation to making sure both filmmakers and jurors have everything they need for their experience.
When I first landed at Memphis International Airport on the first day of the festival, I was [literally] embraced with open arms by Virginia Brick, a longtime volunteer of the festival and its transportation coordinator who gave me both a lift to Oxford and some pleasant conversation. After I checked in and dumped my stuff in my room, I headed over to the town for the festival's 20th birthday party at the famed historical theater, The Lyric. The turnout wasn't as big as I had expected, partially due to there being a tornado watch [thankfully, that meant extra mini cupcakes for moi]. But I got to rub shoulders with some filmmakers, programmers, and festival committee members who were both cool and congenial. I even got a good taste of live music from some local artists. I was just in awe of the grand cultural space I found myself in, which also included some engrossing video art on the upper level. Not a bad start to a week of fun, networking, and some cinematic voyaging.
For Day 2, I got a better sense of the town in broad daylight, which included visiting the grand bookstore Square Books, where I treated myself to a William Eggleston photobook. After grabbing a mouthwatering brisket quesadilla from Lamar Yard, I headed to the University of Mississippi's (aka Ole Miss) film department where filmmakers Johanna Putnam and Jamie Unruh were giving a lecture to students on their microbudget film, Shudderbugs, which was also playing at the festival. The psychological drama was shot during the pandemic in upstate New York with only a three-person team: writer-director-star Putnam, cinematographer/costar Brennan Brooks, and producer Unruh. The whole room was transfixed by Putnam and Unruh's lecture which featured info on the pre-production, production, and post-production processes on a shoestring budget that would be useful to any budding filmmaker. "It's luxurious to make a film with your best friends in your parent's home," said Putnam.
The evening started out with a live airing of Thacker Mountain Radio at The Lyric, which had easy-listening performances from Tennessee-based country artist Jon Byrd and a talk by Coming to America and The Nutty Professor screenwriter David Sheffield. The whole aesthetic of the event felt like I was at a recording for A Prarie Home Companion. After grabbing a Mexican dinner with a few folks, I headed over to Malco Theatres where they were screening the Sundance doc Little Richard: I Am Everything. Everyone in the theater, including myself, enjoyed it immensely and we left the theater seeing Little Richard in a whole new light, as well as not getting "Tutti Frutti" out of our heads. The evening didn't end there as I, a few filmmakers, and my fellow Narrative Feature jurors Nelson Kim and Geoff Marslett – whose film Quantum Cowboys was also screening at Oxford – toured some of the town's best night spots where we spoiled ourselves with some drinks and smooth live music. I kept my intake to a minimum since I wanted to have a fresh mindset for tomorrow's jury deliberations.
For Day 3, all the jury members of every category met up in our hotel's lobby conference room to deliberate on what should take the top awards, as well as those they should get a special jury mention. This is where I met my co-juror, Aaron Hillis – Director of Programming for Cinedigm who also runs the streaming platform Fandor – who is quite a character himself in many fun ways. Since the four of us were deliberating over two categories – Narrative Feature and LGBTQIA+ – I wasn't sure whether or not this would take a while. Thankfully, we all had very similar tastes in film that our decisions were made almost effortlessly. Now that the biggest part of the job we had was done, we all exhaled a bit. I decided to reward myself with a peaceful walk to William Faulkner's home and grounds where I was filled with a pure quietness I have not heard in God knows when.
I later headed over to Malco Theaters where they screened a block of short films from local Mississippi filmmakers. Watching these various shorts gave me a good sense of life in this welcoming state. Some of them explored topics such as identity, relationships, and social issues in many diverse, unique ways. Later into the evening, I hitched a ride over to the historic Cedar Oaks home where they were holding a Faulkner-themed party, which included a free mustache and fake pipe. I'm still mindblown that we were able to sit on and touch some of the elegant and classic furniture. Me, Aaron, and Nelson were getting into a fun debate over the meaning of Tár over some whiskey with a sax and piano playing live in the background. I tell you, there's something about this town, the festival even, that makes you feel like you're in the moment.
Day 4 was a bit of a slow start. After sleeping in for a little bit, I walked into town where they were holding panels all day at Powerhouse, Oxford's community arts center. There was a fantastic talk on distribution from U.K.-based industry insiders and festival jurors Katie McCullough and Ian Bignell. They talked thoroughly about how you should choose your film festivals wisely and realistically for the type of film you have made in terms of the audience it will attract, the submission fee in terms of your budget, and so forth. This talk is a must-see for any filmmaker starting out that's trying to get their films through the right channels. After that talk, my passion for photography drove me to the screening of the local documentary Two Lives in Photography, which centered on the works of married Mississippi photographers Maude Schuyler Clay and Langdon Clay throughout the years. Though the documentary itself lacked in pacing and style, it is a calming watch and makes a great introduction to two artists that photography lovers will take great notice of.
As the sun was setting, I decided to stop at William Faulkner's grave at the Oxford Memorial Cemetery, where I was joined by festival driver Mike and filmmaker Michelle Sui, whose experimental short Behalf was screening in the Fest Forward section. In front of his grave, I read a passage from The Sound and the Fury while Michelle was capturing everything on their Super 8 camera. Per tradition, we all toasted Faulker with a shot of brandy. After grabbing a po'boy at Ajax Diner, I went back to the hotel to stream the last of the Independent Spirit Awards and chillax for a bit. I later made my way back to Powerhouse where the festival was hosting a Blockbuster-themed party. It had almost EVERYTHING reminiscent of the old VHS days, including custom-made VHS covers of the films screening at the festival on display and boxes of candies lying around. They even had laser tag going on by the parking lot, but the power ran out just as I got to the front of the line. Welp. After chilling with some folks by an outdoor fireplace, I knew I had to call it a night since tomorrow was the big day: the awards ceremony!
On Day 5, we the jurors made our way to The Lyric where the awards ceremony was being held! Thankfully they had an open brunch buffet that revived us plenty after the fun-packed night before. My fellow jurors and I took to the stage and awarded the Best Narrative Feature to Mike Cheslik & Ryland Brickson Cole Tews' gloriously zany and wildly imaginative fur trapper comedy Hundreds of Beavers. We also gave a Special Jury Mention for Microbudget Savvy to Shudderbugs. For the LGBTQIA+ lineup, we awarded Best Film to writer/director/star Michelle Ehlen's moving self-discovery dramedy Maybe Someday. We also presented a Special Jury Mention for Social Advocacy to Matt Nadel and Megan Plotka's short documentary CANS Can't Stand, which highlights the fight to repeal a Louisiana law that mainly targets the queer and trans communities.
I only get to attend a few film festivals every year as a writer for HtN and for my first time ever as a jury member, it was an honor and a privilege to attend the 20th Oxford Film Festival. And I hope this will not be my last time attending it either. It is the type of festival where everyone can easily connect with one another, regardless of experience, position, or background. The town itself is both lively and peaceful. The people are welcoming, down-to-earth, and great at making you feel totally at ease. I highly recommend this film fest to anyone who loves weird, innovative breakout film and a quiet, vibrant place to visit.
– M.J. O'Toole (@mj_otoole93)
Oxford Film Festival 2023 Hoka Winners
Best Narrative Feature: "Hundreds of Beavers," Mike Cheslik & Ryland Brickson Cole Tews
Special Jury Mention for Microbudget Savvy: "Shudderbugs," Johanna Putnam & Jamie Unruh
Best Documentary Feature: "Show Business Is My Life, But I Can't Prove It," GB Shannon, Heather Wilks, & Edward Valibus
Honorable Documentary Mention: "Silent Beauty," Jasmin Mara Lopez
Best Documentary Short: (TIE) "SLICE," Zaire Love; "Krush: The Wrestler," Alex Megaro & Ian Bell
Honorable Documentary Short Mention: "Dateleap," Jack Evans
Best Mississippi Narrative Feature: "The Banality," Michael Stevantori & Strack Azar
Best Mississippi Narrative Short: "Rear," Edward Worthy
Best Mississippi Documentary Feature: "In The Bones," Jessica Anthony, Kelly Duane de la Vega, & Zandashe Brown
Best Mississippi Documentary Short: "The Holidays in Mississippi," Christina Huff
Best Mississippi Music Video: "Ray Kincaid: "Scatter Brain Freestyle," Kira Cummings
Honorable Music Video Mention: "Heart In A Notebook," Rory Ledbetter & Danny Klimetz
Best LGBTQIA+ Film: "Maybe Someday," Michelle Ehlen
Special Jury Mention for Social Advocacy: "CANS Can't Stand," Matt Nadel, Wendi Cooper, & Megan Plotka
Best Fest Forward Short: "My Dear Son," Wing Yan & Lilian Fu
Runner-Up: "Inner Wound Real," Carrie Hawks
Best Comedy Short: "I Still Haven't Found What I'm Looking For," Steve Collins
Honorable Comedy Short Mention: "Angle of Attack," Russell Leigh Sharman & John Walch