HAMMER TO NAIL'S TOP 13 FILMS OF 2010
With the end of 2010 comes the neat-o realization that we're about to turn four years old at Hammer To Nail. And while it's already becoming a pattern for us to say something similar to what we're about to say right now, it's true: Reading over this list makes it abundantly clear that truly independent American narrative cinema is as alive and thriving as it's ever been. Though that doesn't solve another persistent question that we can't keep from constantly considering: How can we help to widen the viewership of the "smaller" movies that we love? That's why we started HTN: to let the world know about these less publicized (and much less fiscally supported) films. Our hope is that you, faithful reader, will continue to frequent the site and spread the word. In 2011, we're going to keep things moving forward, and while we are going to remain experts when it comes to the micro/low/mini-budget realm, we are also determined to keep writing about the best, most ambitious viewing out there, whether it be a foreign film, a documentary, or even a big studio work.
To clarify, here are our general voting parameters:
1) American narrative features produced for one million dollars or less.
2) The film had its first public exhibition—theatrically, VOD, DVD—in said calendar year.
3) No HTN contributor is allowed to vote for a film in which they have a cast/crew credit (to that end, no, Ms. Lena Dunham did not vote for Tiny Furniture; in fact, she didn't vote at all this year).
That's about it. After much deliberation, we've decided to not hand out a Golden Hammer and Silver Nail award this year. Not because there weren't excellent candidates. We just thought it would be nice to focus on the films themselves and not contribute even more tumbling snow to the increasingly icky "awards" avalanche that happens at this time every year.
Thanks for reading, congratulations to the filmmakers mentioned below, and let's keep up the good work in 2011, everybody!
THE TOP 13 FILMS OF 2010: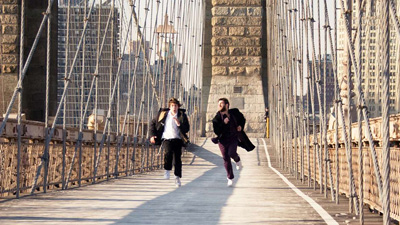 13. Holy Rollers (Kevin Asch, 22 points)
On paper, Holy Rollers sounds like one of those movies that could go wrong in so many different ways it doesn't seem possible that it won't. But from the very first frame of Kevin Asch's debut feature, there's a feeling in the air that this one just might be different. It is. Holy Rollers is an unexpected treat that rises above its superficial trappings thanks to assured filmmaking, a healthy dose of unforced humor, and a whole lot of actual heart. Oh yeah, and not to mention a performance by Jesse Eisenberg that is as impressive as his work in The Social Network. (Michael Tully) HTN REVIEW
************************************************************************************************************************************************************************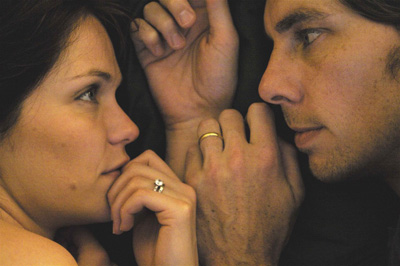 12. The Freebie (Katie Aselton, 23 points)
The main characters of The Freebie, Darren (Dax Shepard) and Annie (Katie Aselton), are in a stable seven-year relationship built on love, trust, and communication. While they have fun together and really love one other, they also opt out of sex for crossword puzzle races. After realizing how many months it's been since they've made love, they come up with an idea: one night of freedom to sleep with whoever they want, no strings attached. They hope a "freebie" will be the cure they need… but whether or not they can go through with it is a different story. Like many other m-word movies, The Freebie is a true collaboration between those involved, but this is especially true when it comes to the director, DP and editor. (Alexandra Roxo) HTN CONVERSATION
************************************************************************************************************************************************************************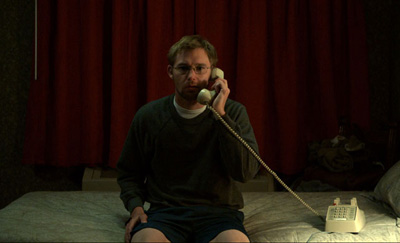 11. Easier With Practice (Kyle Patrick Alvarez, 26 points)
In his feature film debut as a writer/director, Kyle Patrick Alvarez and his team have delivered a top-notch production every step of the way. Easier With Practice looks good, sounds good, and is extremely well acted. But what distinguishes this low budget effort from so many others on the festival circuit is not just the story Alvarez tells, but how he tells it. Beginning with a catchy—dare I say quirky—hook (based on the GQ article "What Are You Wearing?"), he gradually, deceptively draws viewers into a more joltingly personal place. By the conclusion, you'll wonder how Alvarez managed to go from there to here, and you'll be all the more surprised and impressed because of it. (MT) HTN REVIEW
************************************************************************************************************************************************************************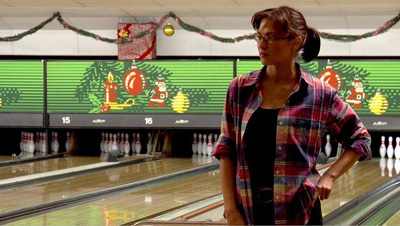 10. The New Year (Brett Haley, 30 points)
Brett Haley's The New Year is a modest little number in just about every way, from its meager budget (just under 10k) to its understated performances to its graceful handling of material that could have so easily devolved into maudlin made-for-TV schlock. Which is what makes it such a pleasant surprise. Why is it that so many young writer/directors feel a burning urge to amp up the drama and conflict in their stories to implausible degrees, producing work that shows filmmaking talent but lacks real world maturity? To his credit, Haley isn't interested in those stylistic and emotional pyrotechnics. He is more concerned with telling an honest story, trusting that his audiences will respond to the sincerity of his cause. (MT) HTN REVIEW
************************************************************************************************************************************************************************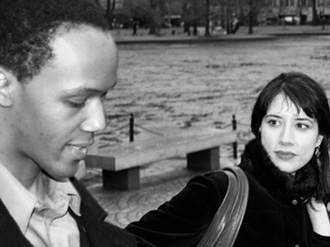 9. Guy And Madeline On A Park Bench (Damien Chazelle, 32 points)
Harvard grad Damien Chazelle's debut has no need for exposition or forced accessibility, and yet it's not esoteric in the slightest. It's meant to pass over you like a calm spring day in the park, with a few jokes, some sterling almost-but-not-quite-bitter observations, and more than a fair share of fun. While obviously a throwback (you won't be able to help thinking of Breathless, Bing Crosby and early Cassavetes), one hopes it's a harbinger of things to come, a bebop tinged DIY mumblemusical that, despite its New Wave-esque 16mm B&W aesthetic, is very much a movie of this time and moment. (Brandon Harris) HTN REVIEW
************************************************************************************************************************************************************************
8. The Exploding Girl (Bradley Rust Gray, 41 points)
In The Exploding Girl, our viewing experience is controlled through writer/director Bradley Rust Gray's framing, lighting, sound design, and editing. Rather than solely through dialogue and acting, it's the moments between the mumble and chatter where the drama of The Exploding Girl is located. Unlike most mumblecore films, this is a visual experience, conveyed through a camera perspective that is similar to Hou Hsiao-hsien's 'invisible observer' perspective, which allows the characters' state of instability to resonate so strongly. The Exploding Girl's drama is centered in those awkward off-balance moments fully because the filmmaker is confident enough to stretch beyond naturalism and explore the unspoken through oblique camera angles, foregrounded sound design, as well as the skillful, articulate staging of actors. (Mike S. Ryan) HTN REVIEW
************************************************************************************************************************************************************************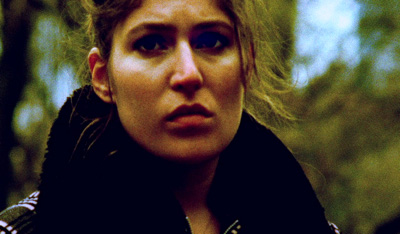 7. You Won't Miss Me (Ry Russo-Young, 45 points)
Ry Russo-Young's follow-up to Orphans features a tour-de-force performance by Stella Schnabel, who plays Shelly Brown, an early 20-something who has just been released from psychiatric care to return to life in downtown New York City. As Shelly bounces from encounter to encounter and goes through the motions of trying to be an actress, it becomes difficult to tell if she is truly on the brink of insanity or if she's just an abnormally intense young person grappling with the troubles of early adulthood. Russo-Young's mixed media approach further mimics Shelly's hyper-intense mental state and turns an otherwise typical portrait into something artful, layered, and dynamic. It's one of the year's best independent films. (MT) HTN CONVERSATION
************************************************************************************************************************************************************************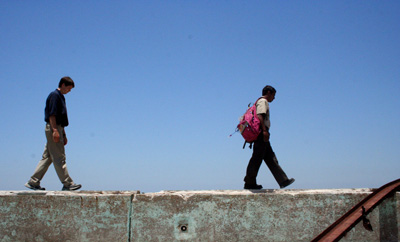 6. Low and Behold (Zach Godshall, 58 points)
Though it wowed me after watching it in conjunction with its world premiere at the 2007 Sundance Film Festival, I sense that Low and Behold will only get better with age. Not only is it a striking time capsule of post-Katrina New Orleans; on a filmmaking level, it's one of the more unique hybrid films to emerge in early 21st century American indie cinema. On the one hand, it unfolds like a traditional work of fiction, in which a timid insurance claims adjuster, Turner Stull (co-writer Barlow Jacobs), arrives in New Orleans and forms an unlikely bond with a local man, Nixon (Eddie Rouse), who is searching for his lost dog. On the other hand, it plays like a straight-up documentary, as Godshall, Jacobs, and cinematographer Daryn Deluco take the time to stop and interview actual residents who share their own personal tales of survival and recovery. (MT) HTN REVIEW
************************************************************************************************************************************************************************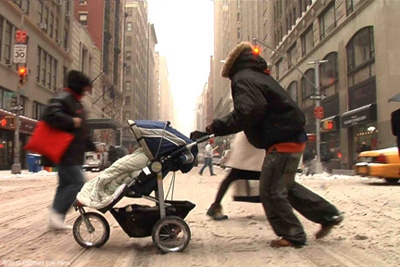 5. Prince of Broadway (Sean Baker, 67 points)
It's hard to make more astute observations about the work of writer/director Sean Baker than the ones that have been made in piece after piece about his last film, Take Out. But, with the coming of his next work, I'm going to try. His latest, Prince of Broadway, is the simple story of a self-proclaimed Ghanaian hustler whose life is turned upside down when his ex-girlfriend Linda stiffs him with their baby to raise. But in the hands of an intelligent and witty filmmaker like Baker, Prince of Broadway is anything but simple. It's as if Baker could find the drama of a wall being painted and make it kinetic, unexpected and cinematically original with a pixel-vision camera. (Michael Lerman) HTN REVIEW and CONVERSATION
************************************************************************************************************************************************************************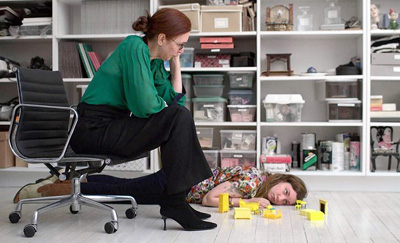 4. Tiny Furniture (Lena Dunham, 69 points)
Lena Dunham's follow-up to Creative Nonfiction isn't just a major leap forward. It's like a rocket launch to a bigger and brighter planet. For those of you who have been pining away for Whit Stillman's return, Dunham is here to scratch that itch in a major way. Aspiring romantic comedy makers, please study this film. Dunham's first brilliant stroke was to work with 2009 Silver Nail winner Jody Lee Lipes, who shot this film on the Canon 7D—technically a still camera—but has somehow made it look like The Graduate. But removing that vital element from the equation, Dunham delivers a sharply written comedy that uses pop culture references in a way that is never overly hip or gratingly snappy. This is dangerous terrain, to be sure, but Tiny Furniture is a reminder that, if done appropriately, this genre can be artistically invigorating. It is the very real deal. (MT)
************************************************************************************************************************************************************************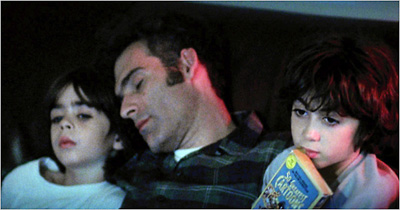 3. Daddy Longlegs (Josh and Benny Safdie, 71 points)
It's clear every step of the way that Josh and Benny Safdie didn't make this movie to come to any resolute determinations about their shared past, or were never working toward a yay-or-nay conclusion about Lenny's character. They understand that good people do bad things, that mean people can be funny, that the world can be both hilarious and tragic. And that is what perhaps best exemplifies the artistic vision of the Safdie Brothers. Theirs is a world blooming with strange contradictions, in which fantasy fuses with reality, humor overlaps with sadness, innocence coalesces with awareness, and childlike wonderment rides on a subway car next to a ball of teeming, adult stress. Come to think of it, that sounds like a fitting description of New York City itself. (MT) HTN REVIEW
************************************************************************************************************************************************************************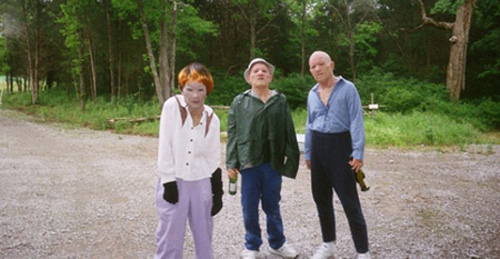 2. Trash Humpers (Harmony Korine, 78 points)
Trying to erase Harmony Korine's Trash Humpers from one's mind is like trying to scrub graffiti off a brick wall with a diaper and some spit. This alternately hilarious and haunting ode to a recent-but-bygone pop-cultural tradition might very well be Korine's purest act of creative expression yet. Abandoning the lush, sweeping formalism of his last feature, Mister Lonely, Korine has expectorated a proudly deformalistic American trashterpiece. (MT) HTN REVIEW and CONVERSATION
************************************************************************************************************************************************************************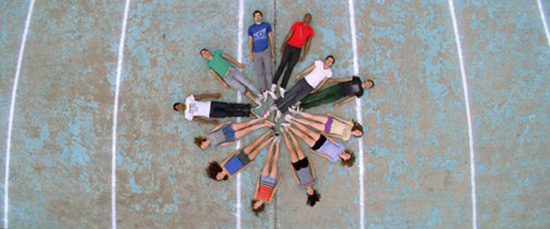 1. NY Export: Opus Jazz (Jody Lee Lipes and Henry Joost, 88 points)
The brainchild of New York City Ballet dancers Ellen Bar and Sean Suozzi, NY Export: Opus Jazz is a dazzling modern retelling of acclaimed choreographer Jerome Robbins's 1958 ballet—moodily scored by Robert Prince—which stands as a more boldly abstract companion piece to Robbins's more widely heralded, and narrative driven, West Side Story. In updating Robbins's "ballet in sneakers" for modern dancers in modern times, Bar and Suozzi—in collaboration with co-directors Jody Lee Lipes and Henry Joost—have transposed this spectacle to the streets of New York City. By doing this, not only have they made a convincing argument for their increasingly marginalized art form; more impressively, they have paid tribute to their source master by proving that, fifty years later, his work is as vital and robust as ever. (MT) HTN REVIEW and SET REPORT
************************************************************************************************************************************************************************
Other Films Receiving Votes (In Alphebetical Order):
Audrey the Trainwreck
Bass Ackwards
Breaking Upwards (HTN REVIEW)
Entre Nos
Flooding With Love For The Kid (HTN REVIEW)
Gravity Was Everywhere Back Then
The Happy Poet
Helena From The Wedding (HTN REVIEW)
The Immaculate Conception of Little Dizzle
The Juche Idea (HTN REVIEW)
Lovers of Hate
MAKE-OUT with VIOLENCE (HTN REVIEW)
Modern Love Is Automatic (HTN REVIEW)
Night Catches Us
Open Five (HTN REVIEW)
Red, White & Blue
(Contributors: Pamela Cohn, Tom Hall, Brandon Harris, Holly Herrick, David Lowery, David Redmon, Alexandra Roxo, Mike S. Ryan, Ashley Sabin, Michael Tully)