HOME VIDEO PICKS
7/24/12
Pick of the Week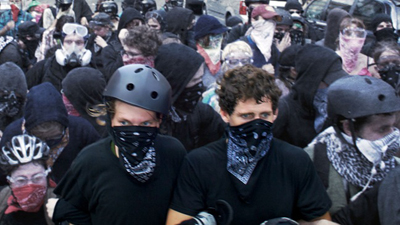 Better This World (Passion River) — Better This World illustrates the kind of Orwellian society we have to a certain extent turned into. It's been said that we create what we fear, and Kelly Duane de la Vega and Katie Galloway's documentary draws a clear picture of how the government's paranoia and hyperbole made it necessary to manufacture something that could be called terrorism. That the real story is being told is at least some vindication for what happened to David McCray and Bradley Crowder. Read Paul Sbrizzi's full HTN review. Available on DVD
.
Recommended
The Deep Blue Sea (Music Box Films) — Terence Davies can certainly strike a mood. So while The Deep Blue Sea's theatrical origins are occasionally quite clear—in one scene, no fewer than four people walk in and out of a single room, seemingly disappearing into the ether once they've left—any questions as to its cinematic merits are immediately quashed by the English auteur's inimitable stylistic flair: sumptuous visuals, melancholy music. Davies, in adapting Terence Rattigan's landmark 1952 play of the same name, evokes postwar England in much the same way as he has in the past: as a dreary but beautiful place rich with memory and sadness. Very little that happens would appear to lend itself to such lush presentation, and yet its look and feel are never anything less than arresting. Many scenes consist of little more than drawn-out conversations, but the light (whether from a bay window or nearby candle) that falls across the characters' faces as they speak and scream and cry would seem heavenly were the actual content of these discussions not so often fraught with anger and betrayal. Doubly so, in fact, as true feelings are rarely what's talked about; if they're brought up at all, it usually comes in veiled references that hint at more than they reveal. Read Michael Nordine's full HTN review. Available on DVD
and Blu-ray
.
Footnote (Sony Classics) — Joseph Cedar's film is intellectually frisky fun! Available on DVD
and Blu-ray
.
New/Old to DVD/Blu-ray
Metropolitan (Criterion) — Nearly twenty years later, Whit Stillman's debut is as impressive as ever, a nearly virtuosic display of screenwriting at its sharpest and most crackling. By focusing on a group of wealthy young New York hyper-intelligentsia during debutante season, over-privileged elitists who have a serious hankering for the better ol' days, Stillman did more than just turn a refreshing, novel concept into cinematic reality. In any other situation, this dialogue simply wouldn't play. But in the mouths of these self-professed UHBs (Urban Haute Bourgeoisie), it feels impossibly natural (credit must certainly be given to the young, unknown cast, especially soon-to-be Stillman regulars Chris Eigeman and Taylor Nichols). The constant banter reaches a state of verbal pyrotechnics, as these Ivy League-educated socialites bicker about literature and history, discuss matters of love, and yearn to be part of a society that appears to be fading into the bookshelves. In lesser hands, this would feel like insufferably bad theater. In Stillman's, it becomes a major lesson in how to write really, really well. Read my full HTN review. Now available on Blu-ray
(still available on DVD
).
The Last Days of Disco (Criterion) — If Metropolitan remains chaste, fully-clothed, and Barcelona strips down to its swimming trunks, then Disco, the most bawdy member of Whit Stillman's "Doomed Bourgeois In Love" trilogy, straight-up takes off its pants. Characters discuss cocaine and STDs with a frankness they once applied only to conversations about Jane Austen. Stillman has moved the party downtown and the decadence no longer takes the form of afternoon tea and copious cabs. Instead, we see sequins, exposed navels and Jaid Barrymore as a cougar in an alarming catsuit. (There is also a cameo from Igby Goes Down director Burr Steers, thus confirming my theory that a tweedy elk's lodge exists somewhere above 75th street where the men who preserve "uptown" life on celluloid can be found palling around.) Characters from Metropolitan reappear, older now, and generations mingle as a fresh-faced Sevigny dances seductively with a (comparatively) graying Stillman-standard Chris Eigeman. The times, they are a-changing as the UHBs adjust to the fast money and loose morals of '80s New York, factors that will level the playing field and render their species almost obsolete. Read Lena Dunham's full HTN review. Now available on Blu-ray
(still available on DVD
).
Eclipse Series 34: Jean Gremillon During The Occupation (Criterion) — Includes the films Remorques, Lumiere d'ete, La ciel est a vous. Available on DVD
.
Have Not Seen Yet But Really/Kinda/Sorta/Maybe Wanna
Game of Thrones: The Complete First Season (HBO) — Available on DVD
and Blu-ray
.
Jiro Dreams of Sushi (Magnolia) — Available on DVD
and Blu-ray
.
Silent House (Universal) — Available on DVD
and Blu-ray
.
Todd Barry: Super Crazy (Comedy Central) — Available on DVD
.
One Response to "HOME VIDEO PICKS"
Teresae Donovan Says:
July 24th, 2012 at 11:31 pm

To be honest, there wasn't much in the way of press for the initial release of this movie and I just heard about it maybe two or three weeks ago. I love Rachel Weisz because as an actress she has depth. So I checked the kiosks around my house to see if it's available and only one had it but it has been checked out. A Dish co-worker suggested I try Blockbuster @ Home which gives me the ability to get movies just like this one sent to my house or I can stream other movies straight to my Hopper. So I put The Deep Blue Sea in my queue last week and it will be here tomorrow. I'm dying to see how this movie measures up to being a period piece and Rachel's performance as Lady Collyer.
Leave a Reply