Pick of the Week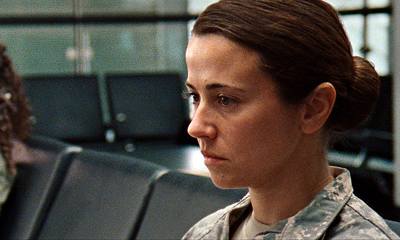 Return (Entertainment One) — Many films—both narrative and documentary—have been released in the past several years dealing with the emotional fallout of the Iraq and Afghanistan wars back home on American shores (The Messenger, Hell And Back Again, Stop-Loss, Where Soldiers Come From, just to name a few). But with Return, Liza Johnson brings something even more grounded—and in turn, wholly original—to the table. While she boldly switches the typical male protagonist role into that of a female soldier (played with award-worthy grace by Linda Cardellini), that isn't even her most welcome decision. By choosing to not place war memories, or flashbacks, or any concrete manifestation of this young woman's service in the foreground, Return plays like any other well-made domestic drama about a marriage on the rocks. Yet the reality is there all along: war wreaks havoc in the subtlest and most insidious of ways. Read our HTN Conversation With Liza Johnson. Available on DVD
and at Amazon Instant
.
Recommended
Crime After Crime (Virgil Films and Entertainment) — There are many things about this film that are deeply moving and the story is downright apocryphal. There is the dedication of its director and his crew to document every aspect of the story, and there is the transcendent relationship that Peagler, Safran and Costa develop over the course of this David-and-Goliath battle with the state of California's justice system. There are plenty of built-in dramatic twists and turns to keep a viewer on the edge. There are straight-out heroes. There are dastardly villains. Read Pamela Cohn's full HTN review. Available on DVD
.
The Innkeepers (Dark Sky Films) — It's virtually impossible not to compare Ti West's follow-up to The House of The Devil—particularly if you found that film to be as masterfully executed as I did—but in this case, I was able to check my expectations at the door and appreciate West's latest as the fun ride that it is. At 100 minutes, West certainly pushes the boundaries of how many slowwww walkssss downnnnn hallwayssss weeee neeedddd tooooo geetttt theeeee pointtttt acrosssss, and many less patient viewers will undoubtedly check out. But what I find to be so exhilarating about an effort like this is how West updates the old-school haunted house movie for the modern generation—both Pat Healy and Sara Paxton are great at conveying the soul-sucking, time-numbing burden of service jobs like these. He also infuses the film with a genuine sense of humor. West's recent films are in many ways intellectual filmmaking exercises, but his command of the craft and childlike enthusiasm for the visceral thrills inherent in his genre of choice help them to succeed as popcorn entertainment. Available on DVD
and Blu-ray
.
Pariah (Universal) — With Pariah, a buoyant tale of a young, middle-class New York lesbian's tough coming-of-age amid the class and cultural proxy battles that simmer within black America, lauded newcomer Dee Rees has made one of 2011′s most unlikely and richly welcomed directorial debuts. Rees, a 33-year-old Nashville, Tennessee, native who graduated from NYU's Graduate Film Program around the same time she both wrote the feature screenplay that would become Pariah and came out to her own parents, directed a 30-minute version of the story that became one of the most celebrated short films of 2007. She doesn't think of her debut as autobiographical, but it clearly tells a story with much at stake for her, one that feels informed by the disappointments of a youth spent in alienation from those you hope will—but don't expect to—come to terms with your identity. Read Brandon Harris's full HTN review. Available on DVD
, Blu-ray
, and at Amazon Instant
.
Daylight (Cinema Purgatorio) — Available on DVD
.
New/Old to DVD/Blu-ray
Eclipse Series 32: Pearls of the Czech New Wave (Criterion) — This latest of Criterion's Eclipse series of no-frills-but-invaluable DVD releases puts the spotlight on some notable films of the Czech New Wave, a key movement in modern cinema. The Eclipse set takes its name from Pearls of the Deep, a 1966 anthology of short films adapted from the work of Bohumil Hrabal by five different New Wave directors. Filling out the set are one feature apiece by each of those directors: Věra Chytilová's legendary surrealist farce Daisies; Jan Němec's A Report on the Party and Guests, an allegory of conformity and political repression; Evald Schorm's downbeat character study Return of the Prodigal Son; Jiří Menzel's Capricious Summer, a gentle comedy about middle age; and Jaromil Jireš's anti-Communist satire The Joke, adapted from Milan Kundera's novel. All the films date from 1966 through 1969. Most of them have been previously unavailable as Region 1 DVDs, and rarely screen at rep theaters, so U.S. cinephiles have some welcome catching up to do. Available on DVD
. (Nelson Kim)
A Hollis Frampton Odyssey (Criterion) — Available on DVD
and Blu-ray
.
The Organizer (Criterion) — Available on DVD
and Blu-ray
.
Have Not Seen Yet But Really/Kinda/Sorta/Maybe Wanna
The Time That Remains (MPI Home Video) — Available on DVD
.
Some Days Are Better Than Others (Palisades Tartan) — Available on DVD
and Blu-ray
.
Contraband (Universal) — Available on DVD
, 2-Disc Blu-ray + DVD + Digital Copy + UltraViolet Combo Pack
, and at Amazon Instant
.
Cinema Verite (HBO) — Available on DVD
and Blu-ray
.
Patton Oswalt: Finest Hour (Comedy Central) — Available on DVD
.
Albatross (MPI Home Video) — Available on DVD
.