THE CURBSIDE CRITERION: GHOST DOG: THE WAY OF THE SAMURAI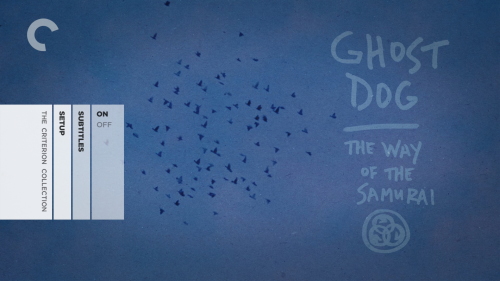 (We here at Hammer to Nail are all about true independent cinema. But we also have to tip our hat to the great films of yesteryear that continue to inspire filmmakers and cinephiles alike. This week Brad Cook takes the pledge, joining Jim Jarmuch's  Ghost Dog: The Way of the Samurai, the new Blu-Ray release of Jim Jarmuch's samurai mob movie. Like what you see here on Hammer to Nail? Why not give just $1.00 per month via Patreon to help keep us going?)
Confession time: Ghost Dog: The Way of the Samurai was my introduction to director Jim Jarmusch. And what an introduction it was. This is a movie that mashes samurai and mob movies together in such a way that the result is neither genre and both of them at the same time. It's a filmic Schrödinger's cat, a movie that exists in a quantum state, if you will.
The story is actually rather straightforward: Ghost Dog (Forest Whitaker) works for the mobster Louie (John Tormey), but he also abides by a samurai code that he draws from the 17th century work Hagakure. (Quotes from the book, all but one narrated by Whitaker, function as a kind of Greek chorus commenting on the story.) After Louie orders Ghost Dog to perform a hit that draws the ire of local mob boss Vargo (Henry Silva), our protagonist realizes that he must take out Vargo and his men or he and Louie will die.
What seems like a setup straight out of a Scorsese film, however, becomes something else in the hands of Jarmusch, whose main character embodies the calm, collected cool of a samurai as he navigates a world of angry stereotypical hotheads. Jarmusch drew on such films as Jean-Pierre Melville's neo-noir Le Samourai and Seijun Suzuki's colorfully kinetic Branded to Kill, both of which came out in 1967, but he also layered on his own vibe, including a score by Wu-Tang Clan's RZA and an assortment of pop culture references.
Criterion's new Blu-ray edition of Ghost Dog sports a shiny new 4K restoration. Many of the company's recent Blu-ray releases have used 4K restorations, presumably because they'll be making their way to 4K UltraHD at some point in the future. This restoration was supervised and approved by Jarmusch, who also supplied a new Q&A in which he answers questions from fans.
The Q&A, which is audio-only, runs almost 90 minutes and is the closest you'll get to a commentary track on this film, since Jarmusch doesn't sit down for that kind of thing. While that reticence might be alarming for a Q&A, the director is actually very candid with his answers, giving many detailed responses about his influences, his relationship with RZA, and many other subjects.
The COVID-19 pandemic likely played a role in the way the Jarmusch Q&A was handled. It was almost certainly the reason why Whitaker and fellow actor Isaac de Bankolé joined film scholar Michael B. Gillespie to talk about the film via a video conference call. De Bankolé plays Ghost Dog's French friend Raymond, who doesn't understand English. Ghost Dog doesn't speak French, but the pair manage to communicate anyway, and the two actors have a great time here looking back on the film in a moderated discussion that runs about 30 minutes.
Another new interview features casting director Ellen Lewis spending about 16 minutes discussing how she did her job, while a new interview with Shifu Shi Yan Ming, founder of the USA Shaolin Temple, runs about six minutes. The latter may seem odd, but its interviewee actually has a brief role in the film, and he spends his time discussing the popularization of Shaolin in the West and how Jarmusch embodies its philosophies in his films.
The final new bonus feature is Daniel Raim's video essay "Flying Birds: The Music of Ghost Dog," in which RZA gets to dig deep into his involvement in the film. The rest of the bonus features were ported over from past editions. They include a group interview with Jarmusch, Whitaker, and RZA and an old school making-of featurette, as well as six minutes of deleted scenes and outtakes and an isolated score.
And, yes, Criterion included the obligatory booklet, but tucked inside is a fold-out with the quotes from Hagakure used in the film. The booklet includes two essays as well as a reprint of an interview with Jarmusch from 2000.
– Brad Cook (@BradCWriter)