THE CURBSIDE CRITERION: BREATHLESS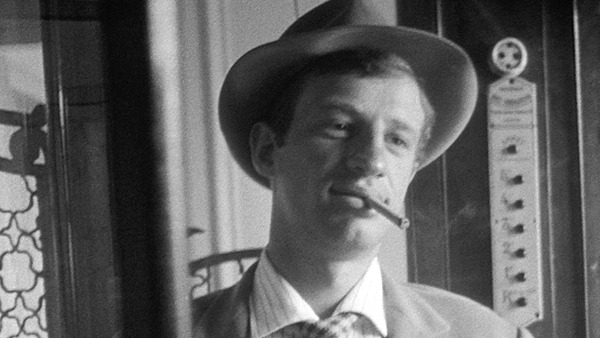 (Here at Hammer to Nail, we are all about true independent cinema. But we also have to tip our hat to the great films of yesteryear that continue to inspire filmmakers and cinephiles alike. This week, Brad Cook wanders the streets of 1960's France with the Criterion 4k Blu-Ray release of Jean-Luc Godard's influential film Breathless.)
Jean-Luc Godard's Breathless was one of the key films in the French New Wave movement that started in the late 1950s and gained traction during the 60s. The plot is simple: a lackadaisical thief named Michel (Jean-Paul Belmondo) kills a police officer who has pursued him in a stolen car and he turns to his sometimes-girlfriend Patricia (Jean Seberg) to help him stay hidden until he can get his hands on money owed to him and flee the country.
The story runs a breezy 90 minutes and spends the first act focusing on Michel's wanderings around Paris, stealing money from anyone he can, including another sometimes-girlfriend, and trying to connect with someone who owes him money. He runs across Patricia while she's hawking copies of the New York Herald Tribune on the streets, and he latches onto her after he kills the officer, despite her ambivalence about their relationship.
Police officers who are looking for Michel find Patricia and put pressure on her to turn in Michel, since an eyewitness saw the two of them together, and eventually she must decide whether she's going to run off to Italy with him or tell the police where to find him. Both she and Michel exemplify the kind of nihilistic attitude prevalent in many movies of the French New Wave.
This new edition from Criterion features the film on 4K UltraHD and Blu-ray Discs, both of which I presume feature the same 4K restoration, although I'm not sure since this is my first spin with Breathless on home video. This is the kind of movie that's easily watchable on Blu-ray, so I'd say the 4K UltraHD version is only of interest to people who really need a 4K copy of the film. I don't see a huge difference between the two discs in terms of the film's visual quality.
All of the extras are found on the Blu-ray, which is the same high-def platter previously released by Criterion. Nothing new was created for this edition, but what's here is in-depth and worth watching. The only glaring omission is a commentary track — Criterion is well-known for its commentaries with film scholars, so I'm surprised they didn't commission one for this disc.
Here's what you find in the bonus materials:
The extras kick off with 28 minutes of interviews with Godard, Belmondo, Seberg, and actor/filmmaker Jean-Pierre Melville. They were filmed between 1960 and 1964 for French TV and provide a look back at Breathless when it was still a recent release.
Up next are 23 minutes of interviews with cinematographer Raoul Coutard and assistant director Pierre Rissient about their work on the film, as well as how it impacted their careers. They were shot by Criterion in 2007.
Then we have an 11-minute interview, another one shot by Criterion in 2007, with documentary filmmaker D.A. Pennebaker, who didn't work on Breathless but was involved with another Godard film. Of particular interest is a discussion of Godard's description of Breathless as "a documentary about Jean-Paul Belmondo and Jean Seberg."
Film historian and author Jonathan Rosenbaum contributes a 12-minute video essay called Breathless as Criticism that analyzes the movie in detail.
The penultimate extra is a 1993 documentary called Chambre 12, Hotel de suede that runs 79 minutes and features interviews with several people, including Belmondo, Coutard, Rissient, editor Cecile Decugis, and others. (Godard hung up on interviewer Claude Venture when he called.) The end result is a comprehensive look at the making of the film.
And, finally, Criterion included a short film called Charlotte et son Jules, which was made in 1959 by Godard. It's 12 minutes long and features Belmondo and Anne Collette running through a scene that's a prototype for the kind of story that would be told in Breathless.
The original trailer for the film rounds out the platter, and the usual booklet is 80 pages and features an essay by Dudley Andrew, four interviews with Godard, the original treatment for Breathless written by Francois Truffaut from a newspaper article he read, and Godard's scenario for the movie.
– Brad Cook (@BradCWriter)
Criterion 4k Blu ray; Jean-Luc Godard; Breathless movie review