WHEEL OF FORTUNE AND FANTASY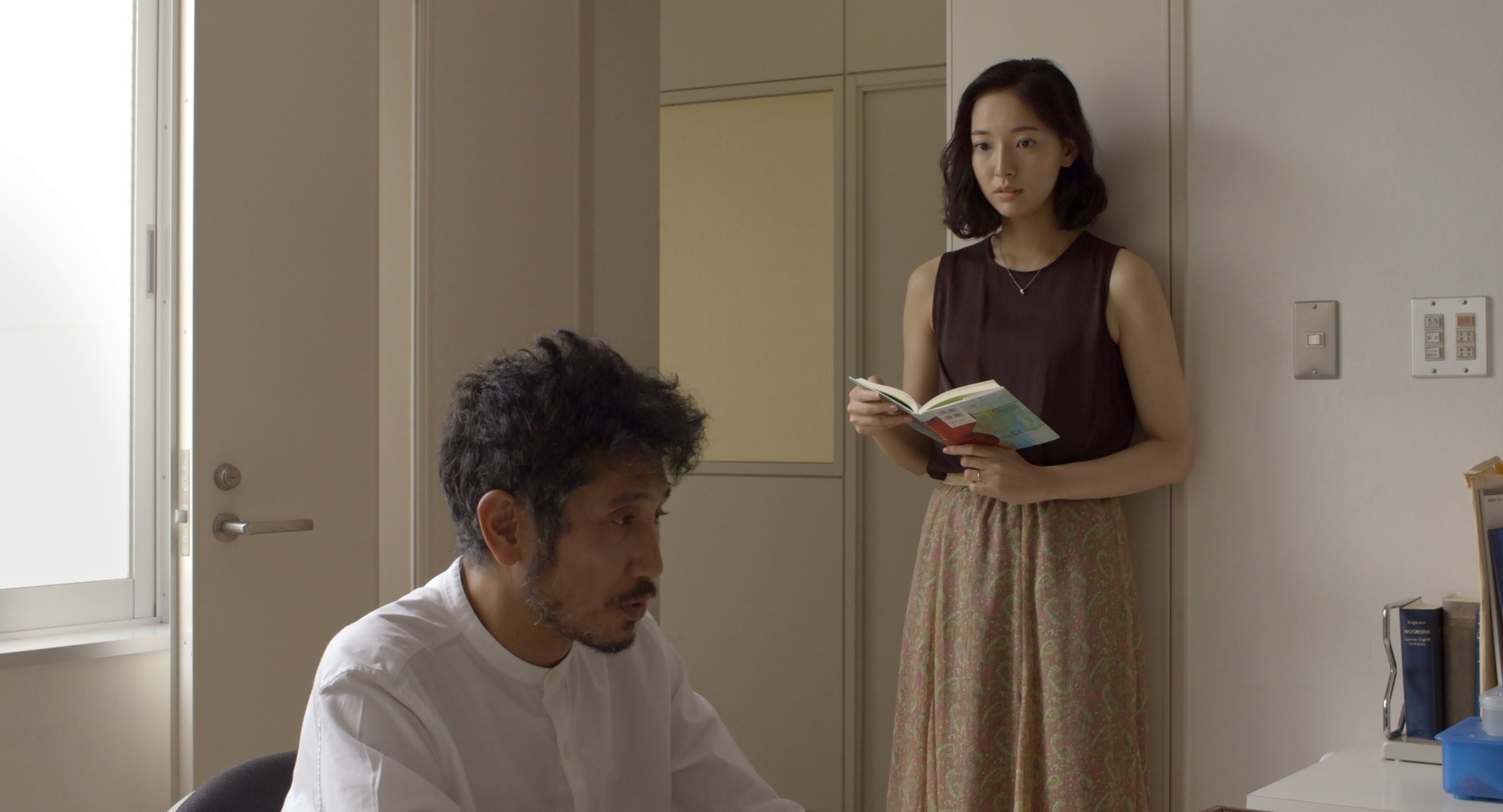 (After playing the 2021 New York Film Festival, Wheel of Fortune and Fantasy opens this weekend in New York (Film Forum) and Los Angeles (Landmark Westwood). Here, Matt Delman gives a film review of Wheel of Fortune and Fantasy, the latest from director Ryusuke Hamaguchi.)
Ryusuke Hamaguchi's latest little film Wheel of Fortune and Fantasy is a fun triptych of misunderstandings. Partially shot during Covid, while on hold with his masterpiece Drive My Car (see my rave review), it has a smaller cast and presumably a much smaller budget. But its ideas are very big. Hamaguchi proves he is the master of restraint, with three stories that play out like long chess matches. Whether the characters are grandmasters or just bumbling beginners is up for debate, but in each story the couple seems to be evenly matched.
The first episode starts in the back of a cab, with a young woman gushing to her friend about the guy she just met and has fallen for. Turns out it's her friend's ex. That reveal is less interesting than what follows: a negotiation of epic proportions. Somehow Hamaguchi's dialogue turns a simple conversation into a life-and-death situation (romantically at least). If a love triangle seems a tad cliché, the audience may find more originality in the second story of a Honeypot gone wrong. A college student tries to help her older boyfriend get revenge on a professor that failed him. She goes to his office to ask him about an erotic excerpt from his novel, reading it aloud to him in a scintillating scheme to get him to come on to her. However, the professor has a strict rule about keeping his office door open. What happens next is best seen and not told, but a time jump to years later on a bus expands the story in a surprising way. Lastly, an episode between two older women is designed to play with our expectations. Judging by their hairstyles, they look like older versions of the two young women in the cab from the first episode. They aren't. In fact, they aren't even sure who each other are, is? Despite being total strangers, they decide to give it a go and play out what could have happened. It's an odd one, but sure to delight.
As with Drive My Car, the biggest strength here is Hamaguchi's dialogue. It is natural but also poetic and often deeply moving. The sets are sparse, often claustrophobic, which contributes to the feeling of it being 'small', though the third story opens up nicely at a train station. Though not much went into production design on set, the elegant design of the title cards is noteworthy. Most importantly, the ensemble cast is quite talented, enough so to make us care about each character in the short timespan that we are with them.
Hamaguchi's characters In Wheel of Fortune and Fantasy talk a lot about something being therapeutic. Multiple times, the professor advises his young female student to see a counselor. Upon reflection of both films, it may be the case that making Wheel was therapeutic for Hamaguchi himself, having sunk his soul into the emotionally taxing Drive My Car. One can imagine the reprieve shooting these short stories would have afforded him, and in the midst of a pandemic, attempting to keep busy. In that context, there's no wonder it's full of such joy and lightness, despite each story having a less than optimal outcome. Wheel of Fortune and Fantasy is not Hamaguchi's magnum opus, but it is just more evidence that the director is hitting his stride.
– Matthew Delman (@ItsTheRealDel)
New York Film Festival; Ryusuke Hamaguchi; Wheel of Fortune and Fantasy review