YOU HURT MY FEELINGS Trailer: Julia Louis-Dreyfus Deals With A Marital Revelation in Nicole Holofcener's Latest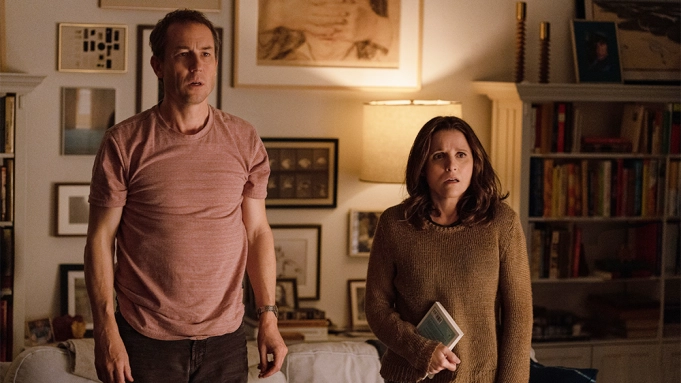 What would you do if you learned your most significant support and trust system secretly criticized your work?
Writer-director Nicole Holofcener tackles this question head-on in her latest comedy, You Hurt My Feelings. It stars Julia Louis-Dreyfus, in her second collaboration with Holofcener, as a writer who launched her career off her best-selling memoir and has just published her newest novel. Things begin to take a turn though when she overhears her husband (Tobias Menzies, The Crown), a worn-out therapist secretly diss her novel which obviously throws her for a loop. Holofcener keenly addresses the lies we choose to tell our loved ones for the sake of their happiness, and what makes a meaningful life. Louis-Dreyfus and Menzies are aided by an outstanding cast that includes Michaela Watkins, Arian Moayed, Owen Teague, Amber Tamblyn, David Cross, and Jeannie Berlin. A24 has now just released a trailer for the comedy which comes out later this spring.
In his review from Sundance, Chris Reed wrote "[Holofcener's] new effort, You Hurt My Feelings, finds its protagonists at a crossroads, all of them navigating moments of transition they would prefer to avoid. Though there are plenty of intentionally awkward scenes, the humor comes less from pain than from inconvenience, with everyone trying their hardest to escape the truth. If not every joke or sentiment strikes the perfect note, the resultant melody nevertheless forms a moving cinematic sonata… Holofcener also tackles the great metaphysics of what makes a meaningful life, never relying on reductive platitudes as a salve but instead preferring to keep the subject open… Hurtful words spat out in rage almost belie an abiding affection (or at least love and hate intertwined) that speaks to the story's larger themes, while also providing excellent comedy. If it looks and sounds like this, bring on the spite."
Watch the trailer below. In theaters May 26.