THE TEACHERS' LOUNGE Trailer: Classroom Politics Are Confronted in Germany's Oscar Entry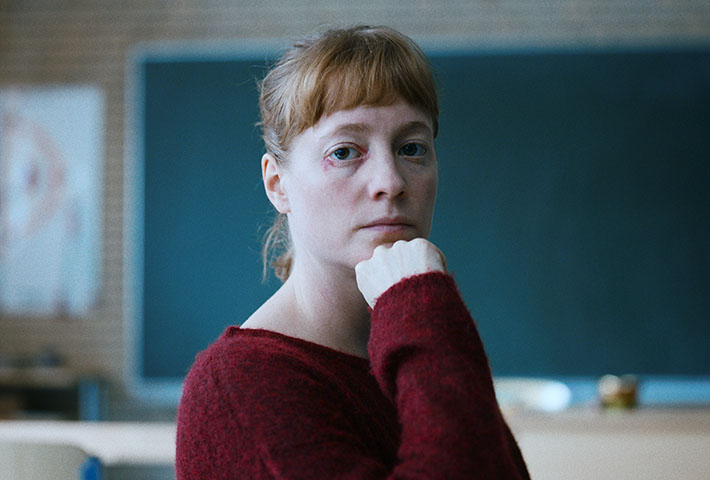 "It's about mathematics, not magic."
A teacher looking to get to the bottom of a serious school matter is caught between a rock and a hard place in Ilker Çatak's The Teachers' Lounge. Co-written by Çatak and Johannes Duncker, it is a drama that tackles education politics with thrilling tension. On top of being Germany's official entry to the 96th Academy Awards, it also won 5 German Film Awards including Best Picture, Best Director for Çatak, and Best Actress for star Leonie Benesch. It has also garnered higher praise this festival season when it made a splash at TIFF, Telluride, and more. Sony Pictures Classics has just released the official U.S. trailer ahead of its release on Christmas Day.
In his review from the Middleburg Film Festival, HtN's own Christopher Reed wrote "Ilker Çatak crafts a harrowing emotional thriller set in a secondary school. Not since Laurent Cantet's 2008 The Class have we seen a movie tackle classroom politics in quite such a direct and moving fashion. Filled with powerful performances—many from the child actors—this searing drama of connection forged through betrayal holds us in its thrall from the very first scene. Much of that pull is due to lead actress Leonie Benesch… By the time matters come to an explosive head, we ourselves are so fully committed to the journey that it's hard to draw a breath… [Çatak] is aided in this by his own strong script and the marvelous cast. Benesch and the rest give it their all, and we are the lucky beneficiaries."
Here's the official synopsis:
Carla Nowak (Leonie Benesch) is a dedicated, idealistic young teacher in her first job at a German middle school. Her relaxed rapport with her seventh-grade students is put under stress when a series of thefts occur at the school, and a staff investigation leads to accusations and mistrust among outraged parents, opinionated colleagues, and angry students. Caught in the middle of these complex dynamics, Carla tries to mediate—but the more she tries to do everything right, the more desperate her position becomes.
The Teachers' Lounge opens in NY and LA on December 25 before expanding nationwide. See the official trailer and poster below.