LINOLEUM Trailer: Jim Gaffigan Reaches for the Cosmos in Sci-Fi Mindbender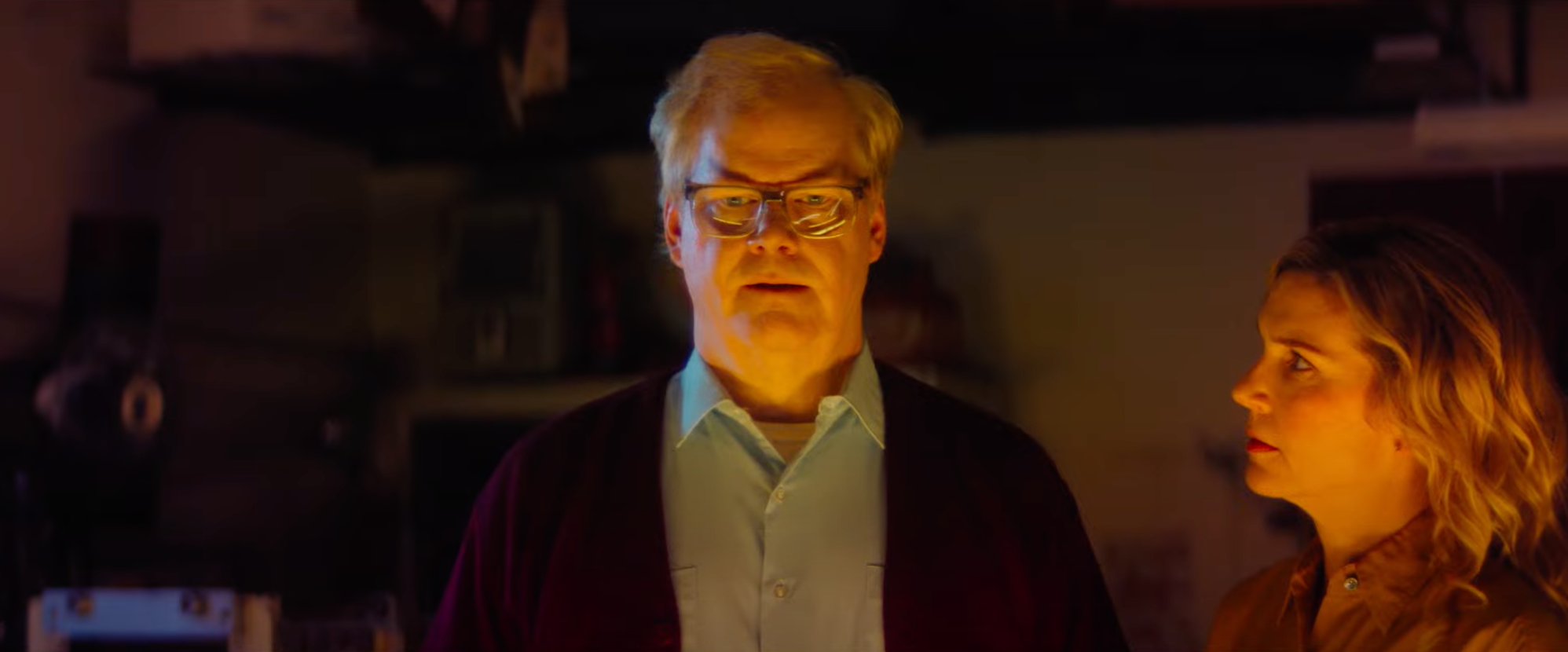 A lot of people are yearning to reach for the stars in the New Year. But Cameron Edwin (Jim Gaffigan) just might take that expression literally.
In writer-director Colin West's tenderhearted sci-fi film Linoleum, Gaffigan stars as a suburban husband and father, and failing kid's science show host, who after an unexpected, inexplicable event tries to accomplish his lifelong dream of building a homemade rocket and going into space, to the chagrin of his distant wife (Rhea Seehorn, Better Call Saul). Also co-starring are Tony Shalhoub, Michael Ian Black, Katelyn Nacon, Gabriel Rush, Amy Hargreaves, Roger Hendricks Simon, and Elizabeth Henry. The film had its world premiere at SXSW, and now Shout! Factory has set it for a theatrical release this February.
In this review from SXSW, HtN wrote "In his second feature, West takes what seems on the surface to be your typical midlife crisis film, and integrates surreal elements that gradually makes you realize all is not what it seems. What results is a strange, awe-inspiring, and astonishing experience with echoes of Michel Gondry and early Spielberg… With Linoleum, writer/director Colin West succeeds in having the mundane and melancholy evolve into the ethereal and metaphysical… Jim Gaffigan takes a step away from his "Hot Pockets" jokes to give a poignant and multifaceted performance (actually, to give two!) that balance tenderness, wonder, and human complexity… With abstract, existentialist concepts and surreal themes explored through "everyman" characters, this film sneaks up on you and has you look at a much bigger picture than originally surmised. A lovely, celestial gem."
Here's an official synopsis:
Cameron Edwin (Jim Gaffigan), the host of a failing children's science TV show called "Above & Beyond", has always had aspirations of being an astronaut. After a mysterious space-race era satellite coincidentally falls from space and lands in his backyard, his midlife crisis manifests in a plan to rebuild the machine into his dream rocket. As his relationship with his wife (Rhea Seehorn) and daughter (Katelyn Nacon) start to strain, surreal events begin unfolding around him — a doppelgänger moving into the house next door, a car falling from the sky, and an unusual teenage boy forging a friendship with him. He slowly starts to piece these events together to ultimately reveal that there's more to his life story than he once thought.
Watch the trailer below. In theaters February 24.