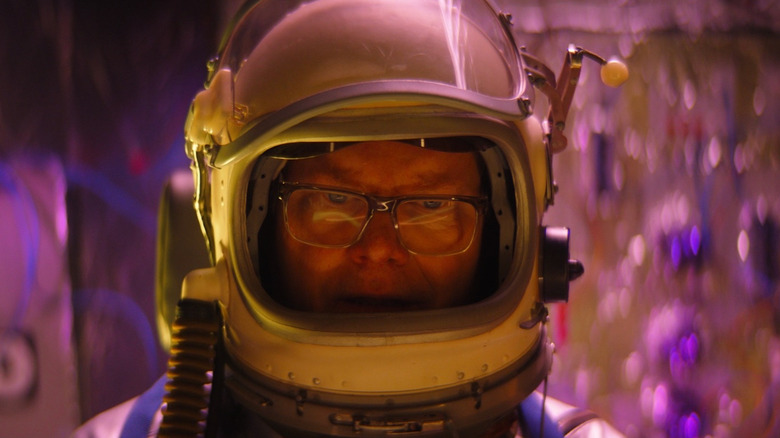 (The 2022 SXSW Film Festival runs March 11-20 in glorious Austin, Texas. Check out M.J. O'Toole's movie review of Linoleum. Join the conversation with HtN on our Letterboxd Page.)
The stars align – somewhat unexpectedly – for Cameron Edwin (Jim Gaffigan) in writer/director Colin West's dramedy Linoleum. It's a rare kind of film that's tricky to narrow down to one genre or theme, since there are so many layers peeled away as you experience all the events that unfold from beginning to end. In his second feature, West takes what seems on the surface to be your typical midlife crisis film, and integrates surreal elements that gradually makes you realize all is not what it seems. What results is a strange, awe-inspiring, and astonishing experience with echoes of Michel Gondry and early Spielberg.
In his best performance yet, Jim Gaffigan plays Cameron, a former astronomer turned host of a failing kid's science show (for context, the show has the unfortunate airing time slot of midnight – when no children are actually awake to watch it). If that's not enough to get him down, he and his wife and former co-host, Erin (the excellent Rhea Seahorn) are getting a divorce, which they keep secret from their two children. Despite his misfortunes, he's a big dreamer who aspires to loftier goals, even if they're outside planet Earth. Erin, a former NASA employee turned air-and-space museum worker, is more grounded in reality and has come to terms with her life. This is possibly one of the main factors behind the couple's rift, though there are hints of a past yearning within Erin that may not be so different from Cameron's.
But just a few minutes into the movie, Cameron's world takes a strange turn when a cherry-red convertible comes crashing out of the sky right in front of him. The passenger of that car is almost his mirror image, just with a little more hair and a mustache. Enter Kent Armstrong (also played by Gaffigan), a famed astrophysicist who moves in across the street from Cameron and takes over his job, as the show's network decides to have Kent as his replacement in an earlier timeslot. Is Cameron's doppelgänger merely a personification of everything he has hoped to accomplish but hasn't? Or could it be even more complex than that? Things change even more for Cameron and his family when a satellite suddenly crashes into their backyard. This occurrence is where he sees the perfect opportunity to unearth his lifelong dream of going into space by building a DIY rocket. As his dementia-stricken father (Roger Hendricks Simon) says, "there are only two kinds of people, astronauts and astronomers." Here, Cameron decides to try being the former for a change.
The scope widens to both men's teenage children, where Cameron's daughter Nora (Katelyn Nacon) and Kent's son Marc (Gabriel Rush) form a friendship in the school they're both enrolled in after learning they were remarkably born on the same day. As they grow closer, they bond over secrets and their shared roles as school misfits. Marc also grows closer to Cameron and is the only one aware of his rocket-building escapade. As we get a better sense of Marc's home life, we see how truly different both doppelgängers are, as Cameron stands in as the kinder version of Marc's more cold-hearted, religious father. 
As Cameron covertly continues his goal, more strange occurrences unfold before him, such as the old lady (Elizabeth Henry) who constantly follows and stares at him from afar, or his father's doctor (Tony Shalhoub) communicating through perplexing, philosophical concepts. "I'm suggesting that perhaps the universe in our heads is more real than reality itself," he tells a bewildered Cameron. Without giving away any of the mystery behind Linoleum, viewers feel from early on in the film like all these odd incidents are building up to an event that will likely change the lives of all players involved. Space and time begin to bend in ways that force characters to confront their awareness of what life itself is really worth. With these multifaceted characters, each on their own journey, the groundwork is laid to have them experience their own epiphanies in somewhat otherworldly ways.
With Linoleum, writer/director Colin West succeeds in having the mundane and melancholy evolve into the ethereal and metaphysical. Things start to come full circle for these protagonists, from heartwarming reunions, to Halloween parties, to unforeseen revelations. Ed Wu's stellar cinematography helps emphasize the film's balance between sober dramedy and low-key sci-fi. Jim Gaffigan takes a step away from his "Hot Pockets" jokes to give a poignant and multifaceted performance (actually, to give two!) that balance tenderness, wonder, and human complexity. He and the rest of the ensemble's heartfelt performances are what ground this cosmic movie and give it its soul. With abstract, existentialist concepts and surreal themes explored through "everyman" characters, this film sneaks up on you and has you look at a much bigger picture than originally surmised. A lovely, celestial gem.
– M.J. O'Toole (@mj_otoole93)
2022 South by Southwest Film Festival; Colin West; Linoleum film review