WORLD WITHOUT END (NO REPORTED INCIDENTS)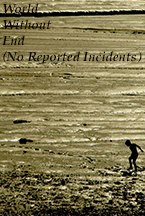 ((The SFFILM festival ran April 5-19. Here are some reviews from the always popular film festival.)
I had forgotten all about Counting when I started watching Jem Cohen's latest, World Without End (No Reported Incidents). But after just a few minutes, it all came flooding back. Cohen has a distinctive documentarian voice that's all about observation. He goes light on titles and completely eschews narration. He simply enters a place and takes a good look around. He lets the place tell the story. And it's the story that the place would be telling whether or not you were there to see it.
The World Without End in question is located upon the Thames estuary in England, an area descriptively called Southend-On-Sea. It could be any suburban town in England but for the muddy 1-½ mile beach that emerges during low tide. One unifying human behavior is that we will always do our damndest to enjoy a beach, no matter how unappealing it looks. That's certainly true in my hometown of Seattle, where we huddle together on rocky shores during 60-degree days. Cohen's shots of people lounging in beach chairs on a coastline are some of my favorites in the film. I also love his shots of the same picturesque views during different types of weather. It's incredible how much a fog will change the look of a place.
But it's not just about the landscape. In Counting, Cohen was all about cats. But in World Without End, pigeons are the new cats: dead ones, eating ones, fighting ones, and pigeons just chilling, pigey style. We repeatedly watch the city through reflections in store windows, as people go about their business. When they're aware of being on camera, they will often hold a pose, thinking they're the subjects of a still photo.
After several minutes of ambient sound, we finally start hearing from the residents of the town, including a knowledgeable and enthusiastic haberdasher, a man who sells award-winning curry, and a man who worked his way up through the ranks of chauffeuring at Lehman's so he could finally run his own business. A pair of former rockers talks extensively about their glory days, including a time when "a young scallywag" who would later become Princess Diana attended their shows. They liken their town to New Jersey but without "that flash".
Jem Cohen's style has an almost virtual reality feeling to it. His work feels very intimate, but since he doesn't make his presence known, it's as if we are the ones behind the camera, exploring and observing. We're on the inside looking deeper. It's a unique experience and one for which I would gladly sign up again and again.
– Jessica Baxter (@tehBaxter)