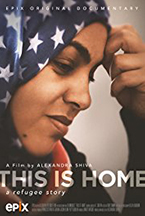 (The Maryland Film Festival ran May 2-6 in, you guessed it, Maryland. We have a slew of reviews coming your way so keep your dial tuned to HtN!)
What is home? It's where you feel comfortable, safe, protected, at ease with yourself and the world, secure in the knowledge that you have a place, however small, to call your own. It need not be lavish, it need not be large, but it should offer peace and security. Where is home? Wherever you make it, though your ability to construct such a shelter depends on the personal agency to do so. One of the many indignities suffered by refugees is having not only their homes stripped from them, but also the subsequent ability to rebuild. As we have seen in other recent documentaries, including Ai Wei Wei's comprehensive look at the 21st-century catastrophe of global displacement, Human Flow, the time is now to do something to help the forced migrants of the world. In her beautiful and inspiring new documentary, director Alexandra Shiva (How to Dance in Ohio) takes a close look at how one city in America is doing just that.
This Is Home, winner of the Audience Award: World Cinema Documentary at the 2018 Sundance Film Festival, Shiva's movie follows a group of Syrian refugees as they arrive in Baltimore, MD, and navigate the complexities of new lives in a new location. Through opening title cards, we learn that there are only 21,000 Syrian refugees in the United States right now; 372 of them are in Baltimore. Thanks to the local International Rescue Committee (IRC), they are not without assistance, though that aid is to be short-lived. We discover, with some surprise, that these new arrivals have but 8 months to become self-sufficient, after which they will lose all financial help. If, after that alarmingly short period, they can't then support themselves, they could face deportation. That's a lot of pressure for folks uprooted from their homeland, without English-language skills, mostly unable to work in their original professions. If there were ever a set-up for failure, this is it.
Fortunately, the families prove resilient, though their challenges are many. Shiva chooses three families as her main focus – with a lesser-seen fourth in the mix, as well – profiling each in great detail, with an on-screen countdown of months clicking by, one by one. They encounter both prejudice and love – fortunately, more of the latter, no matter the policies of our country's current administration – and by the end of the film are well on their way to achieving some kind of stability. Still, for some it is not so mildly bittersweet, cut off from their culture and education, adrift in the quagmire of bureaucracy. Shiva, intimately ensconced with her subjects, reminds us that we are all one species, no matter our differences. Home, thy name is humanity.
– Christopher Llewellyn Reed (@ChrisReedFilm)