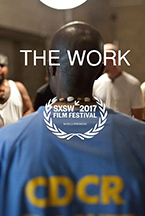 (The 2017 SXSW Film Festival opened on March 10 and ran all week until March 18. HtN has you covered and GUARANTEE more coverage than any other site! Check out this review of  The Work, Gethin Aldous and Jairus McLeary's doc on inmates seeking redemption in Folsom Prison.)
Folsom Prison – forever immortalized by Johnny Cash – seems an unlikely place to find men weeping in group-therapy solidarity, yet that is what we get in The Work, a fascinating new documentary from co-directors Gethin Aldous (Renzo Gracie: Legacy) and Jairus McLeary. Twice a year, men from the outside come in to the prison to engage with selected inmates over 4 days of planned and moderated sessions. Like a successful 12-step program, the therapy is designed to work through the process of sharing, taking people's attention off themselves and their own problems by engaging in the work of helping others. Contrary to what one might think, it's not the men inside the prison who always benefit the most. Both groups learn from each other, and in the process, heal.
There are three main outsiders we follow: Charles, a bartender; Chris, a museum associate; and Brian, a teacher's assistant. The convicts profiled have slightly more colorful names like Kiki, Vegas and Dark Cloud (though two are also named Dante and Rick), and sport a few more tattoos than our non-prisoner friends (so far as we can tell). Yet, at least within the context of therapy, they are at least as well-adjusted as any other damaged soul, and eager to begin the process of recovery. Over the course of the 4 days, we watch as they talk in small groups, larger groups, and one-on-one with their partners, revealing the truth, as they see it, of how they got there. For Charles, Chris and Brian, it's an opportunity to learn about their own suppressed secrets. There but for the grace of God…
Though I am skeptical about the long-term benefits of dwelling on past betrayals – a centerpiece of the therapy, here – since in addiction recovery the emphasis is on letting go of resentments, there is no doubt the catharsis afforded our subjects by talking about past wrongs seems helpful. We learn at the end that none of the men who have gone through the program have ever been sent back to jail, once released, which indicates that my criticisms are misplaced. Still, it's almost frightening to watch the men fight back the tears as they come, then give in and howl in agony, throwing themselves against their fellows, who pile on top like players in a rugby match. Charles, Chris and Brian are no different, melding with their convict brothers in scrum fellowship. There is serious work being done in The Work, and much good comes of it.