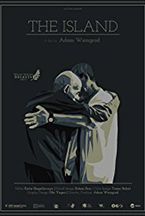 (The Maryland Film Festival ran May 2-6 in, you guessed it, Maryland. We have a slew of reviews coming your way so keep your dial tuned to HtN!)
"No man is an island, entire of itself; every man is a piece of the continent, a part of the main. … and therefore never send to know for whom the bell tolls; it tolls for thee."
– John Donne, Meditation #17 from Devotions upon Emergent Occasions (1623)
Death comes to us all. Given that dreary metaphysical fact, the question then becomes, how will we greet it? Even more importantly, how will we help others along their final journey? The miracle of life, whether one is religious or, like me, an atheist, is a wonder; its inevitable end need not be a source of torment. The trick is to care and to love, leading by example and passing the torch of human kindness on to future generations. Forget the political and ideological slogans of the current era: this is how we make and keep the world great.
Director Adam Weingrod, in his feature-documentary debut, gives us a collection of the best representatives of our species. Set in Jerusalem's St. Louis French Hospital, founded in 1889, which has attended to the terminally ill since 1951, The Island showcases the dying and their helpmates. Located in a city rife with religious discord (and occasional harmony, as well), the hospital, though Catholic, is home to patients and staff of all faiths. It can be tough to watch footage of the elderly in decline, especially since we know that many are probably dead by the time we see them (indeed, the movie's final credits indicate as much), but it is also extremely heartwarming to see the good people who take care of them and make their final days as calm and joyful as possible.
Patients take art classes, discuss philosophy and history, and see family and friends, all the while in frequent pain. One attendant nurse – David, a fiftyish, fit Italian monk – is the true star (though everyone shines) of the piece, selfless and committed to his work, and amazingly multilingual. The two old men with whom we spend the most time – Simon, from Tunisia, and Yigal, a local Jerusalemite – both clearly beloved by their visiting relatives, do their best to go gently into that good night, though it is not easy. Their grace and charm speak volumes about their lives, and about the beauty and tragedy of the human condition.
[In Arabic, English, French, Hebrew, Italian and Russian with English subtitles.]
*adapted and expanded from a capsule review I wrote as part of my Maryland Film Festival recap for Film Festival Today.