A Conversation with Marilyn Ness (CHARM CITY)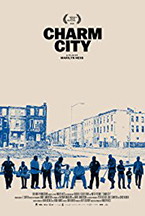 I met with director Marilyn Ness (Bad Blood: A Cautionary Tale) on Saturday, May 5, 2018, at the Maryland Film Festival (MdFF), to discuss her powerful new documentary Charm City (which I also reviewed), set in Baltimore, my hometown (the "Charm City" nickname is a legacy of a 1970s slogan campaign). The movie focuses on one particular Baltimore neighborhood – Rose Street – where the residents, led by "Mr. C" Guyton, a former corrections officer, and Alex Long, of the Rose Street Community Center and Safe Streets, do their best to create a safe community in the midst of the city's rising tide of crime and homicide. Ness spends time with both community leaders and police officers, weaving together a vibrant tapestry of multi-layered narrative threads. Here is a condensed digest of our conversation, edited for length and clarity.
Hammer to Nail: Let's start out with a question about your Baltimore connections. What are your connections to this area, if any?
Marilyn Ness: Actually, I had no connection to Baltimore. I late 2014, we decided we wanted to make a film to better understand the divide between police and citizens, but not in the cataclysmic moments we were seeing in the news all the time, but rather in the real day-to-day of what happens before and after those cataclysms. And so we called the Department of Justice, then under the Obama Administration, and said, "Where is a city that's trying to find a way forward?" And they said, without hesitation, "Hands down: Baltimore." This was before Freddie Gray's death. So, we were down here in Baltimore, with contacts in the Baltimore Police Department (BPD) and community members before April of 2015, when the city lit itself up, in certain parts. I got a local crew. I feel you should be good citizen of the world in which you film, and now they think I'm local! (laughs)
 HtN: Is your DP [Director of Photography] local?
 MN: One of the DPs is local. We had two separate crews on this, because you couldn't get out of a police car in the same neighborhood where you're filming the community. So, Andre Lambertson is out of New York, and he filmed the Rose Street guys for the better part of three years, and then John Benam, from here in Baltimore, filmed the police. He did The Keepers.
HtN: Which is a beautifully shot series.
MN: Beautiful! We got lucky.
HtN: So, we've established why Baltimore, now why Rose Street?
 MN: What I was looking for, when we started, was to understand the police…and the policed. We wanted to meet people who felt excessively policed. Everyone kept saying, "Well, you should try the community centers in Baltimore." And you'd go to them, and there'd be dance classes and pottery classes and little kids traipsing in and out, and we'd be like, "This does not feel like our place."
And so I was with an old health commissioner, who gave me a driving tour of Baltimore and showed me, in a two-mile stretch, how the life expectancy of men dropped 20 years, and I went, "Where do I find the guys who are impacted like that?" And he said, "There's this one place, on the east side, Rose Street. Check it out!" And I called Mr. C, and he said, "Sure! Come down."
And we came down after morning meeting, and he had a whole throng of guys out there, and we were talking to Mr. C, and a guy walked in, clearly upset, and he saw Mr. C with the two white ladies, and Mr. C asked him if he was OK, and he said he was all right, and he said, "No! Are you all right?" And the kid then went off and said, "No. I'm not all right."
Basically, he had walked himself down two blocks, from the corner store, to Rose Street, to say that someone had disrespected him up at the store, and if it didn't stop, he was going to pop him. But the kid walked himself down two blocks to go to Mr. C to say, "Stop me," and then all the guys were like, "We got it, Mr. C," and they de-escalated it. We did not know what we had just seen, but we knew it was remarkable. I didn't get it. And so then Mr. C said, "Sure! You can spend time here," and we just hung around and hung around, and without a camera, for a very long time.
HtN: That was good research, then.
MN: Yeah!
HtN: Was one of those guys who helped de-escalate, in that first encounter, Alex Long, of Safe Streets?
MN: I'm not 100% sure. I mean, the more we came back, I kept saying to Mr. C, "I'd love to meet some of the guys." Eventually, Mr. C introduced us to Alex. He might have been there, because he was there all the time, but I didn't know him then. And really, Mr. C suggested Alex because Alex liked movies. He was like, "Sure! I'll check out the ladies making movies." We tried to spend time with some of the other guys. We had a few other characters in other places, but really very quickly, it became clear that Rose Street was magic. They jumped of the screen. And Alex was magic.
HtN: Indeed! So, speaking of that neighborhood – I live in Baltimore, but in a very different neighborhood – I was struck by the fact that they spend so much time cleaning up the neighborhood, themselves. Are there no city services in that area? Or is there just enough of a mess, maybe because of the surrounding poverty, that they need to clean it more? Has the city just given up?
 MN: No, the city does come, and they do clean up once a week, but then I think there's somewhat transient population, and the garbage pails get stolen. There's just a way in which the infrastructure doesn't hold, and so Mr. C does this volunteer clean-up of the blocks. He pays the guys to do it, and then the city provides a roll-off twice a week, so that they can dump the trash and have it hauled. But yeah, in some ways, they are totally filling in for city services in that neighborhood.
HtN: I was impressed by their commitment, and by the fact that they need to do this. How did you choose which police officers to follow? You've got Captain Monique Brown and then Officer Eric Winston…
 MN: And John Gregorio.
HtN: And John Gregorio, although he's featured slightly less.
 MN: He is.
HtN: So, how did you pick those three?
MN: We had the permission of the Baltimore Police Department in early 2015, and then Freddie Gray happened, and the Commissioner got fired, and we had a new Commissioner, so we had an on-again-off-again love affair with the Baltimore Police Department. And police rotate out of their divisions very quickly, so we'd film with a guy, and then he'd leave, or with another guy, and then he'd leave. So, finally we were like, "We need 3 people…" And I realized I wanted to be in a different district than Rose Street, so that we weren't going to have a showdown on screen, because I thought that would really mess with the perspectives we were trying to build.
So, I said to BPD, "We want a woman, an officer of color, someone local from Baltimore, someone not from Baltimore, a white officer…any permutation you wish! Go!" And I expected to do a lot of pre-interviewing, but they handed us Monique Brown, who then picked the two officers in her district. The police department did not know Monique's story. They knew she was from Baltimore, but they did not know her family history, which I won't spoil here. And I think it was a gift!
And we said this to Mr. C, "We're looking for good actors." We wanted people who were trying to do right by their community, because I feel like we all see the terribleness, everyday on the news. So, how do we show people trying? That's what I wanted to see, personally. So, it was a gift! And then we spent a lot of time with them, just on patrol, and we came to know them more. And the terms of engagement – and BPD understood this – was that we had to be able to go home with them. So, they were committing to letting us into their lives more broadly than just work.
HtN: Well, they're very engaging. So, that brings us, then, to City Councilman Brandon Scott. It makes sense that he's in the film, but how did you connect with him?
MN: So, it actually started when we filmed the 300 Men March, which was a program he was a part of with co-founder Munir Bahar, and we were following them – again, just trying to find community groups – and then it just became clear that Brandon was this plain-spoken, no-holds-barred, no-bullshit kind of guy. And he really was showing up. We'd be at an event, and there was Brandon! And so we continued to approach him.
We were very respectful of his time, but then we got really strategic. You know, we'd say, "What crime bills are you working on?" And then he'd let us know, so we could be in town then. He just really became … I think, as we did test screenings, and continued to work with him, he was just so authentic. I think that what you see is what you get with Brandon, and I realized that we had a lot of the same philosophies: we're asking police to do too much; why do we use the criminal justice system to be the arbiter of all things broken in a city?
HtN: There are a lot of films, as you well know, I am sure, on this topic, and many of them make the same point. Erik Ljung's The Blood Is at the Doorstep, which played at last year's Maryland Film Festival, is but one example. In that film, the Milwaukee Chief of Police similarly argues the issue. In many ways, it means more when it comes from someone other than the police; otherwise, it can just sound like they're complaining. But they're not wrong.
MN: You know, when anyone has a problem, they call 911, and then they're going to get a 22-year-old with a gun, a Taser and handcuffs. We are setting them up to fail.
HtN: Yeah. Like them or not, they shouldn't be there to solve poverty or …
 MN:…all the problems. And my other personal opinion is that – again, like the police or not – if we want to fix this very broken system, then we have to save everybody in it. We can't just say we're saving the people who have been wronged, on the community side, because we're setting these guys up to fail, if we don't fix that system.
HtN: And that's what I like about Brandon Scott. You have this charismatic, youngest-ever city councilman in Baltimore, from the community, African-American, who's just keyed in to what needs to happen to help Baltimore. Now, whether people will listen to him or not, whether he'll be mayor one day or not, we'll see. So, moving on from that, what were any particular dangers or challenges that you faced, since you were right in the middle of some occasionally dicey situations, that were unique to this film?
MN: Yeah, we had some dicey situations. You ride along with the cops – and there's so much boredom, you just have no idea – and there are just moments where you realize that the cops have now gone off to go find that man with a gun, and my crew and I are now standing there by the police cruiser, because they didn't want to let us run with them into the woods…So now the guy with the gun, when he circles back…(laughs)…we're standing here, with the cameras. There were a few of those…
But at Rose Street, they were always expecting us. Eventually, Andre started shooting on his own more. It was easier for him and for Alex and Mr. C, and we had to navigate that. We had to have two separate crews, as I said, so that we were not getting out of a police car into the community. So, we could always be present, wherever we were needed, if I divided the world.
HtN: That's very smart. Would you ever consider doing a follow-up, maybe 5 years down the line or more, just to revisit the community?
MN: To see what happened. Yeah. I mean, because some people have said, The Wire did this terrain, already, and here we are, back in a nonfiction way. I mean, we are launching an impact campaign, here in Baltimore, so the police department is going to use the film in training. It will facilitate a dialogue between youth and police, as well as adults and police. And the film will be part of "how do we see one another, from a different perspective?" So, I am toying with the fact that if we can get all of that off the ground, do you really come back and see what that meant for people, or what those conversations look like? I don't know about 5 years from now.
The amazing thing is that all our subjects met each other for the first time on our 15-passenger van leaving Penn Station on the way to Tribeca [where the film premiered]. And by the time they left, there was a real connection between Monique Brown, in particular, and Alex Long, who realized they grew up the same. They hugged each other on stage last night, here at this festival. For me, it proved the concept that if you just take people out of their stereotype and let people meet as people, with just some common ground, you can find humanity again. I don't know … maybe I'm a dreamer. I do think people helping people is a natural human instinct. So, we just have to get out of the uniforms and stereotypes … maybe?
HtN: Well, that's a wonderful thought to end on. Congratulations on the film!
 MN: Thank you!
– Christopher Llewellyn Reed (@ChrisReedFilm)