THE 5 BROWNS: DIGGING THROUGH THE DARKNESS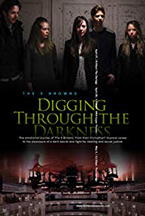 (The 9th annual DOC NYC ran November 8-15 in New York City. Lead Critic Chris Reed was there so stay tuned for his review and interviews…)
Though they have been performing together publicly as a family – on five pianos, one apiece – for close to two decades, The 5 Browns had heretofore remained unknown to me. Since that ignorance has now been remedied, in a way both inspiring and haunting, allow me to share their story with you. Thanks to director Ben Niles' comprehensive, engaging documentary portrait of the siblings, entitled The 5 Browns: Digging Through the Darkness, I feel like I know them well, informed by the kind of intimacy that close-up movie profiles can offer.
Indeed, Niles (Note by Note: The Making of Steinway L1037) brings us right into the middle of a fraught drama of familial ties frayed to the breaking point, introducing his subjects as they gather to record a new album, which they hope will offer, to themselves, solace and healing. For those viewers (like me) not in the loop, we sense a simmering tension without fully understanding its roots, though there are hints that, with hindsight, were hard to miss. Raised and homeschooled by an ambitious father and mother, Keith and Lisa Brown, the siblings – in birth order, Desirae, Deondra, Gregory, Melody and Ryan – grew up with the outward illusion of happiness but the inward truth of parental control and abuse. In the course of a particularly grueling world tour, in 2007, the two eldest sisters, ever-more distraught, confided in each other of their father's sexual assault and rape. Melody, it turned out, had similarly been targeted. Nothing would ever be the same again.
Fortunately, primarily for them but also for their fans, they found a way to continue performing, and finally jettisoned their parents as managers, even putting their father in prison, where he remains to this day. They are all Juilliard-trained pianists, after all, so musically they have a lot to give. Their trauma, which they have worked through in subsequent albums, music videos and concerts, now adds to the intensity of their playing. I am an avid classical-music listener, thought hardly an expert, and to my ears they produce moving and powerful interpretations of melodies both popular and lesser-known. They are the real deal. It's too bad they had to go to hell and back for someone like me to learn about them.
Niles shows us how they cope as individuals and as a group, allowing each Brown – even the mom – time on camera to tell her or his side of the story. He has invested a lot of time, himself, in their tale, having previously made a short film about them, as well. The brothers are not free from damage, but it's the sisters who have the most to overcome. Two of them – Desirae and Deondra – have formed The Foundation for Survivors of Abuse, through which they work, along with New York's Senator Kirsten Gillibrand, to change the laws of the land, especially those concerning statutes of limitations in child-abuse cases. They were fortunate that their native Utah is a state where they were able to prosecute their father; others aren't so lucky.
They are brave activists, using their own terrible history to help improve the lives of others. In their own way, so are the other three. By granting Niles such in-depth access to their lives, the 5 Browns make possible this cathartic chronicle of a terrible crime and the recovery of its victims. It's cinema as therapy, and very effective. May they continue their lives in peace, and may all who read this go watch the film.