SUN VALLEY FILM FESTIVAL '15: WRAP-UP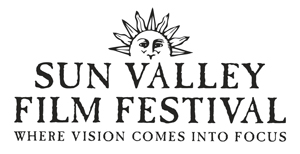 I've been attending film festivals of all ages, shapes, and sizes for many years now—as a filmmaker, a juror, and a member of the press. Though this year marked its fourth installment, the Sun Valley Film Festival revealed to me quite quickly that it is providing a unique service in the thickly saturated film festival universe. Now that I've been there, I more fully understand what Mark Lukenbill was talking about in his wrap-up of last year's fest: "SVFF seems more eager to become a hallmark of local cinema, and a major stepping-stone for Idaho to become a hub of film production and arts culture, than an exhibition for the same international independent filmmakers who already flock to show their work at Sundance, SXSW, and the like." While Hollywood luminaries were in attendance and many guests traveled great distances to attend this year's fest, what made the experience so special for me was to be celebrating cinema in a picturesque place I otherwise might never had an occasion to visit.
As for that very topic of film festival saturation, At Thursday morning's Coffee Talk with Sundance's Director of Programming Trevor Groth—these Coffee Talks being the Sun Valley Film Festival's crowning jewel—someone asked Groth if he thought there were too many film festivals in the world. He answered quickly and emphatically that there's no such thing as too many film festivals. I'm not quoting him here directly, but Trevor's defense was something akin to this: no matter the mission of each and every festival, by simply existing they are helping to keep independent cinema alive. After chewing on this concept for the rest of my stay in Ketchum/Sun Valley (this marked the first time I had ever set foot in Idaho, though on multiple occasions I was informed by locals that this Telluride-esque wonderland is not anything like the rest of Idaho), I started to formulate a theory of sorts. Basically, in contrast to what many people think, smaller regional film festivals such as SVFF might very well be the most important of all, for they use cinema to fuel their community to show off the gifts that their small city or quaint town has to offer. As with most things in life, this makes the most optimistic sense once you look at it from the inside-out (as opposed to the outside-in).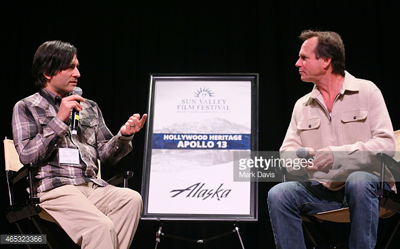 The weekend didn't get more entertaining than the fest's other two Coffee Talks with Bill Paxton (Friday) and Bruce Dern (Saturday). I was lucky enough to moderate the Q&A with Paxton after a retrospective screening of Apollo 13 on Thursday night, in which I nerdily let him know just how enamored I was with his TCM guest-programmer lineup in 2013 of Juliet of the Spirits, Spirit of the Beehive, California Split, and The Last Detail, before getting out of the way to let him regale the crowd with hilarious stories about the making of that movie. But it wasn't all fun and games. On multiple occasions, Paxton pointed out how much of that film was shot practically, with no added "cold breaths" (try a refrigerated set instead), and how that type of approach 100% helped him as an actor to deliver a more honest performance. Unfortunately, he went on to say that this type of practical filmmaking has become a virtually lost concept in the modern studio system. But what makes Bill Paxton such a rock solid dude, in addition to his general intelligence and awesome grasp of film history, is how he can remain inspiring and positive even as he explains how brutal the film profession can be. A great director in his own right, Paxton is nonetheless having trouble pulling together his version of Joe Lansdale's The Bottoms (adapted by his Frailty screenwriter Brett Hanley), which he said to me very sincerely has the potential to be a To Kill A Mockingbird-esque American classic. I believe him. For anyone reading this who is looking to invest in some kick-ass American cinema they can be fully proud of: look no further than Bill Paxton's The Bottoms.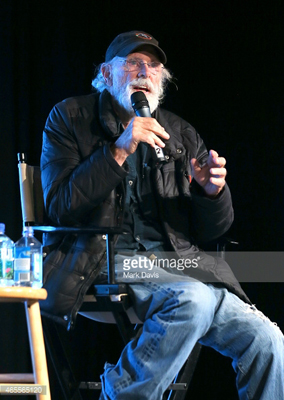 Bruce Dern is notoriously cantankerous, but he was also funny as shit as he delivered a master class in memory recall, throwing out the names of 1st ADs he worked with early in his career and dropping an endless parade of names, quotes, and anecdotes. It was something to behold. He said that while he's worked with some great directors, there are only six he would consider to be outright geniuses: Elia Kazan, Alfred Hitchcock, Douglas Trumbull, Francis Ford Coppola, Alexander Payne, and Quentin Tarantino. Why them? Because they are the only ones who if you ask to explain the reason for their being placed at that specific spot in the every single camera set-up/frame, that director can tell you exactly why you are where you are. In praising Quentin Tarantino, he perhaps said more than he should have about The Hateful Eight, but I'm not going to go into detail about that here (sorry new HTN editor Don R. Lewis, as that's the type of "hot scoop" that would get us crazy hits!). Needless to say, it sounds like The Hateful Eight might very well be QT's most ambitious adventure yet. More than anything, though, I confess that it was just really, really entertaining to hear a gravelly voiced legend of an actor spew lines like, "Now let me tell you why that prick is a genius."
My primary reason for attending this year's fest was to moderate the inaugural Film Lab, in which the plan was to assemble the writer/director/producers of a film currently in post-production and give the audience a nuts-and-bolts breakdown of how that film came to be. This year's first selection was Coming Through The Rye, which was written and directed by James Steven Sadwith and produced by Sadwith, Stan Erdreich, and Teddy Grennan. Grennan is actually the Executive Director of SVFF (alongside Director Candice Pate), and he's also the one who reached out to me to brainstorm the idea for this new festival program and moderate it. Which is to say that while the selection of this title for the first Film Lab seems nepotistic in theory, it was actually the only way something unusual like this could happen. While I certainly don't think I dropped the ball fully, the fact that we watched a full-length rough cut somewhat unavoidably turned the post-film discussion into more of a Q&A than a "dissection of process" (Chris Cooper Skyped in for a bit to share his perspective on his role, which was a real treat). If the festival commits to the Film Lab in the coming years—and I certainly hope it will—I'm confident that it will become as integral a component of SVFF as the Coffee Talks and Screenwriters Lab already are (this year, that lab was hosted by the Oscar-winning Jim Rash and Nat Faxon).
Speaking of films, while it seems kinda obvious that the actual movies screening should be the primary focus of the event, in its current form the SVFF is definitely slanted in favor of the actual discussions and conversations with industry veterans (I missed Stephen Gaghan talking in the Apres Ski Salon on Friday afternoon, which bummed me out as folks said he was his usual disarmingly frank self). Moving forward, it might behoove the powers-that-be to continue to up their game with regard to programming and venues and projection and their talking up of the film program itself—though I should clarify here that I witnessed healthy crowds showing up for films throughout the fest.
As for my viewing, I began to fear on Friday afternoon that I was going to be leaving the Sun Valley Film Festival with the sinful confession that the only movie I watched was an afternoon DVD cram session with Apollo 13 in my room (to prep for that night's Q&A). But I did manage to catch some stuff by the time I left town. My favorite viewing experience was a world premiere: Ben Greenblatt's Up The River, which stars Lindsay Burge, Will Brill, Nathalie Love, and Adam David Thompson as a pair of couples on an upstate NY getaway that gets romantically complicated when pretty much everyone begins to express interest in anyone but their own partner. Greenblatt's film is superficially familiar in its set-up and execution, yet as the film unfolds and dialogue gives way to a more silent visual approach, it reveals a greater kinship to world cinema than your average American indie. Up The River sits nicely alongside The Cold Lands and Hide Your Smiling Faces as another recent film that ventures into the woods of upstate New York and exhales with a breath of cine-poetry.
Okay, in keeping with SVFF, this wrap-up must now exit the theater and return to the partying.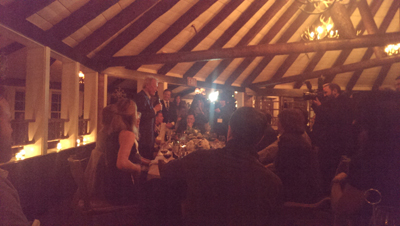 On Saturday night, champagne in hand, I took a gondola up a mountain to Clint Eastwood's wedding reception. Okay, it was actually a Vision Dinner honoring Sir Eastwood, but it sure felt like a wedding reception. Mingling with folks in the beautiful Roundhouse Restaurant at the top of Bald Mountain (the view was seriously staggering), I couldn't help but let my thoughts drift ahead 36 hours to the house painting job I was returning to that Monday morning in Austin in order to pay my next month's rent. But when I snapped out of that less than inspiring reverie, I looked across the table to see the faces of Bobby Farrelly and Joshua Leonard, and then I looked to the table to my left and saw my new friendly acquaintance Bill Paxton as well as Clint Eastwood, and I realized that my life could be much, much worse. One day later, the 2015 Sun Valley Film Festival already feels like a strange, exhilarating dream.
— Michael Tully