PORNOCRACY: THE NEW SEX MULTINATIONALS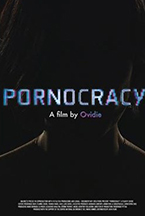 (The 2017 SXSW Film Festival opened on March 10 and runs all week until March 18. HtN has you covered and GUARANTEE more coverage than any other site! Check out this review ofPornocracy: The New Sex Multinationals which casts an eye on who's pulling the strings on free porn sites.)
The French porn-star-turned-porn-director Ovidie (Pulsion), long ago dubbed the intellectual of cinematic erotica, offers us, with Pornocracy: The New Sex Multinationals, her first full-length feature documentary (after two previous shorter works), a detailed look at the current state of pornographic-movie distribution. Since the crash of the DVD market, starting in 2006, the industry, like its mainstream counterpart, has moved much of its content online. Unlike Hollywood and its opposite numbers elsewhere, however, the world of internet porn has made its media goods available largely for free (not always legally). With piracy rampant and no money to be made, who benefits? Thanks to Ovidie's solid investigative work, we have some leads.
The main focus of the film is on the shadowy forces behind PornHub, which quickly established itself as the most popular online destination for graphic sexual videos in the post-DVD world (in fact assisting in that world's decline). Like any startup, it aggressively pursued dominant marketshare, then sold itself to a multinational. Now known as MindGeek (and formerly as ManWin), the company is ruthless in its profit motive, paying content providers almost nothing. In turn, the imperative to make oneself stand out and thereby earn the bulk of what meager monies remain has led porn producers and actors to ever-greater depths of on-screen depravity, putting the health of the performers at increased risk. Again, who benefits? If the content is free, then what is the point of the business?
It's about subscribers, and possibly money laundering. The more people who use your site, the greater chance that you can capture some of them with advertisements for services elsewhere. But the traffic is the real key, as that, apparently, can prove your site's viability and legitimize potentially nefarious bookkeeping. Ovidie calls MindGeek the Monsanto of porn, destroying all competition through deceptively ordinary practices that hide a bigger agenda.
All the while, we visit the many cities where porn is produced and enjoyed, from Budapest (the current capital of production) to New York, meeting struggling producers and their beleaguered stars. Ovidie, with her background in the field and knowledge of its players, is an excellent guide (though her French-accented English, if not subtitled, may prove a challenge to anglophones), interviewing not only within her industry but also among the journalists investigating MindGeek. I confess that I was unfamiliar with Ovidie's other work prior to watching Pornocracy, but based on her skills as a documentarian, I look forward to seeing what she does next in this new career.