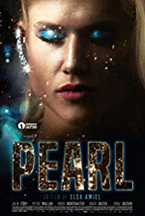 (The 2019 Tribeca Film Festival ran April 24-May 5 in New York City. HtN has writers Matt Delman, Chris Reed and Mike S. Ryan at the fest to get ready for our always deep coverage! Like what you see here on Hammer to Nail? Why not pay just $1.00 per month via Patreon to help keep us going?)
Muscles ripple under sweaty skin, the pores visible in extreme close-up as the bearer of this massive physique strains with effort. So enters bodybuilder Julia Föry, star of director Elsa Amiel's debut feature, the fascinating character study entitled simply Pearl . Föry plays the titular athlete, though "Léa Pearl" is but a stage name, and as we soon learn, there are layers galore beneath the surface of our protagonist's well-honed frame.
Entangled in what looks like an extremely unhealthy codependency with her trainer, Al, played by Peter Mullan (Jacob Snell on Netflix's Ozark), Pearl is focused entirely on winning the Miss Heaven contest that has brought her and scores of competitors to a nondescript hotel in the middle of a multilingual European nowhere. When her ex-lover shows up with a young boy – her son – in tow, dumping the kid with her so he can go off on a hairbrained scheme, Pearl must decide, in response, what kind of a person she is and what kind of a person she wants to be. You can try to reinvent yourself, it seems, but you can't outrun your past.
Beautifully portrayed by Föry – whose first screen role this is – Pearl is a model of internal conflict, her exterior armor no protection from the demons within. As Al, Mullan also shines as a former champion whose world is now reduced to a series of seedy transactions, whatever glory he once possessed dissolved in disappointment. Arieh Worthalter (Razzia), in the role of Ben, that ex-lover, supports their work nicely, as does Vidal Arzoni as Joseph, their son, and the bit players who round out the cast. Amiel presents the slow-burn of a story with careful reserve, her mise-en-scène acutely concentrated on every facial expression and change in body language of her marvelous lead actress. Though the entire narrative takes place in less than one day, there is a lifetime of drama on the screen.
I particularly admire Amiel's unflinching use of close-up compositions, her camera never letting up on a physical proximity that, over time, results in intense emotional intimacy. We never learn the full backstory of anyone, but the few details we do glean are enough, coupled with the strong performances and tight shots, to hint at deep truths behind the pained façades. And though there be no precious gemstones lying in wait for the movie's central characters, at least we, the audience, have this particular Pearl to cherish.
– Christopher Llewellyn Reed (@ChrisReedFilm)
Like what you see here on Hammer to Nail? Why not pay just $1.00 per month via Patreon to help keep us going?