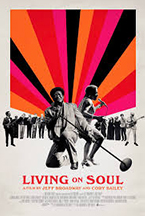 (The 18th annual Sound Unseen music film festival will take place Wednesday, November 8 through Sunday, November 12, 2017 in Minneapolis/St. Paul, MN. HtN has you covered with reviews so, stay tuned!)
In the new music documentary, Living on Soul, directors Cory Bailey and Jeff Broadway offer a glimpse into the fascinating lives of the musicians who make up the Daptone records family. One night at the famous Apollo music hall in New York City, Sharon Jones & the Dap-Kings, Charles Bradley, and Naomi Shelton and the Gospel Queens, legendary musicians of Soul, are only a few out of a multitude of talented artists who performed back-to-back shows for adoring fans.
With each performer finishing their set and taking their final bows to the audience as the next artist prepares to step out onto the stage, the story of the Daptone family continues in brief scenes of the musicians like Sharon Jones sharing their experiences with the record company and how Soul changed their lives forever. However, as the last performer belted out the last note of their song, and the film faded to black, I felt an unexpected emptiness reside within my own soul.
Not from the energized performances that evoked an unstoppable possession of every muscle and every bone in my body, but from the softer moments of the artists relaxing in their dressing rooms or out and about on the streets of their childhood neighborhoods. If you envision the Daptone artists as gargantuan icebergs, the likes no one has ever seen, Bailey and Broadway only reveal the mere tips. Instead of drawing closer to Sharon Jones as she recounted the day she met the Dap-Kings band, my attention was directed to the possibilities of a documentary solely focused on her. Thankfully, the 2015 documentary Miss Sharon Jones! may hold the answer to my wish.
Living on Soul is a competent introduction to the insanely talented artists of Daptone Records, but it hardly stands as the definitive biography for their efforts in the genre of Soul. Only time will tell if the right filmmakers and the right financial backers will see the potential in the lives of Charles Bradley and more Daptone artists.
– Patrick Howard (@PatHoward1972)