SAMMY DAVIS JR.: I GOTTA BE ME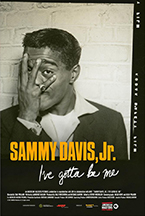 (The 18th annual Sound Unseen music film festival took place Wednesday, November 8 through Sunday, November 12, 2017 in Minneapolis/St. Paul, MN. HtN has you covered with reviews so, stay tuned!)
"Even if you win, you don't win."
That's the lesson Sammy learned the day he got jumped by a racist fellow infantryman and won the fight. Nursing his well-deserved wounds, the man told Davis that he was "still a [n word]." That was the moment that Davis decided fighting wasn't getting him anywhere. If he was going to change the hearts of white America, he had to try another tactic.
Samuel D. Pollard's documentary about the career of Sammy Davis, Jr. is more than just a Hollywood biography. At a time when race relations have returned to the forefront of America's consciousness, Sammy's struggle rings true to a shameful degree. Despite his innumerable talents, he still faced plenty of discrimination on account of his skin color and later, his Jewish faith. But his unflappable spirit was also a beacon of hope for other marginalized people. As one interviewee puts it, his success, "made [African Americans] feel special and for a time feel equal".
A good documentary will prompt a deep dive into the work of the film's subject, and Pollard's film definitely qualifies. The American Masters director presents a well-structured story broken into facets of Davis' boundless talent including his dancing, singing, acting, and impressions (he was the first black man to do impressions of white actors). Davis' talent can be found all over films, television, and records (a.k.a., YouTube). Though he began his career at age 3, his death at 64 still feels premature. It was just not enough time to bask in his immense talent. Who else could out-tap a professional dancer (Gregory Hines) 2 decades his junior at what was essentially his living wake?
Pollard's title is more than just a reference to one of Sammy's hits. "I Gotta Be Me" became his theme song. He did things his own way always. Sometimes it led to setbacks but it mostly led to him being one of the most beloved entertainers of all time. Pollard focuses on the recollection of a few famous faces including Billy Crystal, Jerry Lewis, Quincy Jones, Whoopi Goldberg, Norman Lear, and Kim Novak.
As one featured guest points out, Sammy's "gift was his talent, and his curse was being a black man in America." This might be the truest statement made in the entire film. Even a man who "pulled himself up by his bootstraps" still had a boot on his neck. When he performed in Vegas with the Rat Pack, he had to stay at the "black hotels" far outside of town. He was the first black performer on "white television", but he was also prevented from marrying his first love, Kim Novak, by the head of Columbia Studios. Instead, Sammy was forced to enter a sham marriage to an African American secretary in order to keep Novak and Davis from losing their jobs.
Unfortunately, Sammy also lost the respect of a large portion of the African American community during his quest to infiltrate white society. They especially hated him for supporting the Nixon campaign and he later apologized. But it's hard to blame a guy for backing the wrong horse when just a few years earlier, he was betrayed by the King Arthur of politics.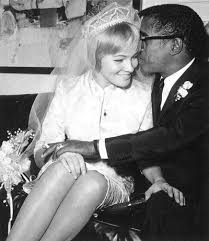 After Sinatra and Sammy campaigned for JFK, the Rat Pack was asked to perform at the inauguration. Though he'd already been elected JFK rescinded Sammy's invitation because he married a white woman and Jack didn't want to alienate his southern constituents. Nixon at least invited Sammy and his 3rd wife to the White House several times and they became the first African American couple to sleep there.
Though he was considered part of the Rat Pack, the others still made jokes about his race and his religion on a stage and he had to be "cool with it", laughing and playing along. The film purports that though they undoubtedly loved him, the other Rats didn't have his back when it counted. Sinatra went to JFK's inauguration without making a stink about his supposed best friend's absence. Sammy was always the exception, not a sign of the rules changing. That's on the Rat Pack, though – not on Sammy. He wanted to knock the barriers down for good. But his goal was to be a trailblazer, not to leave a trail of scorched earth behind him. He had to be him, and who were we to ask for anything more than that?
At his farewell tribute, Michael Jackson sang, "thanks to you, there's a door we all walk through." If Sammy were still here, he'd probably be pretty disappointed that we haven't gotten much beyond letting everyone use the same door. But he'd still be ready with a song and a hug.
– Jessica Baxter (@tehBaxter)