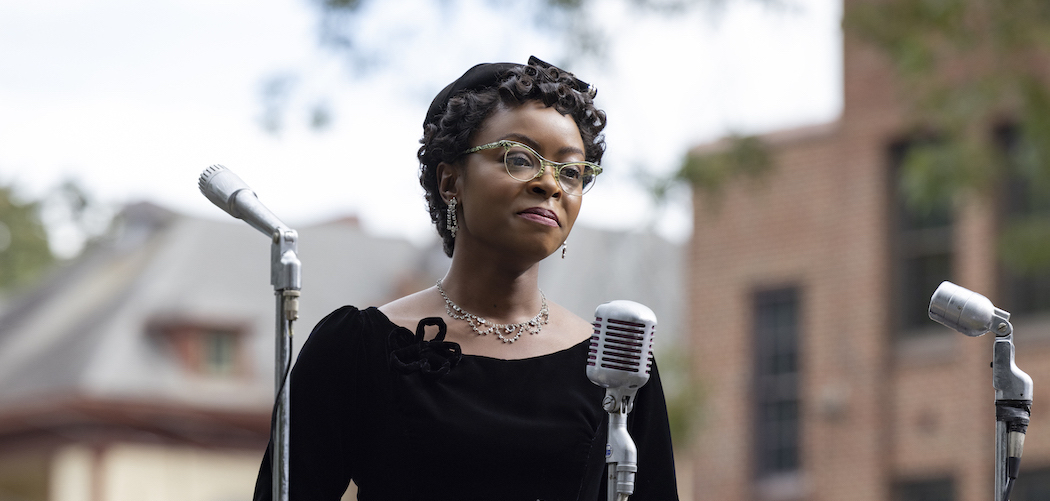 (The 2022 Middleburg Film Festival ran October 13-16 in lovely Middleburg, VA. Lead critic Chris Reed is in attendance and submits this movie review of Till. Seen it? Join the conversation with HtN on our Letterboxd Page.)
In 1955, Emmett Till, just 14, was murdered by white supremacists, his tragic death launching a national conversation about race in America that inspired what would become known as the Civil Rights Era. Just this year, 67 years after he was killed, the United States Congress finally passed the Emmett Till Antilynching Act, making lynching a federal crime. It's hard to believe it took that long, but this fact only emphasizes the enduring importance of the new movie Till, from director Chinonye Chukwu (Clemency). Plus, given the way parts of our country is taking many steps backwards to question the teaching of genuine American history by calling it "woke," this is a film that must be seen and must be seen by everyone. So pry your eyes open à la A Clockwork Orange and gaze at the searing truth.
At the heart of the drama is not the boy but his mother, Mamie, played by the incomparable Danielle Deadwyler (Jane & Emma). Once the horrific deed done, she drives the plot, her quest to have the world bear witness to the torture of her son responsible for all the good that follows. Chukwu knows the treasure she has in Deadwyler, placing her at the center of the frame in a variety of close shots that emphasize the consistent power of her performance. As hard as Till may be to watch at times, it must be seen not only for the story it tells but to appreciate all that Deadwyler brings to the screen. She is a revelation.
There have been many cinematic accounts of Black trauma over the years, and no doubt a segment of the potential audience may be tired of revisiting such tales. While Chukwu shows great discretion in the handling of the worst details, she does not spare us the sight of Emmett's mangled body. For those willing to brave the worst and honor Chukwu's vision, the rewards, beyond seeing Deadwyler bare her soul, are vast. Even when the movie skirts close to overly scripted big moments, the thrust of the narrative remains sharp. We are here to remember and never forget. Too much blood has been spilled for us to allow disgruntled racists to take away what progress has been made since then (with much more still to be made).
For those who don't know the details, Emmett Till was born and raised in Chicago, though his mother Mamie was born in Mississippi, which is where many of his cousins still lived. In August of 1955, Emmett went down to Money, Mississippi to visit them and, while there, had an interaction with a white woman tending a store that resulted in accusations that he had offended her. The specifics of what happened have always been murky, given that the woman in question, Carolyn Bryant, said one thing while other witnesses said something else. In Till, Emmett dares to tell her that she reminds him of a movie star, and then, after she follows him out of the store, turns and whistles at her.
A few days later, Bryant's husband and another man, J.W. Milam, abducted Emmett from his great uncle's house and lynched him later that night. Emmett's battered corpse was found after a multi-day search, lying in a river. It was a brutal crime, yet Bryant and Milam were acquitted of the murder after speculation that the maimed body returned to Chicago was not Emmett and that, in any case, he had deserved what came. Such is the American nightmare.
Beyond Deadwyler, there is Jalyn Hall (Bruiser) as Emmett, bringing this icon alive in all his youthful humanity. Whoopi Goldberg (Furlough) plays Mamie's own mother. The large remaining cast, Black and white, brings the story to vivid life without flinching in their cinematic duty. But always there is Deadwyler, Chukwu's camera holding on her for every emotional peak and its aftermath. Her brilliance, and the ineffable beauty of it, is the salve for all the wounds that Till may (and, for many, should) open.
– Christopher Llewellyn Reed (@ChrisReedFilm)
2022 Middleburg Film Festival; Chinonye Chukwu; Till movie review