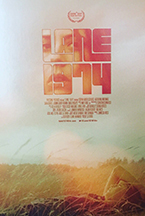 (The 2017 SXSW Film Festival opened on March 10 and ran all week until March 18. HtN has you covered and GUARANTEE more coverage than any other site! Check out this review of  S.J. Chiro's Lane 1974, a look at the difficult road taken when fighting "the man.")
While politics are never directly addressed in S.J. Chiro's Lane 1974, the struggle of being an anti-Capitalist in a Capitalist Republic permeates the film. Adapted from Clane Hayward's memoir The Hypocrisy of Disco, Chiro's film faithfully captures the nomadic hippie lifestyle of the mid-Seventies in the United States. By this time, even in Northern California, where Lane 1974 takes place, hippies and the communal sub-culture had been relegated back to the fringes, thanks in no small part to Richard Nixon and J. Edgar Hoover's COINTELPRO.
The film follows Lane (Sophia Mitri Schloss), a 13-year-old girl who is dragged across Northern California by her stubborn hippie mother, Hallelujah (Katherine Moennig). Lane is the quiet, young victim of her mother's menagerie of poor decisions. Focused on her own ideals instead of the wellbeing of her children, Hallelujah finds herself and her kids in one precarious situation after another. It is sad and infuriating just how selfish Hallelujah is (and it's really amazing that she never attracted the attention of Child Protective Services), but at the same time it's difficult to deny that her steadfast belief in maintaining freedom from the shackles of Capitalism and the maniacal government is quite admirable. But, at the very least, the rough and tumble lifestyle taught Lane how to survive.
With the rise Socialist values – thanks in no small part to Bernie Sanders and the Democratic Socialists – it is hard not to want a happy success story about someone raising their family via a purely anti-Capitalist lifestyle (Captain Fantastic) probably comes closest). Lane 1974 is certainly not that. But Chiro's film is less a critique of Hallelujah's parenting skills and more of a portrait of the last legs of hippie culture. The film transcendentally captures the idyllic beauty of the natural locations where Hallelujah chooses to call home for her family, with the ugly struggle against poverty haunting the periphery of the frame. Who knew such amazing environments could seem so sinister and foreboding?
– Don Simpson (@thatdonsimpson)