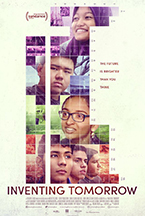 (The 2018 Sundance Film Festival runs January 18-28 and Hammer to Nail promises more reviews than any other outlet! Stay tuned for interviews, features and reviews…)
If you're looking for a healthy dose of optimism, which can often feel in short supply these days, look no further than Laura Nix's new documentary Inventing Tomorrow. Nix and her team follow kids from 4 different countries; Indonesia, India, Mexico and the U.S. (Hawaii to be exact), who research and conduct complex science projects to solve issues in their communities. The film culminates in Intel's ISEF competition, the largest, most prestigious science fair in the world.
Like other competition docs Spellbound, Koran by Heart, and Brooklyn Castle, the success of the film relies on finding the right subjects to follow, which can be a matter of intuition and gut instinct early on in the filming process. Nix and her team chose extremely well. Sahithi is a well-spoken young woman from India who is concerned with the polluted lakes right outside her upper-middle class community that are overflowing with foam. She taught herself multiple coding languages to create an open-source app for people around the world to do their own water testing. Jared from Hawaii is focused on mapping the redistribution of arsenic from tsunamis, in hopes that his community can avoid building public spaces on the most dangerously contaminated areas. Shofi and Intan from Indonesia are developing a filter for the tin mining boats off the coast of their hometown that dump waste directly into the ocean, killing fish in the process. Fernando, Jesus and Jose from Mexico develop a paint that is non-toxic and when coming in contact with the sun, will leave a layer of healthy residue behind that can remarkably offer nutrients to the surrounding environment when washed off.
No doubt each of the projects is incredible, but the heart of the film lies in the human interactions these teenagers have leading up to and during the competition in Los Angeles. One of Sahithi's mentors reminds her that winning is not important, but rather to focus on being a good ambassador for the environment and for India. It's clear that all of these kids have that same selfless attitude. A very touching moment comes towards the end of the film when Jared dedicates his project to his proud grandmother, who took him to the local pond as a child, and instilled in him the sacredness of the earth. There wasn't a dry eye in the theater.
There's also plenty of humor throughout, such as when one of the boys from Mexico flirts with an American girl, teaching her how to roll her 'R's. In fact the most pleasurable moments of the film, of which there are many, come from the co-mingling of these young scientists from around the globe with each other. A scene of them exchanging pins conveys Jared's bashfulness, and we see how this experience helps him come out of his shell and gain some social confidence. Later, various young competitors earnestly offer to collaborate on research with each other, and we feel that with these kids, the future of our planet is in good hands.
The film is beautifully lensed and expertly edited, which must have been a challenge considering all the international locations and on-the-fly proceedings. It feels like Nix was everywhere at once, orchestrating multiple camera crews and gaining access to intimate moments that both propel and anchor the narrative. The story is inspirational to the max, and thanks to the filmmakers, the kids' work will have a much greater impact. One of the concerns with Sahithi's project is that of publicity, a daunting task for a teenager who spends most of her time in a lab. How do you scale a crowdsourcing water-testing app? This documentary and the army of young scientists it will inspire will undoubtedly help with that.
– Matthew Delman (@ItsTheRealDel)