HOW TO PLAN AN ORGY IN A SMALL TOWN
(The 2016 Slamdance Film Festival is in full swing and we have boots on the ground as well as eyes on screener links for the whole festival! Stay tuned to Hammer to Nail as reviews start rolling in…)
Writer/Director Jeremy LaLonde (Sex After Kids) returns below the belt with his second feature, a bit of good, dirty fun called, How to Plan an Orgy in a Small Town. As the result of a humiliating sexual encounter, teenager Cassie Cranston (Jewel Staite, TV's Firefly) is almost literally run out of her small Canadian hometown of Beaver's Ridge. Twelve years later, she reluctantly returns to tie up loose ends after her estranged mother's funeral and finds that her former peers still hold a grudge. You see, following her exit, Cassie moved to the Big City, and published a scathing piece, exposing Beaver's Ridge as a wretched hive of wasps and repression. Her article went viral thanks to a literary connection with the town, drawn by her mother, an "Ann of Green Gables" type author, who erroneously depicted the place as wholesome and idyllic. In the years that followed, Cassie gained more notoriety as a sex columnist, further mortifying the conservative townspeople.
What her former peers don't know, is that Cassie isn't quite as sexually adventurous as she lets on. And what Cassie doesn't know, is that the people she grew up around are capable of more open-mindedness than she gave them credit for. Alice (Katharine Isabelle, Ginger Snaps), Cassie's former best friend, is in the process of exploring her sexuality as she tries to wrap up a divorce with her reluctant husband, Bruce (Mark O'Brien). Heather (Lauren Lee Smith, TVs The L Word) wants to get pregnant ASAP so that she can catch up with the rest of the housewives, and treats her sad-sack husband, Adam (Ennis Esmer), like little more than a baby batter dispenser. And Chester (Jonas Chernick), just finds it difficult to get laid when he feels like he already knows everyone around him. So, for various reasons, they all agree to plan the titular orgy, with Cassie as their guide. She, in turn, will make it the subject of the contractually obligated book she is long overdue writing.
The residents of Beaver's Ridge didn't grow up with each other so much as around them. So once they start down this path to intimacy, they quickly learn that much of what they thought they knew about each other is false. They also discover that, despite their perceived discretion, it's impossible to keep a secret in their town. Others soon come knocking, bringing their own reasons for wanting to take part in what has become more of a club than a singular event.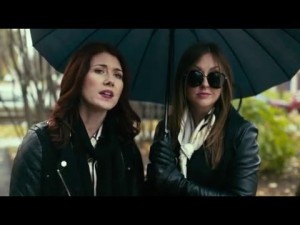 In some ways, Orgy feels a bit formulaic and predictable. One plot point in particular seems like it was included only to throw a wrench in the third act. But LaLonde has a knack for writing wry orgy humor, as well as telling bits of characterization, which speak volumes without exposition to take you out of the narrative. He also creates many distinct and memorably flawed characters, which, at their core, only want to be loved. The group of actors assembled also provides a level of unspoken depth to their characters, making them feel very real amid such an outrageous premise. Despite what the Academy Awards would have you believe, comedy is the hardest type of acting to pull off, especially when there are emotional stakes. LaLonde's super group cast absolutely nails it.
How to Plan an Orgy in a Small Town is short, sweet and satisfying. Which is exactly how I like it.
– Jessica Baxter (@TehBaxter)