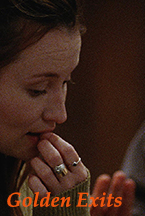 (The Maryland Film Festival kicks off May 3 and runs through the week to May 7. Our own Chris Reed lives in Maryland and will be all over the fest like tourists on a crab buffet so stay tuned.)
"Is that all there is?" asks Chloe Sevigny's Alyssa at the end of Golden Exits, the new film from director Alex Ross Perry (Queen of Earth). Her husband, Nick, an archivist with a history of philandering who has just spent the entire movie in the company of an attractive female assistant, rambles out a non-admission of guilt, and after a pause she retorts with that question. It could be taken literally, as a sarcastic reply; it could be a sad recognition that their communal life is dead; or it could be a query about the minimalist plot of the film. For, on one level, not much happens, though a lot almost does. And yet, despite the surface inaction – a study in lethargic ennui if there ever was one – there are currents of deep emotional distress that roil just below, like a deadly iceberg about to strike. It's what is not said that cuts the deepest.
Nick is played by Adam Horovitz (Ad-Rock of the Beastie Boys) as an unhappily married man who loses himself in his work, spending long days in a basement office categorizing the materials of recently deceased elite. It's lonely work, hence his need for assistance (usually of the female variety). As the film begins, Alyssa and her sister Gwen (Mary Louise Parker, Showtime's Weeds) are interrogating Nick about his new hire, as well as questioning their decision to use Nick to archive their own father's artifacts. The dynamic is clear: they don't trust him, though Alyssa seems inclined to hope that the past (whatever that is) is truly the past. It's an ironic position when Nick's profession is all about sifting through the evidence of what has come before. Yet Sevigny (Love & Friendship) perseveres in her melancholy desperation, her tired eyes reflecting the dread she cannot articulate. Gwen is the sharp one.
And then in walks Naomi (Emily Browning, Legend), the assistant in question, who manages to be both everything the two older women fear and yet not quite. She, too, seems plagued by malaise, and unlikely to succumb to the questionable charms of her employer, whose raw need telegraphs the obvious. Despite her own reserve, however, she will prove a wellspring of midlife crisis for more than just Nick. Something about her vulnerability – she's on a two-month work visa from Australia, and just out of a failed relationship – attracts the kinds of men who are bored with the quotidian circumstances of their dreary mundanity. Jason Schwartzman (7 Chinese Brothers) plays Buddy, son of a childhood friend of Naomi's mother. Though ostensibly happily married, he finds himself also drawn to the young woman, though he hides his desires better than does Nick, with whom he is, coincidentally, friends (though in one of the interesting plot contrivances, neither Nick nor Buddy discover that they know Naomi).
There are more characters, too, including Jess (Analeigh Tipton, Between Us) – Buddy's wife – and Sam (Lily Rabe, Miss Stevens), her friend (and Gwen's assistant), who spend their free time meeting for drinks and complaining about the circumstances of their sorry lives. If all of this sounds like it adds up to nothing more than talky misery, fear not, for the languor of the plot masks dynamic (if slight) change within each participant. Much happens, in fact, but mostly reflected through glances and subtle shifts in attitude and dialogue, delivered by the superb cast. Perry marks the passage of time with on-screen dates that serve as gentle milestones of the emotional toll of each day. Is that all there is? Yes, but it's a lot.
– Christopher Llewellyn Reed (@ChrisReedFilm)