From actor (The Color Wheel) and writer/director (Tuna) Bob Byington comes this charming off-beat dramedy, starring Jason Schwartzman (The Darjeeling Limited). The film premiered at the 2015 SXSW Film Festival, which is where I saw it, and is now finally coming out on disc (on October 27) after a limited end-of-August release. Though not beloved by all critics, the film features a winning performance from Schwartzman and an (almost) even more compelling turn from Schwartzman's real-life French bulldog, Arrow (making it a must-see for dog lovers). In spite of its minimalist plot and simple (but beautiful) aesthetic, 7 Chinese Brothers tackles big life issues in an original and cinematic way, and deserves a wide audience (it can also be purchased on iTunes).
Schwartzman plays Larry, a child-man weighed down by depression and alcoholism who can't quite rise to the expectations of his elderly grandmother – played by Olympia Dukakis (Away from Her) – his only living relative, who supports Larry financially. By contrast, his best friend, Major – played by Tunde Adebimpe (Rachel Getting Married) – is sharp as a tack and far more successful, which doesn't help Larry's sense of himself. As the film begins, Larry finds himself jobless, and wanders into a Quick-Lube auto shop where, though he is unqualified, his mopey persistence wins over the manager, Lupe (Eleanore Pienta of Stinking Heaven). Soon, Larry develops a crush on Lupe, but so does Major. Will this new situation force Larry to grow and become a better man? Maybe. But maybe not.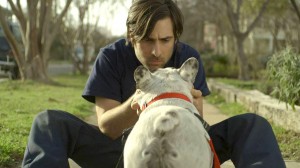 With an overall appealing cast, including the usual supporting players we see these days in many an indie film – actor/writer/director Alex Karpovsky (Girls) and actor/writer/director Alex Ross Perry (Listen Up Philip) among them – 7 Chinese Brothers feels both familiar and unique, thanks in large part to the charisma of Schwartzman and his tender interactions with Arrow. Byington has wisely decided to let Arrow be himself and allow his lead actor to act without artifice in the presence of his dog. Though Larry is in all other respects something of a loser, with Arrow we see the man he could be if only he could escape the oppression of his funk. At the end, when the plot takes an expected turn with an unexpected twist, we feel that there's hope for Larry, after all, thanks to the hidden adult revealed through his relationship with the one being he cares for more than himself. I highly recommend.
A note about the title: it's never explained, but most of us know, from childhood, the story of The Seven Chinese Brothers (an adaptation of the almost-identical tale The Five Chinese Brothers), in which 7 (or 5) identical-twin brothers work together to subvert an autocrat's decree of execution. The fantastic nature of the tale perhaps refers to Larry's passive magical thinking that somehow life will work itself out. When it doesn't, it's time for him to put childish things behind him. That's my take, anyway. I'd be curious to know yours.
– Christopher Llewellyn Reed (@ChrisReedFilm)