ON, GIVING VOICE & DISCLOSURE: TRANS LIVES ON SCREEN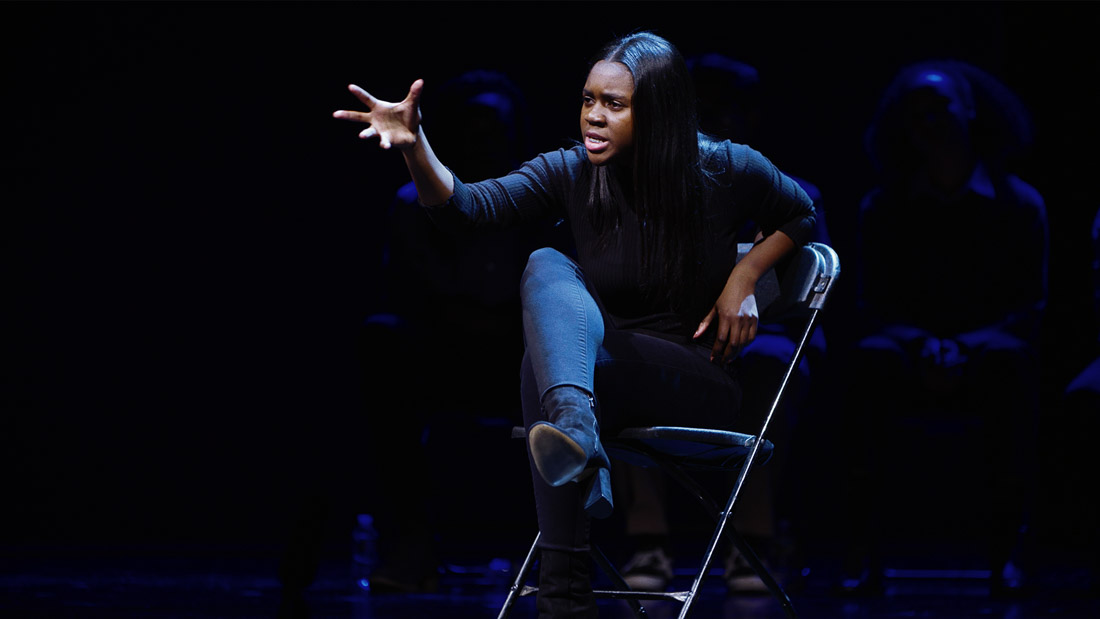 (The 2020 Sundance Film Festival runs January 23-February 2 in and around Park City Utah. Hammer to Nail has boots on the ground at the fest and guarantee more coverage thank any other site out there. Like what you see here on Hammer to Nail? Why not give just $1.00 per month via Patreon to help keep us going?)
In a world where people feel disconnected and experiences are so unique, it is so essential to find each other through great works of literature, or television, or film. People can lead such an insular life that they may not even truly know who they are until they can see themselves. Although they about completely different things, the documentaries Giving Voice and Disclosure: Trans Lives On Screen both speak to the power that great art has to identity, support, and inspire a group of people.
Giving Voice focuses on a monologue competition started in Pittsburgh area high schools to give students the opportunity to discover the works of August Wilson, the United States' premier black playwright and chronicler of the black experience. Many people feel (myself included) that August Wilson should be counted amongst the likes of Arthur Miller and Tennessee Williams as the most important American playwrights. Although there has been quite a few fantastic film versions of Wilson's work recently, more than likely high school students have never read let alone performed in an August Wilson monologue.
The competition gives them the opportunity to select the character, and embody their life in performance with the potential of being able to present the monologue on Broadway. Most of the students are theatre students but not all of them, most of them are from inner-city schools, but not all of them. Following the standard setup of films like Spellbound and Hands on a Hard Body, the documentarian follows different performers and their journeys. Why they are participating, why they picked the character, and what struggles they overcome on their way to the final competition. What brings them together is more important than what divides them, a search for identity in America. Having covered each decade with a different play, August Wilson provides a number of different experiences in which students can find themselves. And the documentary really does go a long way to supports his importance in theater. Although who wins the competition is less important than the competition itself, with the film lacks in tension it makes up in inspiration.
Disclosure: Trans Lines On Screen will be a film people will watch 30 years from now. Yes it's good, but that's less significant than the fact that it is important and necessary. Never before has anyone looked at the history transgender representation on screen and television. Tracing the foundation of negative representation back to the works D.W. Griffith all the way through the positive influence of Orange Is the New Black and Pose, Sam Feder's film shows how much the Hollywood portrayal of transgender people has influenced us, for good and bad.
Speaking for myself I'm not sure I really even knew who I was until I saw a particular movie that captured an identity that I never thought possible. (That movie was Boy Meets Girl by Eric Schaeffer starring Michelle Hendley as a transgender girl that was just living her life as a small town girl.) I grew up in the Midwest and for a long time I didn't even know what being transgender was. To Wong Foo, Priscilla Queen of the Desert and The Birdcage, these movies had nothing to do with me, and yet I was being told by Hollywood that this was what it was to be trans. Or we could be prostitutes (Risky Business), Or we could be villains like Buffalo Bill in Silence of the Lambs. Many films use trans women as a punchline, employing their body parts as fodder for comedy, either laughing at the violence that trans women experience, or make jokes about genitals. This not only disrespects trans women's right to be taken seriously as human beings, but also objectifies and dehumanizes us by reducing existence to a joke. Even a well intentioned and mostly respectful film like The Crying Game launched a series of films in which men vomited after finding out that they have just been intimate with someone who is transgender.
When I did finally see myself on screen, or least who I thought I could be, my whole world opened up. Produced by Laverne Cox, who also is one of the main talking heads of the film, Disclosure has come at the right time, as America finds itself in the middle the next civil rights battle. Watching a film that I think will influence our thinking about representation on screen until it's no longer an issue (as if that ever a possibility) I was led through a complex stirring of emotions. From tears…to whatever is the opposite of nostalgia…to pride at how far we've come and where we might go.
Bears Rebecca Fonte (@BearsFonte)
(Like what you see here on Hammer to Nail? Why not pay just $1.00 per month via Patreon to help keep us going?)