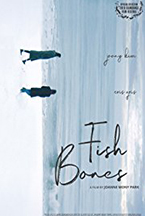 (The 24th Annual Slamdance Film Festival ran January 19-25 in Park City, UT. Hammer to Nail has you covered and guarantees more coverage than any other site. Watch us work it!)
Beautifully shot and edited (the latter partly by the film's director), and featuring two compelling lead performances, Fish Bones, from Joanne Mony Park (her feature debut), tells the story of a fraught love affair between two women. One is more experienced and open about her sexuality, the other not. The movie is structured in an elliptical, chronologically fractured timeline that heightens the drama and deepens our understanding of it. What a way to announce oneself! Park is a director to watch.
Model-turned-actress Joony Kim plays Hana, a young woman from a strict Korean family. When not at the university, she helps out her frequently ill mother in their restaurant, along with her brother. On the side, she moonlights as a model, something of which she knows her mother would never approve. One day, she meets music producer Nico (director and actress Cris Gris) at the restaurant, and a friendship develops. Nico holds off with the seduction, recognizing the need to go slow, but soon their time together sets off sparks, and the inevitable happens.
So far, so banal. Except not. Park and her cinematographer, Sheldon Chau (The Tribe), along with co-editor Yael Urbach, ensure that the images and cuts keep us guessing about plot and motivation. I love how Chau frames what could be ordinary moments – Hana lying on a bed, the women walking on the beach, models dancing – in off-kilter compositions, lending them an oddness that infuses them with additional meaning. Park and Urbach jump forwards and backwards in the narrative, revealing details on a need-to-know basis. It could feel gimmicky, but doesn't; instead, it is cinematically innovative and deft, and a lovely work of art.
– Christopher Llewellyn Reed (@ChrisReedFilm)