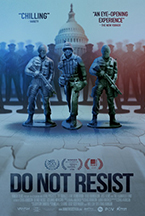 (Craig Atkinson's timely doc Do Not Resist was awarded Best Doc at the 2016 Tribeca Film Fest. It's available now in theaters and on VOD.)
At what cost peace? How much are we willing to sacrifice in order to feel safe? Perhaps the additional question we should ask is whether or not our peace-keeping methods actually work. In a world in which, ever since the terrorist attacks of September 11, 2001, we have so often chosen to arm ourselves – both our police forces and our actual selves – with greater weapons capable of greater destruction, at what point do we stop and ask if any of it is making us safer, and for whom. As the events in Ferguson, Missouri – and the many that came before and after – show us, heavily militarized police units serve one function, and one function only, and that is to terrorize already disenfranchised communities into further submission. And even if that's what we wanted as a nation (and I don't think it is), it's not having the desired effect, since these communities justifiably rise up in protest. Nobody's interests, in other words, are being served. Except, perhaps, those of the weapons manufacturers' (making Dwight Eisenhower's farewell address about the perils of the "military-industrial complex" as prescient as ever).
Into this violent fray plunges director Craig Atkinson, camera in hand, with his documentary debut, Do Not Resist. From Ferguson, Missouri, to Concord, New Hampshire, and many places in between and beyond, Atkinson has gathered footage from law-enforcement conferences, street protests, and other sources to weave a disturbing cinematic tapestry of a nation at war with itself. He shines a powerful spotlight on the consequences of what happens when too much power meets too little oversight. Do small towns in America really need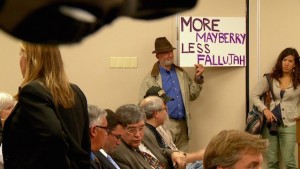 Bearcats (heavily armored trucks) and MRAPs (Mine Resistant Ambush Protected Vehicles)? Is this the best use of taxpayer money? Of our money? Not only is it wasteful, but such massive overkill that someone is sure to actually be killed as a result (many have been, already). Atkinson shows us the full panoply of our folly, and traces much of it back to how the police are trained, bringing us to one very disturbing individual, Dave Grossman, whose lectures on combat procedure to the military, the FBI and others reveals a deep-seated propensity towards aggressive tactics. If everyone looks like an enemy, shoot first and ask questions later.
A timely film if there ever was one, and winner of the Best Documentary Feature at this year's Tribeca Film Festival, Do Not Resist takes us on a visceral journey through the sweat and fear – and teargas-stung eyes – of those who do, in fact, resist, while also offering the police a chance to have their say (though the movie is clearly against militarization policies). Not everyone sees these new tools in the same way, but even the arguments of those would justify their use fall apart when we join a SWAT team that breaks into a house to uncover nothing more than petty crime. Is this who we are, dear United States? Atkinson's film forces the question. How will you answer?
– Christopher Llewellyn Reed (@ChrisReedFilm)