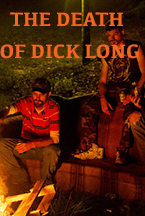 (The 2019 Sundance Film Festival takes place January 24-February 3 in Park City Utah. Hammer to Nail guarantees more reviews from the fest than any other website around. That alone is worth $1.00 per month to help keep us going!) 
If you've got a sick sense of humor, then The Death of Dick Long may be the funniest film you see this year. Ever since comedy got woke, there's been reluctance for filmmakers to push boundaries, to 'go there'. Remember the good ol' days of The Book of Mormon? Well good news: Dick Long delivers that same edgy thrill. A dark comedy thriller from the mind of writer Billy Chew, the film is brought to life by director Daniel Scheinert, who cut his teeth on eye-popping music videos and is best known for the surreal Swiss Army Man that took home the Sundance Directing prize in 2016. The new film—his first solo effort sans partner Daniel Kwan—is more grounded than his previous work. Taking the absurd and shooting it realistically gives the impression that this all could have actually happened, and makes the experience that much more compelling.
Two likable idiots named Zeke (Michael Abbot Jr.) and Earl (Andre Hyland) get caught up in a terrible accident and decide to drop their dying friend Dick (Scheinert himself pulling a Tarantino-style cameo) outside an E.R. The tension builds from there. Speaking of Tarantino, there's a reference to Pulp Fiction when the rednecks attempt to clean the backseat of a bloodied car. Later a scene between a police officer, Zeke, his wife and Dick's widow boils in suspense not unlike the scene of Nazis looking for hidden Jews in Inglorious Bastards. So yes there is some Tarantino inspiration going on here, but the film owes more to the North Carolinian trio of David Gordon Green, Jody Hill and Danny McBride. Hyland's Earl could easily have been plucked from one of their films or series. The spark those boys had with Kenny Powers of Eastbound and Down seems to have extinguished with the tepid Legacy of a Whitetail Deer Hunter, and Scheinert and Chew have ostensibly picked up the raunchy reins.
The opening scene of their hillbilly antics does not prepare you for the mid-movie twist. It's this twist that the film hinges on, and elevates the work to mythical comedy proportions. The soundtrack is a highlight, showcasing the likes of Nickelback, Staind and Creed. The country Alabamian details really shine, such as a man smoking a cigarette while riding a stationary bike on his porch, and a woman cutting the steep side of her lawn with a mower on a rope. Director of photography Ashley Connor (Madeline's Madeline) captures this small town caper in stark contrast to the standard over-lit comedy style, making for something far more moody.
It's unsurprising to hear Scheinert as Dick Long utter the phrase, 'let's get weird' in the first scene of the film. Coming from the mind behind a boner compass and farting jet-ski corpse, it's hard to imagine getting much weirder, but that's the challenge Scheinert has set out to achieve. When Officer Dudley (Sarah Baker in a Fargo-esque role) tells her boss Sheriff Spenser (Janelle Cochrane) that some people are just "inscrutable on the inside," we laugh because it's true. But these bumpkins are also supremely endearing and it's impossible not to root for them as they careen and stumble through their misadventures.
– Matthew Delman (@ItsTheRealDel)
Like what you see here on Hammer to Nail? Why not pay just $1.00 per month via Patreon to help keep us going?