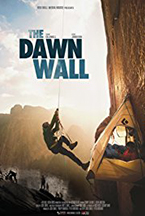 (The 2018 SXSW Film Festival kicked off March 9 and ran all the way through to March 17. Hammer to Nail has a slew of reviews and interviews coming in hot and heavy so keep your dial tuned to HtN!)
Starting on December 27, 2014, noted rock climber Tommy Caldwell and partner Kevin Jorgeson began a never-before-attempted free climb up the "Dawn Wall" of Yosemite National Park's El Capitan, that famous cliff face that has so long fascinated all who gaze upon its imposing, corrugated surface. 19 days later, they would reach their goal, having spent the intervening time struggling against the mountain, the elements and their own doubts, fears and physical limitations. In a feat probably as interesting as the resultant movie (I'd pay good money to watch the making-of), directors Josh Lowell and Peter Mortimer were there to document the ascent, and The Dawn Wall is a testament to film crew and climbers, alike, showcasing the value of perseverance in the face of awesome challenge.
Though, as one would expect, there is a lot of climbing footage, the movie is not only about the progress (and lack thereof) along the rock, fascinating as that is, but also about Caldwell's and Jorgeson's past lives (though mostly Caldwell's). In 1995, at 16, after a childhood spent following in his body-builder father's thrill-seeking footsteps, Caldwell won a climbing competition in Utah, against far more experienced athletes, in which he had enrolled at the last minute. Never good in school, he had found his vocation. He also, soon thereafter, met Beth Rodden, a young woman his age who was also a champion climber. Soon, they were inseparable.
Then, in 2000, on an expedition in Kyrgyzstan, he and Beth (and two others) were kidnapped by rebels in a civil war. They survived, and the experience brought them closer together. Shortly thereafter, they married. All was good, until, slowly, they began to grow apart, finally divorcing in 2008. The subsequent heartbreak led Caldwell towards an obsessive study of the routes up El Capitan; anything to take his mind off the divorce. He climbed every known course, sometimes combining them in ways no one had before, and all this despite having lost an index finger years earlier in a painful encounter with an electric saw. All that remained was the Dawn Wall, heretofore deemed impossible for a free climb (which is when you climb using your own muscle, without ropes and pulleys, except as safeguards against a fall). Even the fanatical Caldwell realized he needed a new partner for such an attempt.
Enter Jorgeson, an accomplished boulderer, who read about Caldwell's plans and offered to assist. Though Jorgeson had a lot to learn about mountain-climbing, the two men hit it off, and within a few years, after extensive training, were ready to attack the Dawn Wall. We first meet them in medias res – their respective tents side by side, hanging in mid-air – fielding phone calls from family and journalists, alike, while of avid onlookers gaze up from below. Though the climbers made their ascent without assistance, they were very much in the public eye, adding yet another challenge to the already awesome one of just making it up the Dawn Wall.
Cutting back and forth between the men's personal stories and their 19 days on El Capitan, Lowell and Mortimer create a gripping, cinematic drama of grit and resolve that offers something for all viewers, even those without a built-in interest in climbing, so compelling is the central narrative. I, myself, knew very little about the sport, but responded viscerally to the vertigo-inducing footage, all beautifully photographed, as if it were a heart-pounding Hollywood action film. The Dawn Wall is as thrilling as it is profound, proving that you don't need CGI and stunts to make a movie. It is, in other words, the real deal.
– Christopher Llewellyn Reed (@ChrisReedFilm)