CINEQUEST 20 – An Overview
Cinequest Film Festival just wrapped up its 20th anniversary celebration in San Jose, the hub of Silicon Valley, a city which sleeps but wakes to an early alarm. This year's festival was held from February 23 to March 7 across a few square blocks of well-managed venues, offering as many as six simultaneous screens and none of them a stinker. I have premiered three features at Cinequest in as many years [ed. note: This year's film was Babnik], so it's important to note that I'm reporting as a filmmaker and not a critic.
Incidentally, I'm not the only filmmaker loyal to Cinequest when it comes time to premiere. This year Daniel Kraus premiered Professor, the third film in his promising Work Series, of which I've seen only the first installment, Sheriff (also a Cinequest premiere). Noel Murray of The Onion AV Club called Sheriff "almost as good as any documentary [Wiseman] has made," which confirms that my raving about the film six years after seeing it at Cinequest is not somehow aberrant. Kraus has a gift for finding tucked-away subjects who grow to epic proportions under his unrelenting gaze. His camera interrogates the appeal of charismatic personalities, leaving us to wonder whether we're "supposed" to like these people. Hey, I was charmed by Idi Amin Dada in Schroeder's film—removing a personage from any historico-political context is what separates an authentic verite documentary from conventional journalism. Kraus has a great deal of palpable certainty in his methodology—riveting stuff. Professor earned a scarce encore screening slot at CQ20 as a result of audience voting, so expect to find this one burning up the fest circuit in coming months.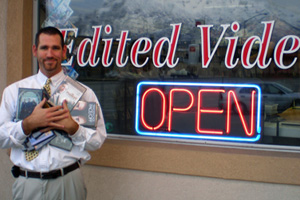 Andrew James premiered Una Vida Mejor at Cinequest in 2008 and returned this year with Cleanflix, which premiered at Toronto. James is becoming a figure of sorts—an unassuming sophisticated liberal from Utah who gently challenges the Mormon community and conservative social values in general. Cleanflix charts the rise and fall and rise and fall of several family-minded enterprises which removed objectionable bits from DVD editions of Hollywood films during the aughts. James's documentary certainly critiques the business practices and general self-righteousness of the LDS-affiliated individuals behind these ventures, but when he offers excerpted "offensive" elements out of context (from The Big Lebowski and Sin City among others), it's nearly impossible not to cringe, and that cringe serves an implicit point: these Mormons aren't nuts to register shock here and there. Of course we also see the technical and aesthetic ineptitude represented by the bowdlerized versions of said scenes, and the good idea in theory becomes a laughable idea in practice. Cleanflix veers into juicy subplots that would be crass and exploitive in the hands of a less scrupulous documentarian. This distinct lack of hostility toward its subjects might help the film find an audience among the very people it represents. James explained that his brother's involvement in the Mormon community provides a useful barometer: "I think they're ready to see it," he said.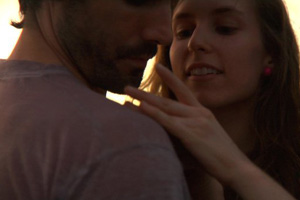 Another CQ veteran is Larry Levine, whose first feature Territory came to San Jose in 2005. Levine loved Cinequest so much, he told me, that he didn't hesitate when looking for a festival to premiere his latest, Gabi on the Roof in July. Taking a cue from Silicon Valley Metro critic Richard von Busack, I asked Levine if Gabi bore any intentional resemblance to Rohmer's work. "Yeah, even the title is inspired by Rohmer," he said. I trotted to the screening with my date, who navigated rain puddles as best she could in impractical shoes. Well, taking a new flame to a film that is disconcertingly savvy about relationships is not always the best idea. Result: kinda-whispered outbursts through clenched teeth and, later, uncomfortable self-examination. Plenty of sensitive, convincing scenes here. I'll add that talking with Levine over drinks about a scene in Rohmer's Le rayon vert is one of the most rewarding encounters I've had at a film festival. Gabi navigates our post-mumblecore moment with aplomb, though some viewers dismissed it as more of the same: handheld video close-ups of self-indulgent young people reveling in ill-defined relationships while playing classic board games—though now I think I've gone from defining "mumblecore" to defining "hipster." In any case, some viewers were allergic to Gabi on principle.
A couple of other CQ20 films pejoratively referred to as "mumblecore" were Exit 117 and Bummer Summer, neither of which I saw. I did catch the premiere of Hell is Other People, which, like Gabi, will survive the mumblecore inoculation. Hell offers up the pariah Morty, whom director Jarrod Whaley described as a distillation of all the things we don't like about other people (i.e., ourselves). Morty certainly is that, but there's something lovable about this character as embodied by Richard Johnson, blinking uncomprehendingly behind smudged glasses, and this creates a compelling tension in the film: when Morty uses his loser superpowers to weasel out of paying a bill, it's almost unwatchably humiliating. What Whaley brings to the post-mumblecore moment is actual writing, a script replete with memorable one-liners ("It's my fault you got better" is worthy of a hand-wringing Woody Allen character). The sincere, contemplative aspects of Hell is Other People are dangerously complemented by unself-conscious bawdiness—the film opens with a loud fart. Like the writing of Kafka and Rabelais, Hell is Other People is more filling than its maker wants you to think it is. This is an archaic form of craftiness that, like the patiently staggered opening credits, adds a layer of unanticipated charm. On reflection the titular reference to Sartre assures us that our discomfort with ourselves is always there; Whaley is merely adept at punching the bruise.
International fare at Cinequest 20 was all over the map, as it were. Films such as Starring Maja and Prima Primavera were effortless crowd-pleasers, the latter making its intentions explicit with a "funny hats" montage. A beach-cottage holiday facilitates madness in the deftly edited Argentine thriller Green Waters, which nearly equals Polanski at his peak. Heiran unforgivingly charts the marriage of an Iranian peasant and an Afghan refugee—parents, grandparents and immigration officials know how this cursed union will end, but that doesn't make the tragic final image any less effective.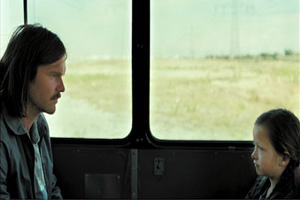 Lost Persons Area, directed by Belgian first-timer Caroline Strubbe, might be the best film I've discovered at a festival. It was named best first feature at CQ20 and, incidentally, earned a critics' prize at Cannes last year. Strubbe was unable to travel to San Jose but she caught me raving about her film across various social media platforms last week and added me as a friend on Facebook, following up with a lovely personal letter. The film's producer, Tomas Leyers, thanked me via Twitter. A few days later I received a warm message from Hungarian leading man Uldi Hajdu, who had attended the first Cinequest screening and meekly took questions from a stunned crowd. There's something about Cinequest at the institutional level that facilitates such easy connections, and I value that greatly.
But every film festival is a battleground as well, inevitably pitting sharply defined aesthetics and ideologies against one another. The Gabi on the Roof in July filmmakers began their Q&A by outlining their improvisational actor-centered methodology before anyone asked a question. Later that night in my own Q&A I expressed gratitude for the donated locations and volunteer talent in my latest no-budget epic. The director of world premiering Blue Ridge had attended both of those screenings and seemed to be calling us out the following morning in his otherwise mellow Q&A. He had shot his film in 16mm on an old Aaton, he explained at length. Such details gave way to a lecture about writing an actual script and hiring union talent. Furthermore, he said that he'd worked on plenty of digital productions and no one seemed to take such projects seriously. "With film, when you start the camera, money is being spent," he said. "And that creates a seriousness on set." His tone was pedagogical. I leaned over to the critic beside me and said, "If that's the kind of energy he wants on set, more power to him." In the end, of course, there's no right answer—or, rather, there's no wrong answer. Each film should write its own rules. I certainly don't want to spend twelve days watching films that closely resemble my own. And thanks to the improbable breadth of programming at Cinequest, I don't have to.