Cannes 2012 Dispatch #8: Hello, I Must Be Going
Another sunny day here in Cannes started with a loud round of booing to greet the end credits of Lee Daniels' The Paperboy: a pulpy, finger-painted piece of unfocused melodrama that stands a good chance of spawning a midnight cult (albeit by no virtue or design of its own). At once an unwitting send-up of The Help and a wobbly In the Heat of the Night tribute, Daniels' latest tries to be so many things at once that its plot evaporates into thin air before the first hour is over. The token investigation into the presumed innocence of a convicted killer triggers a profusion of confused scenes with tonal clarity forever wanting (perhaps never as much as when Nicole Kidman publicly urinates on Zac Efron's jellyfish-burned body in order to heal him).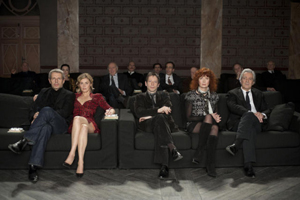 Faced yet again with a failure of another competition movie (Walter Salles' insipid On the Road was another), I decided to write about one of this year's comp's largely unsung triumphs: namely, Alain Resnais' defiantly titled You Ain't Seen Nothing Yet. One of the French New Waves' founding fathers will turn 90 in a matter of weeks, and his movie is a kind of low-key All That Jazz goodbye movie, gathering together a number of actors with whom Resnais has been working for the past few decades, and letting them perform as their own imagined selves under his watchful, fatherly eye.
The large cast is gathered on a deliberately fake set, looking like some deserted and half-emptied oriental palace from The King and I, in order to honor a deceased author in whose version of Orpheus and Eurydice they all starred at various points of their careers (sometimes assuming different parts as they aged). Now, the playwright is speaking to them from beyond the grave in a video message he entrusted to his obliging butler. Everyone gathered is to engage in an improvised performance of the play for one last time, even as a filmed version of it (starring a set of newcomers) is being projected onto a screen-within-screen, both interacting and feeding cues to the old-timers.
Everyone slips back into their old parts in a matter of seconds, after which a veritable acting symphony begins. In its overt focus on performance and artificiality, the movie is not unlike some gentler version of Dogville (not to mention Resnais' own 1986 Mélo). Resnais lovingly creates set pieces to showcase each star's particular appeal, and even the sometimes harried-looking Sabine Azéma reaches a high-note of anguished lyricism in her big Eurydice monologue.
Having seen Emmanuelle Riva—the star of Resnais' Hiroshima, mon amour—playing a dying woman in Haneke's Love a mere day before You Ain't Seen Nothing Yet, it's difficult not to reflect on the slow departure of a generation responsible for most of mid-century cinema revolutions. Resnais' film is both an elegy and a song of hopeful praise: just as Orpheus' hope to reclaim Eurydice brings him into the netherworld and back, cinephilia seems to be alive and salvaging cinema from the web's continuing assault on our time and attention. The promise of the title makes Resnais' own projected departure feel less like a final goodbye.
[Read "Cannes 2012 Dispatch #1"]
[Read "Cannes 2012 Dispatch #2"]
[Read "Cannes 2012 Dispatch #3"]
[Read "Cannes 2012 Dispatch #4"]
[Read "Cannes 2012 Dispatch #5"]
[Read "Cannes 2012 Dispatch #6"]
[Read "Cannes 2012 Dispatch #7"]
— Michael Oleszczyk