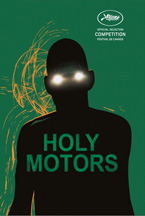 (Holy Motors is now available on DVD
and Blu-ray. It world premiered in competition at the 2012 Cannes Film Festival and was picked up for domestic distribution by Indomina Releasing. It opens theatrically in New York City at the Film Forum on Wednesday, October 17, 2012. NOTE: This review was first published on May 23, 2012.)
Leos Carax' ecstatically received Cannes revelation, Holy Motors (his first feature in 13 years that have passed since Pola X) is at once a mind-blowing absurdist vaudeville, an acting tour de force, a Franju-by-way-of-Feuillade cine-homage, a howl, a hoot, and a treat. Featuring Denis Lavant in about a dozen consecutive roles (all "played" not so much by him as by his screen alter ego named Oscar), the movie is a surrealist riff on the world as a stage and life as a performance. Shifting tones and genres with ease and palpable glee, Carax manages to provide a measure of thematic unity to the film that envelops all its wacky ideas and becomes so much more than just a sum of its parts.
Without giving too much away for fear of spoilers (especially since the story's full meaning comes into focus only during Holy Motors' closing minutes), it's fair to say that the movie's crucial concern is the weight of an actor's performance in the era of endlessly multiplied digital images. Oscar's daily routine consists of a series of acting assignments of varying length and intensity, most of which mingle with the "real" world rather seamlessly—only occasionally disrupting it, albeit in a progressively more spectacular fashion. But then again, what's real here is highly debatable and constantly questioned.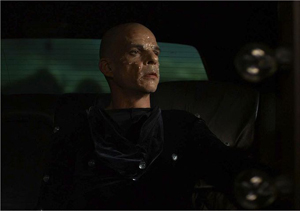 When confronted by an old-school colleague thespian (played by Michel Piccoli, no less), Oscar ascribes his current ennui and lack of appetite to the "absence of the camera," which became minuscule and omnipresent—thus losing its gravity and presence in an actor's life. For Oscar the Über-Actor, his profession is all about "the beauty of the act." When Piccoli observes that said beauty exists solely in the eye of the beholder, Oscar's reply is brief: "And what when there are no longer any beholders?"
Its premise not unlike that of Giorgios Lanthimos' recent Alps, in which a group of actors made it their mission to intervene in other people's lives, Holy Motors is much bolder in making Oscar's craft so elaborate as to equal it with magical shape-shifting. That becomes clear early on, when we observe the protagonist donning a motion-capture suit adorned in glowing sensors, so that he becomes a mere shape flexing this way and that in the dark of the studio—at least until he engages in acrobatic pretzel-coitus with his acting partner (which is then transformed into a full-blown CGI dragon-mating).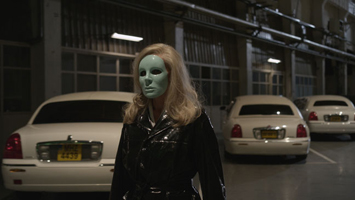 Carax's ideas are as nuts as his directorial chops are strong. It seems there's nothing he cannot pull off here: at one point, Lavant once again becomes the leprechaun-like M. Merde from Carax's 2008 entry in the Tokyo! omnibus, and wreaks havoc at (yes) a cemetery-based photo shoot featuring Eva Mendes. In another scene, Oscar plays a loving husband to a somewhat simian spouse. Halfway through, we get an annotated intermission, with a rousing accordion performance by Lavant in a gothic cathedral. It's all here: a Cars tribute, a Fantomas moment—you name it.
It's crucial to the success of Holy Motors that Lavant's explosiveness didn't fade a bit since he appeared in Carax's 1991 The Lovers on the Bridge. By turns a cipher and a walking powder keg, he's game for any challenge and it's no wonder that Cannes is all abuzz with predictions of an acting award coming his way. Carax created a perfect actor's vehicle that is also so much more: a puzzle, an inquiry, a funhouse and a world of meanings ready to be scrutinized and pored over. Second only to Michael Haneke's Love, it's the strongest entry in the Cannes competition so far this year.
— Michal Oleszczyk