A Conversation With Leos Carax (HOLY MOTORS)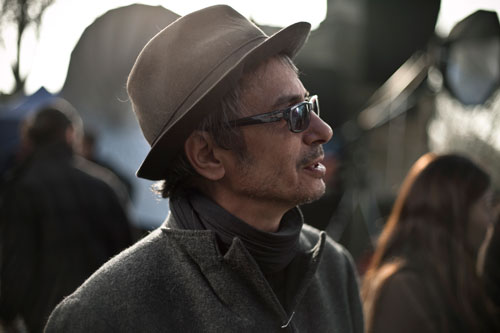 Leos Carax's feature filmmaking career began in 1984, when his debut feature Boy Meets Girl (available on Netflix) announced the arrival of a major voice in French cinema. That film also heralded the arrival of the actor Denis Lavant, one of the most physically gifted actors of his generation. But while Lavant has gone on to work with such greats as Claire Denis (on her masterpiece Beau Travail) and Harmony Korine (Mister Lonely), Carax has struggled to get films made; since 1984, the director has only completed five features, each one of them brilliant, vital pieces of filmmaking. If the business of filmmaking were only about making great films, Carax would stand alone; instead, due to financial constraints and his ambitious vision, Carax endured thirteen years between 1999's Pola X and his new film Holy Motors with only a short film in the anthology Tokyo! in between.
Holy Motors, which opens today in New York City, world premiered in competition at the 2012 Cannes Film Festival and was picked up for domestic distribution by Indomina Releasing. It recently played The 2012 New York Film Festival, which is where we sat down with Carax as part of a roundtable discussion with the director. This conversation is edited for sequence and relevance to include questions and answers that did not come from Hammer To Nail; these are included with the permission of the attending journalists. All H2N Questions are indicated as such.
You can read Michael Oleszczyk's H2N review of the film here
Hammer To Nail: You've stated that you wrote the screenplay for this film in a "rage for not being able to get a movie made." Can you talk about the process of writing the script and translating that rage into the screenplay?
Leos Carax: I think the rage is what made me go back to basics. All the projects I had were outside of France and not in French, I was sick of France. But I couldn't make these films until I made (the short film in) Tokyo!. I used this experience in Tokyo, which was basically shoot digital, fast, with Denis Lavant, and what that mostly meant was watching no dailies and I decided that if I was going to make Holy Motors, I was going to make it fast and in Paris because it was possible still to find money there and to make this film.
I won't say I wrote it fast; I imagined it fast. And because it was imagined, that rage, in a quick way, it was probably the most unconscious film I've made. I think that watching no dailies also helped, which meant that I was not reacting to what was done, I would just do it. So, I was doing it. I was not aware. Now, I almost regret playing the part at the beginning of the film because now everyone thinks "Oh, the director. He is the eye behind the camera, he is the auteur, the dictator of the film." I was clearly unconscious. I mean, I've read things like "oh, it is the director waking up after a long time not making any films…" No, I mean, the image I had was this dead public, you don't know if they are sleeping or dead, which I wanted to establish the entire prologue. I always have prologues in my films with an image that sticks with me while I imagine the whole film. It doesn't always make sense at the time I am doing it, but I think it comes together at the end of everything.
Questioner: Why did you decide to ultimately cast yourself in that role?
LC: First there was the image of the dead public, and then my friend Yekaterina Golubeva, who played Isabelle in Pola X, told me about a story by Hoffmann and I read it. It was about a man in a hotel room who finds a secret passage to an opera house. He goes there and sees the opera and falls in love with a woman and I thought this was a brilliant idea, it reminded me of something Kafka wrote: "There's a door in my apartment I've never seen before." So, I just adapted this idea of a secret door in a hotel room that leads to a theater and when I wrote it, I just called the guy Leos Carax, it just seemed natural and then I played it. I didn't really think about it. I remember thinking "I want him to have a dog." I have a dog, and my dog wouldn't act with anybody else, so it started like that. And also, the next shot is me watching the movie screen and the image on the screen is revealed and it's my daughter, so I thought, "If someone is watching, I should be the one."
Q: What imagery of films inspired each of the chapters in Holy Motors or the concept of Holy Motors?
LC: You're a cinephile. I invented a fictional world that would make it possible to see the entirety of life in one day. The film was not born out of the idea of trying to show cinema's history, or genre; I used cinematic language to create this science fiction world but hopefully it is not about cinema.
Q: Do you feel that Holy Motors was inspired by your previous movies?
LC: I never see my movies again, but they live in my head. The only conscious references, I mean, I hate references, but the only time I knew I was referencing one of my previous films was in the motion capture sequence, when Denis is running on the treadmill, which is in reference to my second film Mauvais sang with the David Bowie song. This film is about being alive today and it is about real action versus fake action, about how much we still want to experience life, do we still want to experience action. I feel we are, not just filmmakers, but people, lacking courage; can we find a way to be courageous again? I think we should give kids in school courage lessons; physical courage, political courage, poetic courage.
Q: How much of this film is about performance? Performance in life?
LC: I would call it experience. Cinema started there, with the human body, with an action. We still love to watch a human body in action and we always have. We also love to watch landscapes, or things we have created, like buildings, cigarettes, guns, cars, but above all, we love to watch human bodies, whether they are walking or running or fucking or anything. So, I imagined a world where men, machines and animals would be unified in the social world. When I was editing the film I thought, this is like Chaplin's Modern Times when he is stuck inside the machine, except there is no machine; it is invisible.
H2N: You have said before that editing is vital to your process. Can you talk about your role in the editing of the film and why it means so much to you?
LC: I love editing, that's music to me. I feel like a composer there. I used to start editing two weeks after the start of the shoot, but now, since I don't want to see dailies or anything, I do it later. I am in the suite every day, I am there all the time. I've worked with the same editor since my second film Mauvais sang, Nelly Quettier, but this one was probably the hardest to edit because the idea of the film is quite strange and you don't know how long you can keep it going. The violent thing that happens when you edit is that you realize that people are going to see the film one day; it's one thing to imagine the film, it's another to see it. So, the question for this film was how long you can keep this guy going without explaining everything. On this film, we had more major changes than I think I've ever made. I like to change things, but it was hard to find the whole rhythm.
Q: You spoke about your dislike of digital cameras on Tokyo! but here you have embraced it. Is part of this film about the appreciation for the older methods of filmmaking? Were there any compromises you had to make shooting digitally?
LC: Hopefully the film can be seen by anybody whether or not they know what cinema is or what cameras are used. But we as filmmakers always have to adapt. I mean, I do feel that technology is moving so fast now that we have to adapt in ways that no other generation has had to. But that doesn't have to be a bad thing, it can be exciting if you fight. It's not about nostalgia and I don't have a love for certain machines. But cinema is the only art that had to be invited, so it is a miracle that it exists. To survive, cinema has already gone through different changes, but I do think digital is the most extreme. People committed suicide when cinema went from silent to sound; mostly actors, but some directors too. The fact is that these digital cameras were imposed on us. They're not ready. They're imposed and the labs that could make a difference don't even exist. They're not ready, it doesn't work well, nobody knows how to deal with them. But, I had no choice; I hadn't made a film in I don't know how many years and so, I adapted.
H2N: I want to go back to this point about the dead/sleeping audience. I wonder if you're sharing their position in a way, that you're working to resist that transformation. What do think are the forces that are operating out there that have created this situation and what can you as a filmmaker and we as an audience do to resist them?
LC: I think, in that image of the audience, we're wondering what they are looking at. Is it us, the audience of the film? But that is naive. I was talking about my films being born of images and feelings, feelings when one is creating a film, feelings when one is tired of being one's self. That is something that happens to all of us. Also, the feeling that it is time, that it is possible to re-invent yourself. If you want to survive, you cannot go from who you are a long time ago and live one life.
H2N: Does that cause an upheaval for you in your own life?
LC: Well, as a filmmaker, as a cineaste, I've made so few films, it makes you want to live on that island that is cinema. That's part of the job. I cannot make a film if I feel I am the same person who made a film before. Sometimes, I think that this is part of my survival.
Q:Must an artist transform himself to survive? Is Holy Motors a commentary on actors using this process?
LC: In this world of science fiction, I invented a job which doesn't exist in our world. I'm not especially interested in actors or their lives, their double or triple identities, I'm interested in these themes in real life. Hopefully, the film is the proper way to show that in a single day, without showing flashbacks or playing with the narrative. Sorry to be vague; I'm vague in French too, but more vague in English.
—Tom Hall