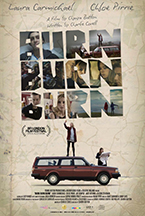 (The 2016 Seattle International Film Festival kicked off May 19 and runs for just shy of a month, until June 12. We will have coverage throughout the fest so keep your eyes tuned to HtN!)
No one does black comedy quite like the Brits, though, in the case of Burn Burn Burn, it's especially heavy on the black. The directorial debut from Chanya Button (who learned the ropes as an A.D. on the Harry Potter films), and written by Charlie Covell (her first feature script), is a road trip film about friendship, death, and the dangers of internalizing grief. Fortunately, it's also peppered with dry British humor (or should I say humour?) to help the medicine go down.
Surprises from friends can be fun, but not in the case of sardonic party boy Dan (Jack Farthing), who springs his own funeral on his two best friends, Seph (Laura Charmichael, Downton Abbey) and Alex (Chloe Pirrie). As he explains in his video will, he was diagnosed with terminal cancer, but he wanted to spare them (and himself), the agony of watching him fade away. His last wish is for Seph and Alex to take him on a road trip, scattering his ashes in four meaningful places across the U.K. He has recorded an additional video for each stop that they are to play just before leaving a bit of him behind. His elevator pitch for this task is "Thelma and Louise meets Casper the Friendly Ghost." At first, the girls are reluctant. But circumstances (Alex walking in on her girlfriend with another woman and Seph getting sacked from her job), suddenly make the idea of getting out of town seem a lot more appealing.
In typical road trip film fashion, nothing goes according to plan. They hit an immediate obstacle at their first stop, Glastonbury Abbey, when a nun busts them and tells them in no uncertain terms that they are not allowed to scatter human remains on the grounds. They also encounter a hitchhiking hippy (Julian Rhind-Tutt) whose perspective sounds a lot more profound under the marijuana smoke-tinged stars, than it does in the harsh light of day. This contrast is one of the film's comical highlights.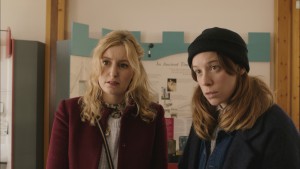 Complicating matters is the fact that Seph neglected to inform her sweet-but-doltish boyfriend that she was leaving town, and she tellingly can't bring herself to return his calls. Alex, still dealing with her own heartbreak, can't understand Seph's motives and this disagreement drives a wedge between them. Charmichael and Pirrie have terrific chemistry, selling an established and intricate friendship.
Dan filmed his video explanations in itinerary order; so, despite his designs to the contrary, his friends witness his decline in health after the fact. As Dan inches closer to death's door, his videos become increasingly imperative and stern, but with an undercurrent of both fear and resolve. We even see some surprising character development from Dan through the videos as he comes to terms with his estranged relationship with his mother and learns that you can't take anything with you, even grudges.
I was admittedly skeptical about this digital character, half expecting Dan to devolve into a sort of Max Headroom annoyance, but despite his ever-present cheek, the tragedy of his untimely death, and the senselessness and indiscriminate nature of cancer is not lost. Dan hints that he's, at least in part, attempting to play friendship guru from beyond the grave. But his Kerouac quotes suggest that some of his words of wisdom are youthful posturing. That it could be both is a testament to the intricacies of the script.
The icing on the cake is the breathtaking cinematography of Carlos De Carvalho, a camera operator with a big-budget pedigree including two Star Wars prequels and The Force Awakens. His overcast British landscapes beautifully elicit the feeling of an extended wake. Perhaps most refreshingly, at no point does anyone hand surf out the car window.
– Jessica Baxter (@tehBaxter)