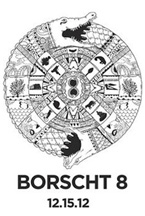 If I had to sum up the Borscht Film Festival in one word it would be 'youth.' The Borscht Corp collective dates back to high school friendships formed at Miami's New World School of the Arts, and from what I saw of them in action during the festival, Borscht Corp is still buoyed by the carefree insouciance of the young. The Borscht Film Festival is now in its eighth incarnation, and flush with a chunk of grant money from the Knight Foundation, which makes its lack of pretension even more notable. Though New York and Los Angeles hover, ghost-like, in the background, in ways conscious and unconscious Borscht is dedicated to the spirit of Miami, in all of its fresh, hot mess glory. There is no connection to the Slavic soup made of beets (sadly), but Borscht Corp amply compensated with a full-flavored and tasty film festival experience.
Borscht has a clear mission to challenge perceptions of Miami as a "beautiful but vapid party town," a mission Borscht 8 revealed to be a creole mixture of earnest, heartfelt cinematic collaboration and grimy hipster partying. Even without the endless coolers of free beer (thank you Grolsch), I would have been an easy sell on Miami's worth as a city. Truth is I've already been to Miami a handful of times before Borscht 8, and I'm a fan. Miami shares a sprawling, sexy-fugly vibe with Los Angeles, but with less edge and more hot sauce. I avoid the lemming migration that is Art Basel because I go to Miami for the relaxed, spontaneous vibe. The wide streets, the freaks, pastels, and neon on display, are built for lazy, half-buzzed bike rides with no destination. There's a dreamy, 1980s time-warp sense of possibility and adventure. The Borscht experience – and I keep using that word deliberately – mirrored those sensations of Miami.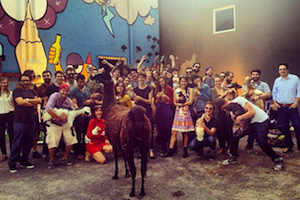 These days I hear a lot of talk about the necessity of making the cinema's theatrical experience an "event" for the audience. It's nice rhetoric, but the reality often falls short. Not so at Borscht, where they thankfully seem to have a reflexive understanding of how to make watching films a really good time. Throughout the weekend the same crew of filmmakers, programmers, writers, and Borscht acolytes kept reappearing at the screenings and gatherings. It was like being at a chill, weekend-long party where everyone's really friendly, with cold beer at hand and a more or less constant stream of films to watch. The Borscht Film Festival orbits around the screening events, made unique by the addition of an unpredictable twist, subjecting audiences and filmmakers to truth or dare, hypnosis, or even tattooing. If this sounds gimmicky on paper, it was actually effective and pretty fun while it was happening.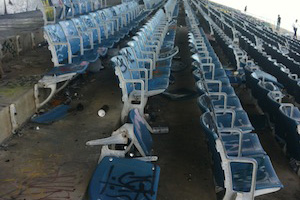 On our first full day in Miami, Borscht Corp began the proselytizing with a bus tour of some of their favorite places. These included the condemned Marine Stadium and Miami Jai Alai, the logic of which fell into place when our tour guide, Borscht Corp artist/filmmaker Jillian Mayer, explained that these were hopeful future Borscht screening venues. I was skeptical of the Marine Stadium, a concrete hulk covered in bad graf and littered with broken glass, until we summitted and saw row after row of largely intact seats leading down to the water's edge. I got the vision: with a floating screen and more of that cold Grolsch this would make an amazing venue. Ditto for the mostly empty Miami Jai Alai, an emphysematic arena that could really use a Day-Glo, Instagrammed shot in the arm.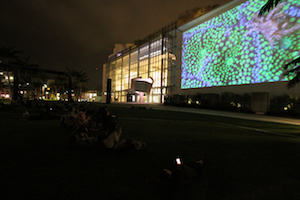 The highlight of the tour was the lab of Coral Morphologic, the magical space where duo marine biologist Colin Foord and musician Jared McKay create their trippy "scientific art" films. Those were on handsome display for the opening night event of Borscht 8, called Futurehistory, an outdoor screening that featured a series of Coral Morphologic's underwater films projected against the New World Symphony building. This venue is called SoundScape Park, an amazing Frank Gehry-designed space whose state-of-the-art projection and surround-sound were a perfect fit for Coral Morphologic's saturated, hypnotic work.
Coral Morphologic, 'Anemone Spawn'
It's easy to see how the study and creative recording of coral species represents Miami. But talking with Colin revealed another poignant, likely unintended comparison. He explained that coral are returning to the dredged waterways of Miami after thousands of years to grow on the concrete walls of the constructed causeways. Musing on their adaptability, Colin told me that coral are sensitive to lunar cycles, and under the right conditions can all spawn simultaneously, enabling a riotous hybrid fertilization that yields freaky diversity. I'll be damned if that isn't a pretty great metaphor for Borscht 8, particularly with this year's expanded programming. In addition to the commissioned Miami-centric films for the marquee screening, Borscht Corp also brought regional filmmakers to Miami to present work.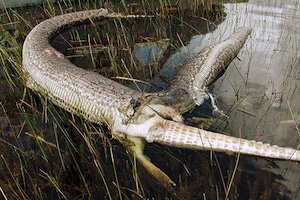 The Borscht team has seized onto something potent with their emphasis on place, and it shows a deep understanding for the way environment shapes filmmaking. During his program, Court 13's Bob Weisz put it best when he talked about the lawlessness of New Orleans, which he sees reflected not only in film's content and methods of production, but also the altered mentality of those who live there. This kind of cyclical creativity might partially explain the Borscht logo, which is an ouroborus devouring itself: it's both a mythical and alchemical symbol for infinite re-creation, and a cheeky nod to an infamous photo of an Everglades python that ate an alligator and then exploded. In any case, the regional programs were a visual way to get a sense of various cities, states, and in the case of South Africa – the lone international region – countries.
Representing New Orleans, Bob Weisz showed some work I was familiar with, including clips of the Ross Brothers doc Tchoupitoulas and Benh Zeitlin's short film Glory At Sea, ending with a booty poppin' music video he did for bounce rapper Big Freedia.
Big Freedia, 'Y'all Get Back Now'
Producer Adam Donaghey, also of the Texas Theater and Oak Cliff Film Festival, presented the Dallas program, which featured more polished narrative work like Hammer to Nail short film contest runner-up Cork's Cattlebaron, and David Lowery's SXSW winner Pioneer. On the softer side, filmmaker Ian Clark of the East Oregon Film Festival showed films that explored landscape, relationship, and metaphysical questions of existence, quiet films that evoked the misty, primordial Northwest forest. In contrast, the sharpest and most cutting work (unsurprisingly) was shown by South African photographer and director Sean Metelerkamp, whose dry, honest commentary matched the compelling work he chose to screen. He showed a range of work, from his infamous Zef Side video that led to the dustup with the band Die Antwoord (which I think is their best video), the trailer for a doc about Afrikaans punk band Fokofpolisiekar (f**koffpolicecar), and the trailer for Neill Blomkamp's brilliant alien-invasion-apartheid-metaphor District 9.
The last program was a kind of teaser for Borscht Philly, a Northeast outpost that's in the works, and featured beats, Espo murals, and a sweet little doc about a Philadelphia man who restores vintage motorcycles.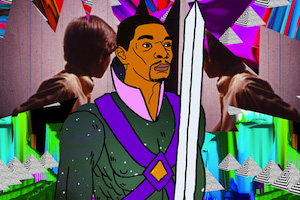 Though the satellite regional programs were well-curated, the main Saturday night program of the Borscht Film Festival was a step up in several senses. We traded in cozy indie venues the O Cinema in Wynwood and the Miami Beach Cinematheque for downtown's Arscht Center opera house, and the audience ballooned from a couple dozen into the thousands. The program featured twenty short films, most commissioned by Borscht Corp and being publicly screened for the first time. Consistent with what I'd seen of Borscht so far, the films leaned away from traditional (especially scripted) narrative and toward conceptual art and even animation. The final film, Adventures of Christopher Bosh in the Multiverse, by artist Ronnie Rivera aka Bleeding Palm, is pretty indicative of what I think may be a kind of Miami style on display: a layered, slightly janky DayGlo collage with a sense of humor. I don't follow the NBA, but Rivera's film has something to do with alternate dimensions, wolf creatures, and Bosh and the Miami Heat winning the 2012 championship.
Bleeding Palm, 'The Adventures of Christopher Bosh in the Multiverse'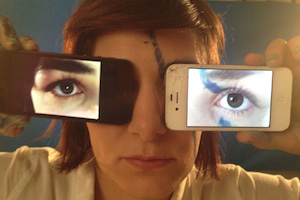 Admittedly I'm not the best audience for this kind of work, but I loved Bernandro Britto's Places Where We Lived, a textured gentrification rant with an offbeat, heartfelt core. I also enjoyed Jillian Mayer and fellow Borscht filmmaker Lucas Leyva's #PostModem, which will be following last year's Life and Freaky Times of Uncle Luke to Sundance. Like a lot of the Borscht 8 work, #PostModem is some kind of exploration or commentary on digital culture, in this case via strange episodes that include Amy Seimetz selling The Vortex in a TV informercial, and Jillian singing the catchy "Mega Mega Upload" theme song while coloring her face and hands Facebook blue. The Harmony Korine award goes to Julian Yuri Rodriguez, whose C#ckfight was easily the program's darkest and most manipulative entry, about a Pulp Fiction-like gimp in an underground fighting ring. The film is kind of nauseating and intense, which distracts from what was later pointed out to me was an animal rights allegory. Julian has some kind of an alter ego he calls 'rapedog,' and was the one tattooed during Sean Metelerkamp's Q&A. It's all kind of Vice magazine, but there's a level of craft and commitment I can admire. On the opposite end of the spectrum was Laimir Fano's Waiting For Berta, one of the more traditional narrative shorts, about a comedic standoff between two elderly Cuban women over an old grudge. With almost no dialogue Berta managed to be funny and political without trying too hard to be either.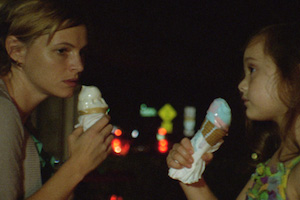 Borscht 8 had two clear standout films, Amy Seimetz's When We Lived in Miami, and Celia Rowlson-Hall's Si Nos Dejan. They showed a maturity that some of the other work lacked, both in terms of narrative and technical execution. Hometown residents might disagree, but to me these two films most evocatively met the Borscht challenge to represent the "cinematic richness of character" of Miami. Seimetz had screened her feature Sun Don't Shine earlier at Borscht, and she agreed to be hypnotized for the screening and Q&A, which resulted in a critical and very emotional reaction from her toward her own film. Even if induced, it was visceral, much like her Borscht-commissioned short film, which is about a young mother desperate to protect her daughter but lashed painfully to a collapsing marriage. In its sense of immediacy and its shadowy, blue-green palette, Miami is a stylistic contrast from Sun Don't Shine , but both films make me anticipate what Seimetz will do next.
Celia Rowlson-Hall's Si Nos Dejan examines marriage through more experimental narrative technique, though to equally potent effect. Rowlson-Hall is a remarkably talented dancer and choreographer, and this training allows her to access a purely kinetic emotional language that's riveting to watch. Her short film Prom Night, in which Rowlson-Hall re-enacts various iconic blondes, from Carrie to Madonna, screened at SXSW in 2011, and her latest Borscht entry follows similar themes. From a groom carrying his drowned bride on the beach, to a painfully awkward pole dance in a cheap motel, Rowlson-Hall's scenes pulse with complex emotions, invoking anger and pathos at the same time. Rowlson-Hall has a lithe, delicate beauty on camera, but when she puts on a wig and high heel shoes it somehow strips these symbols of their glamour and throws it back in the viewer's (voyeur's?) face. The image of her perched like a terrified bird atop the stripper pole, only to screech down it in short bursts, is a potent visual distillation that accomplishes in a moment what takes feminist theory libraries of text to communicate. Rowlson-Hall gets extra points for including an old man with a metal detector scouring the beach, in my mind second only to flamingos as a platonic image of Florida.
Celia Rowlson-Hall, 'Si Nos Dejan' teaser
Celia Rowlson-Hall, 'Prom Night'
That about covers my Borscht Film Festival experience. Like sand sticking to your sunscreened flesh, they got some sexy grit all up in their Borscht. If the good times and great films can be brought to Philly and beyond, all the better, but Borscht 8 proved that the Miami film community is a freaky force to be reckoned with.
— Susanna Locascio