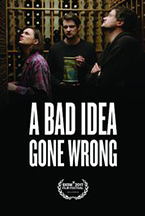 (The 2017 SXSW Film Festival opened on March 10 and runs all week until March 18. HtN has you covered and GUARANTEE more coverage than any other site! Check out this review of A Bad Idea Gone Wrong, Jason Headley's debut feature which is a chatty 90's indie throwback).
Writer-director Jason Headley's first feature, A Bad Idea Gone Wrong, gives a lot away in its title. From the moment that we meet Marlon (Matt Jones) and Leo (Will Rogers), in a Pulp Fiction-esque setup, it is overtly apparent that they are hapless criminals. Well, technically, they are not criminals yet, but they are dead set upon changing that. All they need is the perfect – or, in this case, perfectly bad – target. They end up attempting to rob an upscale house in a gated community, but they have not fully thought out how to handle security alarms or other unanticipated hiccups.
What is most unexpected from Headley's film is just how deftly it handles someone who cannot let go of a past relationship. Sure, A Bad Idea Gone Wrong is a clever, dialogue-driven robbery flick, but its true emotional heart can be found in the struggles of recovering from heartbreak. In an earnest attempt to avoid spoilers, I will just say that Headley captures the brokenhearted character's dramatic range of emotions and motivations with the keen understanding of someone who has been through it. Then again, who hasn't experienced a bad breakup? The real trick seems to be translating the aftermath of the breakup to film, and that's what Headley does so well.
It is also nice to see Headley use the glory days of American independent cinema of the 90s as a reference point, not just in the Pulp Fiction setup, but in his unbridled focus on dialogue. A Bad Idea Gone Wrong is a scaled down chamber piece with one primary location and essentially just three characters (and no A- or B-list actors). This is precisely what allows Headley to dig into the heart and soul of his characters, and that is essentially what makes A Bad Idea Gone Wrong so damn enjoyable. Aspiring filmmakers take note: this is exactly how it is done.